Context
Demandbase Intent helps you with identifying prospects who are most interested in your products or services and those of your competition. It measures the strength of intent by matching data (such as firmographics and technographics) with criteria that you describe for your Ideal Customer Profile (ICP). An important ingredient in these criteria is the number of people reading about a certain set of terms, or keywords, for similar size accounts. Creating keyword sets is how you set Demandbase Intent in motion. 
Demandbase Intent supports 133 languages. Although the majority of business intent occurs in English, creating non-English keyword sets (or adding non-English intent to your existing English keyword sets) will provide increased support to global GTM strategies.
Demandbase Intent is one of three critical elements of your ABM strategy:
Defining your company goals: what you want to accomplish with Demandbase.

Creating your target account lists.

Creating keyword sets to identify prospects on the internet.
Goals
Knowing what you want to accomplish can deeply affect how you build your account lists and keyword sets. If you want to grow a certain division of your business, you'll create account lists that include potential customers for that set of products and you'll choose keywords that would identify their interest in them.
Here are some of the goals you might have during different stages of the account journey for which you may want to surface Intent surges:
Pre-Opportunity

Find net new accounts that are already in-market 

Prioritize driving high Intent accounts to direct engagement

Tailor messaging to speak to the account's pain points

Open Opps

Become aware of competitors sneaking into the conversation 

Customer Accounts

Churn prevention: Find out if at risk accounts are reading web pages about competitors

Upsell/Cross sell: Find Customers interested in additional products
Account Lists
Account lists represent your most sought after customers. Demandbase One will help you discover more accounts like them, but you must have an idea, based on your company goals, of what kind of account represents a successful role model for new accounts.
Keyword Sets
Keyword sets are a set of words that represent the kinds of things that your prospects would be interested in reading about who have high potential to convert to being a customer for your company.
For example, Salesforce might include CRM, maybe pipeline management, and lead tracking, and lots of other terms that people would be reading about if they were interested in buying Salesforce.
Best Practices
Set up at minimum a General

Keyword Set and a

Competitor

Keyword Set. If you sell more than one product, create a set for each product.

To create a

Competitor

Keyword Set, follow the same steps below, but include the names of your competition in the keyword set. See

Next Steps

 to add the annotation

Competitor

next to a set to identify it.

If the keyword set is for a global advertising campaign, where buying groups exist in non-English countries, consider duplicating English keywords in the native language. This will ensure maximum intent-based impressions.
For more information, see Best Practices for Creating Keyword Sets or Best Practices for Creating Non-English Keyword Sets.
Prerequisites/Preparation
Keyword sets are so fundamental to your ABM success that you should create them very early on after you complete your Demandbase One set up with a Demandbase Implementation Manager. Then complete this preparation:
Steps
From the left navigation bar, go to  Settings > Analytics > Intent Data > Demandbase Intent

tab.

Click

Create New, enter the Keyword set name, and click Create keyword set.
Tips:

If you plan on creating a keyword set in multiple languages, we recommend using a standard naming convention with the language as the first word. For example,

Japanese - Keyword Set

.

There is currently no way to rename a keyword set. You will need to clone the keyword set or recreate it with a different name.


You'll now see Enter an intent keyword, where you can enter keywords.

Demandbase provides some keyword hints that you can select or ignore:

A good keyword set has about 20 to 100 keywords in it, depending on your product and content. You can enter all of them, if you know them, or, if you enter at least 5 keywords or use the website URL option, you can move on to our keyword suggestion features. Alternatively, you can click Text to switch to text view, and paste in a set of keywords.


(Optional) To

get further suggestions from Demandbase for a faster way to get to 20-100 keywords

, do the following:
a. In the Suggest from list tab, click Generate Keywords. A minimum of 5 keywords is required for these suggestions.
Tip: Narrow down the suggested keyword list and click Generate Keywords again to keep fine-tuning your list. Repeat until you're happy with your list.

b. Scroll through the suggested keywords and click Add for each keyword that you believe represents your target audience's interests.


(Optional) To add keywords based on a few pages from your website that contain the content about your products and offerings, do the following:
a. Click the Suggest from URL tab and click Edit URL list.

b. In the Edit URL list window, enter the first URL and click the + sign for each new URL. Entering website pages gives Demandbase Intent more information on which to base suggested keywords, so it's best practice if possible.

c. Scroll through the suggested keywords on the right and click Add for each keyword that you believe represents your target audience's interests.


Click Save.
Outcome
Depending on whether you used keywords already known to Demandbase or keywords new to Demandbase, your keywords may be ready overnight or in one week.
To see all of the keyword sets you created, go to

 Settings > Analytics > Intent Data > Demandbase Intent.
Demandbase creates a field--a placeholder for information, which you can use throughout Demandbase to filter accounts. For example, for a keyword set on Language, you might filter on tone of voice, pronouns, or inclusivity. See Understanding Fields.
After you save a keyword set, Demandbase validates the keywords to determine if they can be used to capture Intent. To see the validation status for each keyword, open a keyword set and go to the Keyword List tab. A validation status appears next to each keyword. You can hover over a status icon to see an explanation for the assigned status.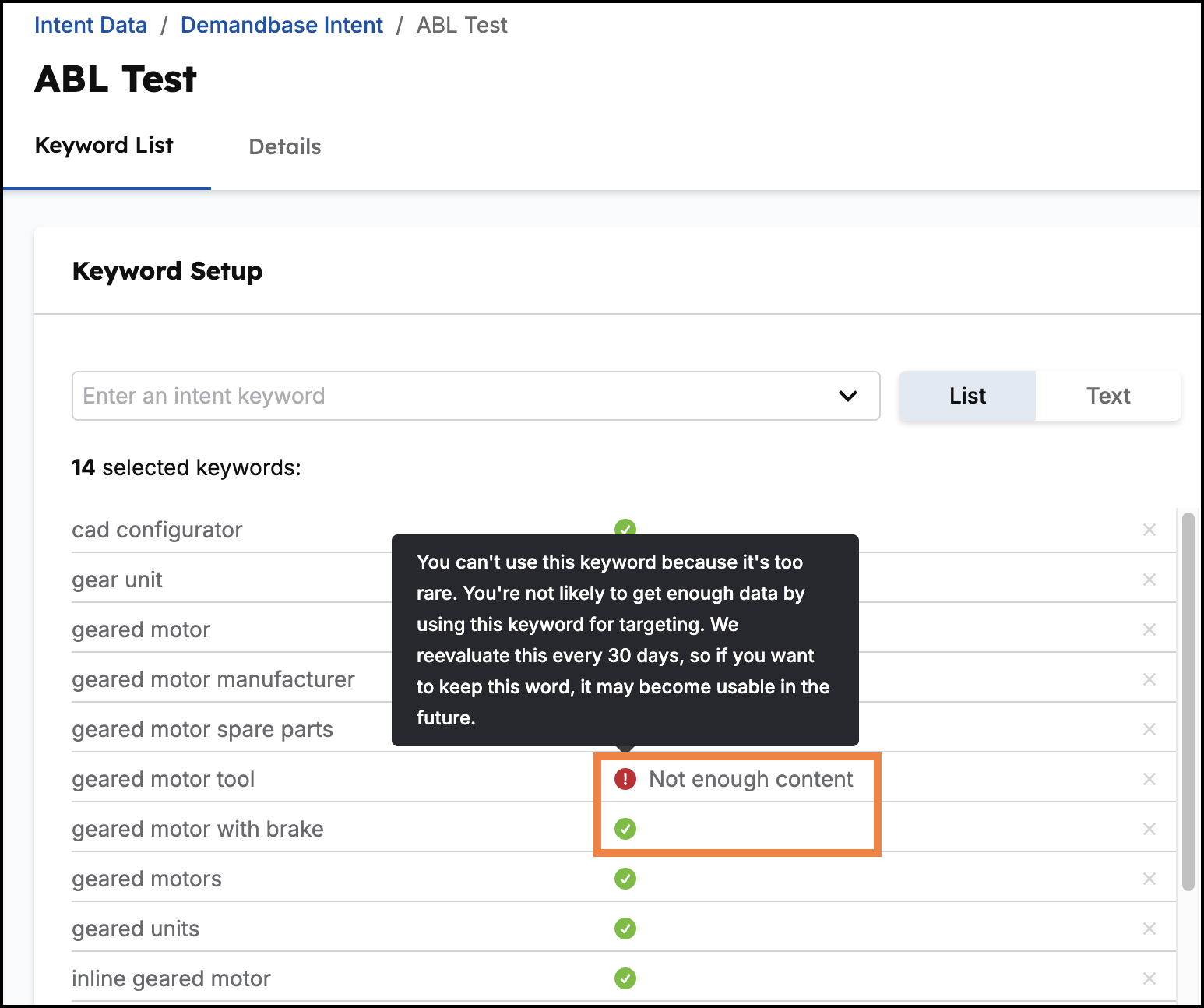 The following table provides more information about the validation statuses.
Status
Definition
Recommended Action

Validated

The keyword is in our Vocabulary and is eligible for collecting content.

None

Pending validation

The keyword needs to be validated to determine if it can be added to our Vocabulary.

Save the keyword set to start the validation process. The process takes up to 24 hours.

Validating

The keyword is being validated to determine if it can be added to our Vocabulary.

Wait for the validation process to finish. The process takes up to 24 hours.

Too much content

The keyword cannot be added to our Vocabulary because it is too broad.

Add to the keyword to make it more specific or remove it.

Tip: Consider making the keyword plural or adding words to the keyword phrase to return a smaller set of account results

Not enough content

The keyword cannot be added to our Vocabulary because it is too specific.

Wait 30 days for the keyword to be revalidated or revise it.

Tip: Consider shortening the keyword phrase to make it less specific or remove and replace it

Too long

The keyword cannot be added to our Vocabulary because it exceeds the recommended phrase length of eight words.

Shorten the keyword phrase to less than eight words.

Excluded

The keyword cannot be added to our Vocabulary because it is too broad and has been added to the Exclusion List.

Revise the keyword.

Ineligible

The keyword cannot be added to our Vocabulary for a reason other than the above statuses.

Double check the spelling and contact Support if there are any more issues.
Next Steps
Create Account Lists Based on Keyword Intent
See Create an Account List Based on an Intent Keyword Set to learn how to create account lists based on keyword intent, using the Intent Keyword Set field.
Competitive Keyword Set
If you created a keyword set that identifies interest in a competitor, select the check box for the keyword set, click Take action, and select Set as Competitor.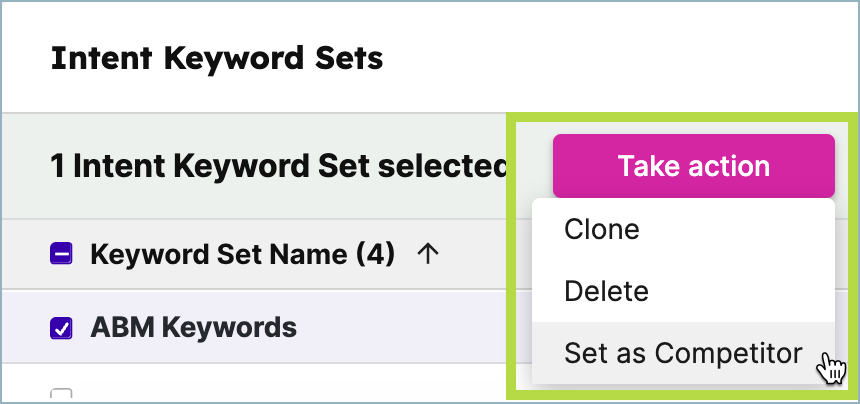 Then you can identify the competitor keyword sets easily.

Assign Engagement Minutes to Demandbase Intent Activities
You must ensure that Demandbase Intent Activities that you want to gauge are assigned a non-zero value in Engagement Minutes settings. An Intent Activity that has 0 Engagement Minutes won't be represented accurately in the Demandbase platform. See the Intent Activities section of Set Up Engagement Minutes for further information.