What Is Demandbase Intent?
Demandbase Intent is a way of discovering which accounts are most interested in your products or services. Demandbase uses your account lists, keywords that you supply, and other data to identify interested accounts. Keywords are words or phrases that you expect interested accounts to read about on a web page.
For example, if your company is an oil field supplier, and someone reads a web page about oil, that's a start, but obviously not promising because they may be reading about olive oil. If they read a web page about oil fields, that shows more potential, but they may be writing a term paper for school. If they read a web page about oil field suppliers and also for Halliburton versus Schlumberger Production Optimization, then they may have earned your attention, if their company is the size you're seeking and their interest is sustained.
Discover Accounts in Time to Influence Buyers
Demandbase is able to discover this intent way before a prospect fills out a form on your site or shows other obvious intent. The majority of vendor research takes place before they find your website and on other websites, so discovering their interest early on and outside your website is important. With this information, we can alert you to reach out to prospective buyers in time to influence the buying cycle, before a competitor does. Identifying accounts using certain keywords is one of the ways we do that. In addition to your account lists, it's one of the ways you can identify your Ideal Customer Profile (ICP).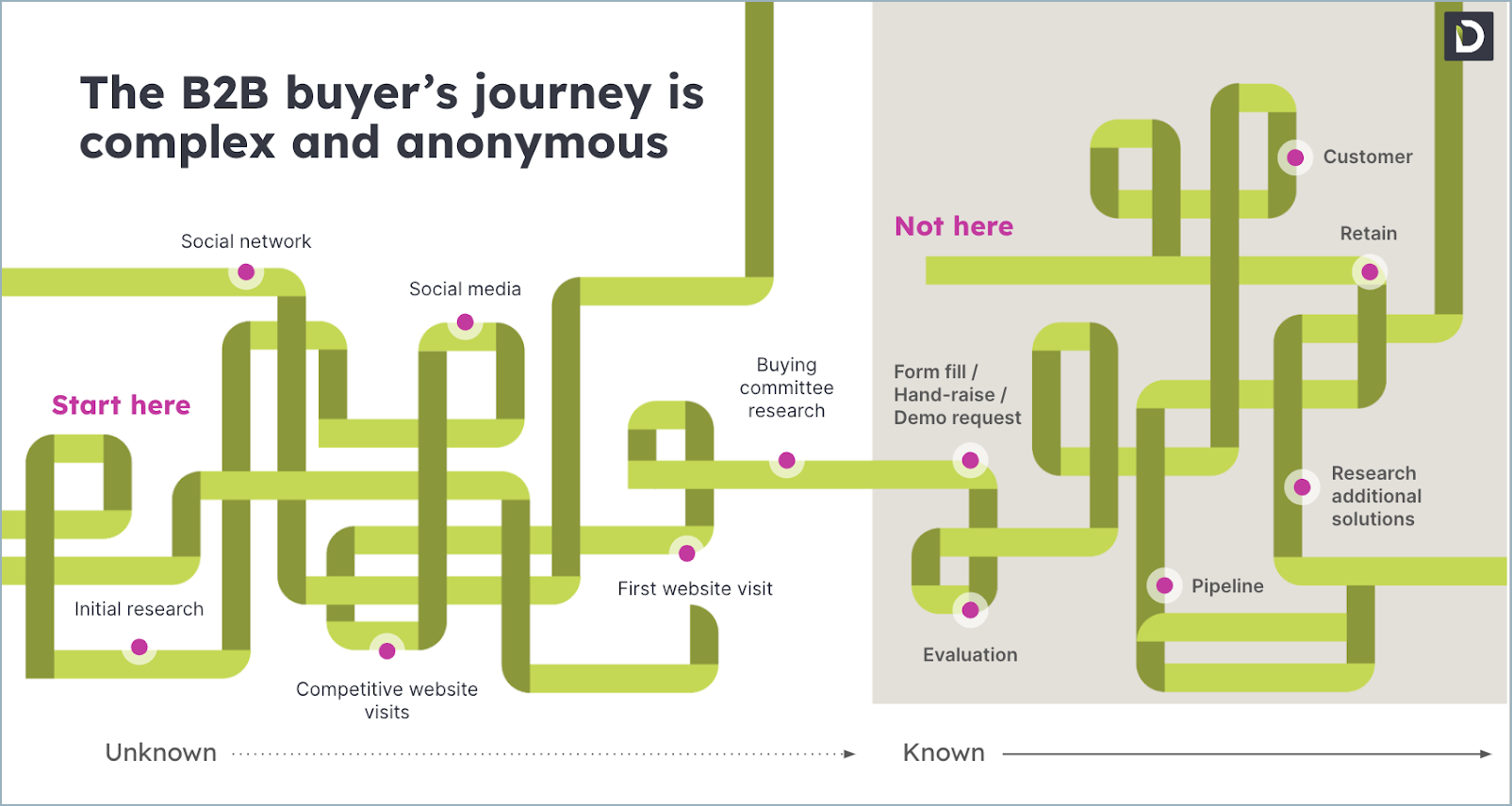 Demandbase Is Probabilistic
Demandbase uses artificial intelligence (AI) and machine learning to identify companies that share your ICP. These technologies enable Demandbase to identify surges in intent and trends that predict opportunities; they use probabilities. At the heart of both of these methods is the algorithm, which is a set of instructions a data scientist gives to the computer to gather and analyze data.
For example: If people read a web page about oil field suppliers (and other terms you supply), the AI identifies the person and their company as having interest. When an algorithm gathers enough data, it can "learn" that these data are associated as a cluster, or that signs of user intent are building up over time. In addition, the algorithm might "learn" things you didn't know about, for example maybe your most successful accounts are also reading web pages about Halliburton versus Schlumberger Production Optimization, so now it has more to work with.
Keyword Lists and Intent
If you use our ABX platform or Advertising product, you can start by entering a list of keywords that reflect the intent of your ICP, such as product areas and company names. The best practice would be to enter a comprehensive list that represents your domain expertise. If a comprehensive list isn't available, you can enter at least five keywords and let Demandbase discover the rest. The more keywords you can supply, the better.
Demandbase Intent supports 133 languages. Although the majority of business intent occurs in English, creating non-English keyword sets (or adding non-English intent to your existing English keyword sets) will provide increased support to global GTM strategies.
You also have the option to enter websites that your customers and prospects are likely to visit in the buying research process, including the websites of competitors that offer similar products to your GTM offerings.
Important for Demandbase One users: See Set Up Demandbase One Intent: Create Keyword Sets for the steps to build your keyword sets. Be sure to also follow the Next Steps section at the end of the article to operationalize the Intent discovery.
If you subscribe to receive Demandbase Intent as a data service that integrates with your separate analytics systems, contact your Demandbase account team to prime your keyword list and to enter it in our AI and machine learning systems. See Understanding Demandbase Intent as a Data Service to learn more about how we collaborate with you to build keyword sets that serve the goals of your GTM plan and needs for your BI systems.
Demandbase Uses Data and AI to Enhance Your Keyword Set
Even if you feel confident that you provided a complete keyword list of keywords, Demandbase enhances the list. In addition to the keywords that you supply, Demandbase Intent draws annually on over 1 trillion monthly interactions from across the web from B2B companies, 4 billion IP addresses, and 36 billion B2B site visits, and is constantly looking for similarities to accounts that turned into opportunities. The more relevant data that we have to work with, the better our AI and machine learning can analyze and learn from them to create better associations and predictions for prospect intent. Demandbase technology gathers intent data from the following sources:
Public business registries for basic firmographics

: showing industry, revenue, number of employees. 

B2B content consumption

: Demandbase uses its publisher/advertising network to observe what types of content company employees are reading. To ensure accurate intent data, instead of looking at potentially irrelevant pages, we focus on a massive network of global websites focused on B2B-relevant topics. 

B2B content production

: Demandbase crawls the open web for content tied to key company decision makers and stakeholders — blog posts, interviews, bylines, forum posts, speaking slots and panel participation, etc.

Engagement on your website for direct intent signals

.
With this data, Demandbase instantly maps global B2B interactions between accounts and your B2B products or services. When an account uses many of the keywords that you identify as a sign of interest in your product, AI driven logic helps you uncover accounts that are showing intent and determines how strong their interest is.
The Strength of an Account's Intent
Demandbase Intent measures the strength of intent by the number of people at similar size accounts reading about a keyword. Demandbase Intent strength is computed on a weekly timeframe.
Important: This methodology and section may be updated as the team makes improvements to the model. 
| Account Size | Low | Medium | High |
| --- | --- | --- | --- |
| 1 - 10 employees | 1 person reading | 2 - 3 people reading | 4 or more people reading |
| 11 - 50 employees | 1 person | 2 - 4 people | 5 or more people |
| 51 - 200 employees | 1 - 2 people | 3 - 7 people | 8 or more people |
| 201 - 500 employees | 1 - 2 people | 3 -9 people | 10 or more people |
| 501 - 1K employees | 1 -2 people | 3 - 13 people | 14 or more people |
| 1K - 5K employees | 1 - 3 people | 4 - 18 people | 19 or more people |
| 5K - 10K employees | 1 - 3 people | 4 - 28 people | 29 or more people |
| > 10K employees | 1 - 3 people | 4 - 37 people | 38 or more people |
Common Use Cases for Intent Signals
Demandbase Intent does more than identify accounts as potential target accounts. Here are more use cases for Demandbase Intent as part of an ABM strategy:
Attract:

Increase marketing productivity by focusing resources and budgets on target accounts showing high intent.

Attract:

Create sub-audiences (segments) of target accounts showing similar intent for targeted campaigns.

Engage:

Personalize ad and web experience based on intent.

Engage:

Help sales have more productive and relevant conversations based on intent signals.

Convert:

Increase sales productivity by sharing intent insights that help them prioritize their account engagements.

Convert:

Identify accounts that become opportunities for conversion to the customer pipeline. 

Identify and Retain:

Learn that your prospects or customers are reading web pages about your competitors, so that you can take action to attract, engage, or retain them.
If your company has the appropriate licenses, you have access to orchestration and automation features that spur marketing actions when they're propelled by incoming intent data. For example, Demandbase Advertising can ingest intent signals to automatically reach lucrative prospects.
With dynamic advertising bidding, Demandbase puts ad budgets to optimal use by bidding higher CPMs for high-intent individuals and by retargeting ads accordingly. Demandbase Advertising can also capture individuals on the periphery, who may have a less significant role in a purchase decision, and programmatically bid for an impression when the price is right. 
Intent Trending vs Surging
In addition to identifying individual events, Demandbase AI analyzes intent data to recognize surges in current intent and trends as an indicator of future opportunities.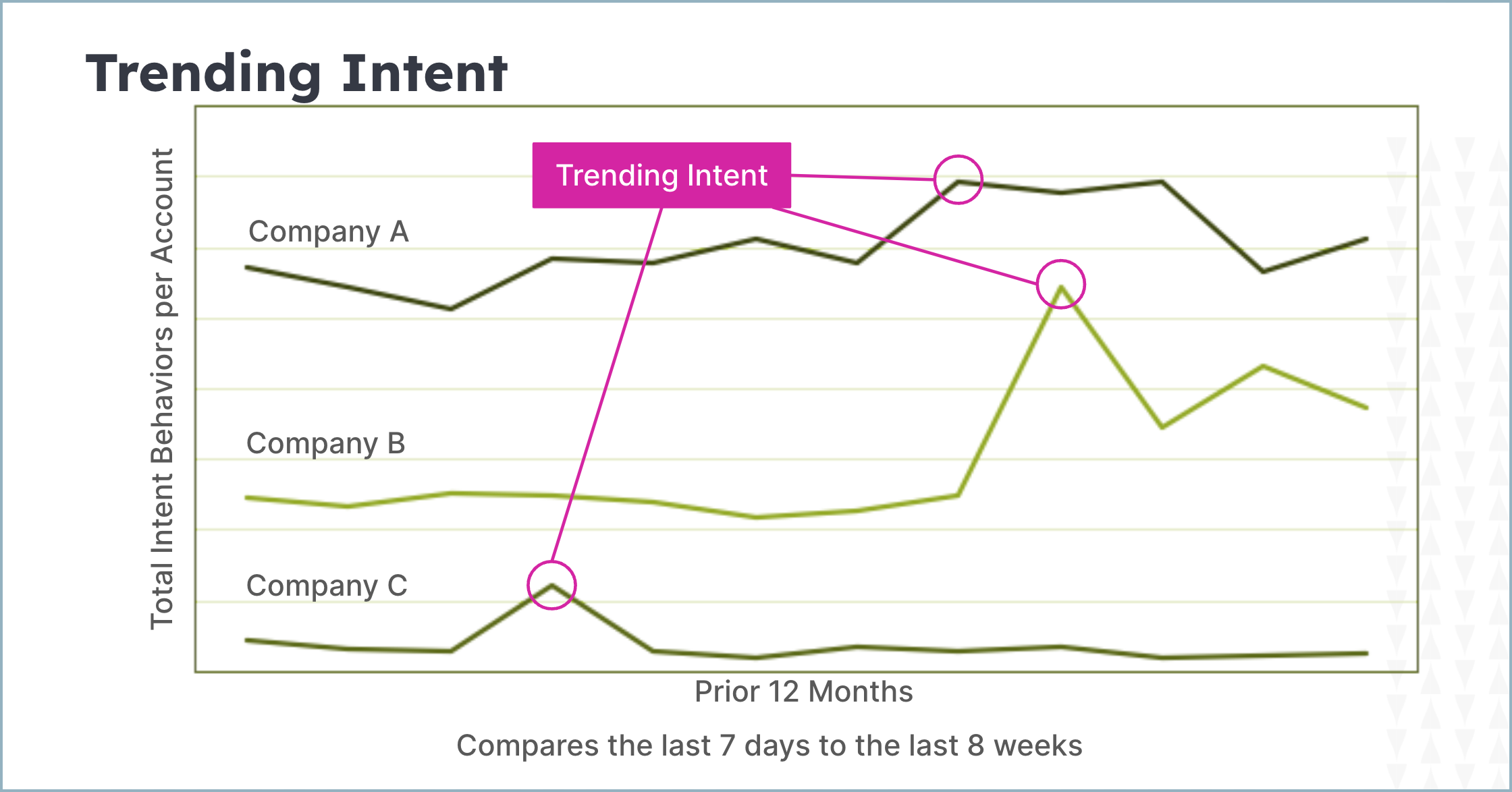 The following table provides more information about Intent trends and surges.
| | |
| --- | --- |
| Trending Intent | Demandbase sourced intent that indicates an account is suddenly reading about a keyword significantly more then their historical baseline. The Trending Intent activity type is available to all Demandbase One customers. |
| Intent Surge | Activity from third-party intent providers such as Bombora, G2, and TrustRadius. The Intent Surge activity is only available to customers that have set up a third-party intent integration or manually imported intent activities.  |
How Demandbase Can Expand Intent Reach
In Demandbase One, identifying intent starts when you create keyword sets. AI then expands that set to other keywords related to the terms you identified, leveraging a vocabulary of more than 375,000 keywords. AI looks for related keywords in an article to determine relevance — and also searches for combinations of keywords to ensure proper context. You also have the option to let Demandbase do more of the work by entering website pages that your ideal companies are likely to visit.
How It Works
Example

Demandbase scans millions of pages and hundreds of millions of cookies, to compute how many people are reading web pagers about a given keyword from each account.

854 people reading about

account-based marketing

Demandbase analyzes the size of each account by number of employees.

10,350 employees

Based on similar size companies, Demandbase calculates how strong this signal is for the keyword for a given company size.

Medium Intent Signal
Another way to to expand your information gathering beyond Demandbase Intent keyword sets is to integrate with third-party intent providers. See Understanding Third-Party Intent in Demandbase One to see how you can use data from Bombora, G2, and TrustRadius to supplement account intelligence available in Demandbase One.