Context
Multiple Pipeline Predict Scores allow you to score your accounts according to their fit and interest in your different product offerings. For example, your company may offer more than one product, each with their own go-to-market strategy. You can create multiple Pipeline Predict Scores, one for each product, which score an account's interest and engagement to each of your products.
With multiple Pipeline Predict scores, your marketing and sales team members are not only able to identify and prioritize accounts that are soon to become net new pipeline opportunities, but they also know which type of opportunity they are likely to become. Your sales team members know the right product areas to focus on before each prospect call, and your marketing team is able to easily build target account lists for campaigns with product-specific messaging.
See also Set Up Multiple Qualification Scores.
Prerequisites
Familiarize yourself with the following concepts:



Identify product(s) and criteria:

Identify the product(s) for which you want to build your next Pipeline Predict Score.

Identify the activities that differentiate interest in each product, such as webinars, campaigns, site pages, and keyword searches. The Pipeline Predict Score uses these as scoring criteria.

(Optional) Create Activity Segment Group(s):
In step 4, below, you have 3 options for how t

o define which activities indicate interest in each of your products. You can:

Wait until you get to step 4:

Let Demandbase machine learning identify new pipeline activities for you (easiest, but not as specific);
Input webinars, campaigns, site pages, intent keyword, and other activities one at a time in step 4 below (more specific, but not reusable);

Or, beforehand, prepare an activity segment with a group for each product's Pipeline Predict Score, which we recommend as a best practice.
When you create activity segment groups, you set yourself up to have a more powerful and consistent segmentation tool across all Demandbase solutions, because you can reuse the same segments for each group in analytics, reports, advertising, and personalization.
See:
Steps
From the left navigation bar, go to Settings > Demandbase-Wide Settings > Predictive Score Setup

on the left navigation bar and click

Create new predictive score.



Choose an appropriate name for your score (for example, the name of the product that the score is for), and select

Pipeline Predict.


Specify the current conditions for net new opportunities to continue to apply to this product's score (typically the same Selector condition(s) that you used in your original Pipeline Predict Score) plus the condition(s) to apply to the product that you are creating the new, separate score for.


Scroll down to see an activity's selector workspace. This selector allows you to control the engagement activities that your Pipeline Predict Score uses as scoring criteria. As noted in the Prerequisites above, you have three choices:


You can leave it blank, and Demandbase machine learning will use all engagement activities to identify leading indicators of new pipeline opportunities.
You can restrict this criteria to engagement activities specific to each product by using selectors to define the individual Activities, such as webinars, campaigns, site pages, intent keywords, and other criteria for each product.

Or, you can use the activity segment that we recommended creating above:



To use the activity segment you created, search for

its name (in this example, Product Interest), drag it over to the selector workspace, and select the Value for the segment group for this score (in this example, Advertising).


Click

Save and train model

on the top right of the screen.
Outcome
Your score is visible throughout the platform within 24 hours, including in the Analytics > Account Lists and Accounts Dashboards, and in all account selector screens. You can see the top scoring accounts and the products they show interest in. Here's one example of accounts that show a high probability for Pipeline Predict.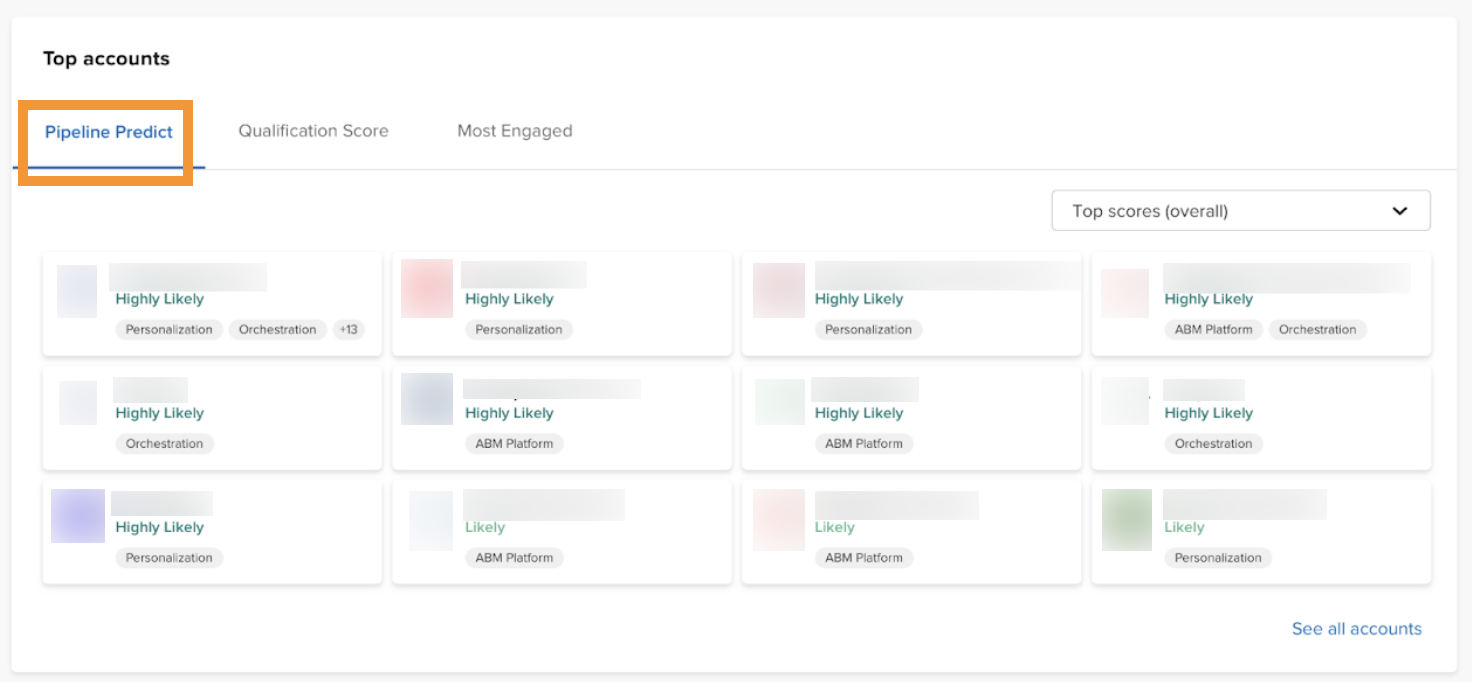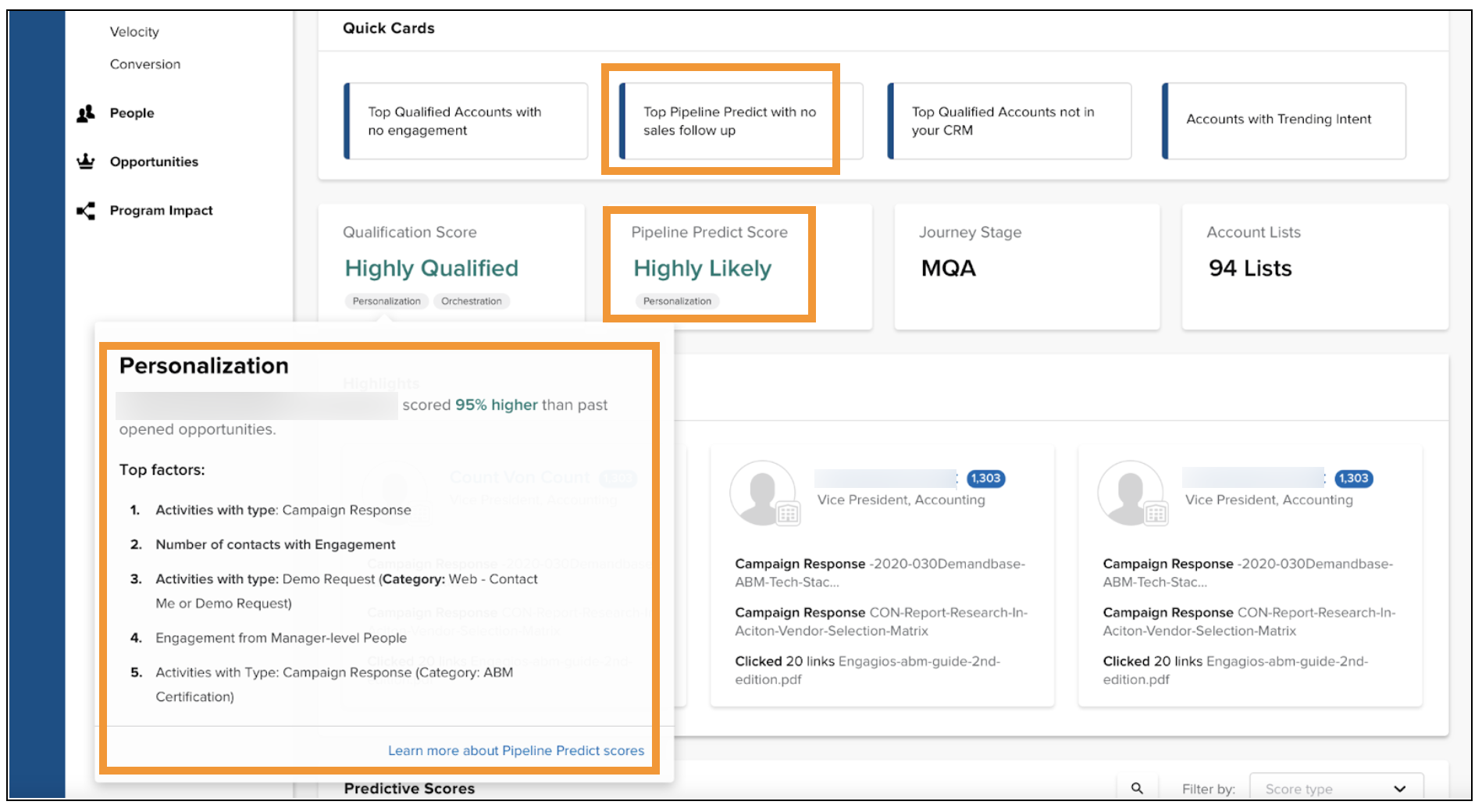 Activity Segment Example
Here's an example of an activity segment we created for the Demandbase Advertising solution: To define which activities show an interest in the Demandbase Advertising product, we created a new Segment called Product Interest and we created a Segment Group for each of our solutions, such as Advertising.
Our Advertising segment group includes all activities that show an interest in our Advertising product, Keyword Intent, Visited Web Page, and Member of Campaign.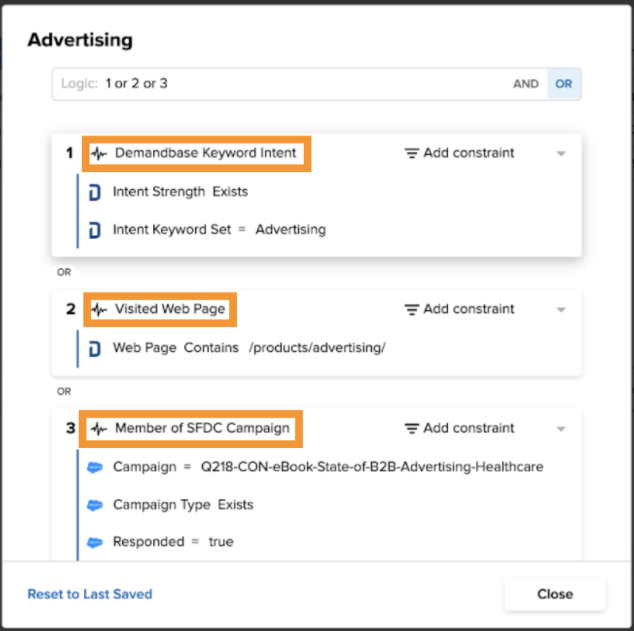 Take note of the name of the activity segment (such as Product Interest) and of each group for each of your products, so you can use them as an input in the Pipeline Predict Activity Selector in step 4, above.