The Qualification Score uses machine learning to quantify what truly defines an ideal customer beyond basic firmographics and then scores every account in your CRM along with the 55 million accounts in the Demandbase company database. The Qualification Score scores each account on the likelihood it would ever become a customer, regardless of where it is in the buyer journey.
You can also set up multiple Qualification Scores according to account fit and interest in your different product offerings. See Understanding Multiple Predictive Scores for more information.
Quick Facts
Model Build Time

: 24 Hours

Score

: 0 – 100% (A score of

75+ is worthy of nurturing and 90+ requires immediate attention.)

Initial Model Build Time:

24 hours (The model starts running when you click the

Save and train model

button in

Settings

>

Demandbase-Wide Settings

>

Predictive Score Setup.

)

Model Re-Training Time:

24 hours

(The model starts running when you click the

Save and train model

button in

Settings

>

Demandbase-Wide Settings

>

Predictive Score Setup.

)

Score Update:

Static (The qualification score criteria does not change frequently.)
Important: Only Accounts with a domain get a Qualification Score.
Factors Used When Calculating the Qualification Score
All available data is used, including:
Accounts

Any set of 50 or more. For best results, we recommend using 100 or more.

Firmographics

Uses country, industry, revenue range, and number of employees.

Technographics

Uses the current tech stack of your Customer or Target Account lists.

Historical Intent

Uses the past one year of intent.
Accessing Qualification Score Results
After an Administrator configures the Qualification Score, you can access the Qualification Score results.
From the left navigation bar, go to
Analytics > Dashboard and select an account list from the drop-down list. Scroll down to the Accounts section and click the Qualification Score tab. This tab shows the top ranked accounts using the Qualification Score Model.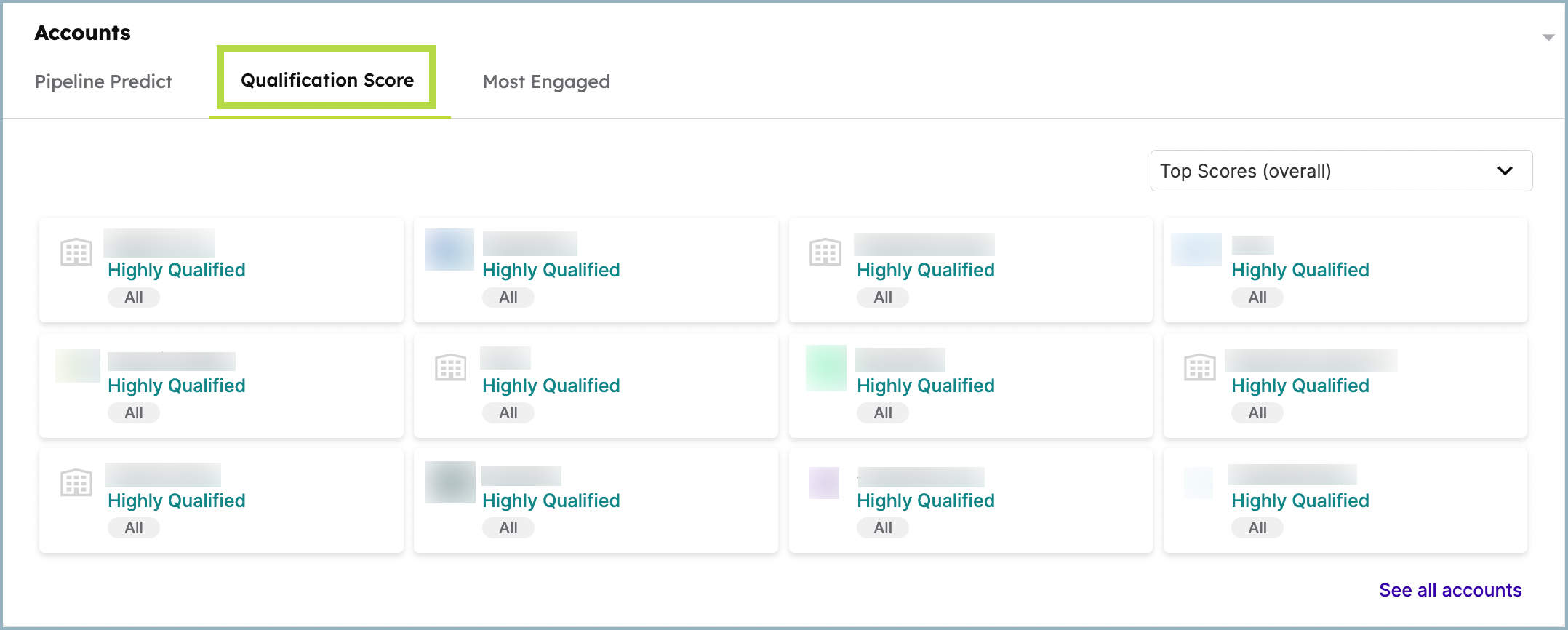 Take Action with Recommended Accounts
You can take action to engage the recommended accounts. For more information, see Taking Action with Accounts and People.
From the Qualification Score tab and click See all accounts.

On the Engagement page, scroll down to the table and click the Accounts tab.
Select the accounts you want to take action on and click Take Action.
In the right Take Action section, select the action you want to take for the selected accounts. For example, you can add the accounts to an existing account list that you will use in an upcoming advertising campaign.


FAQs
Do the scores work out of the box?
Yes, the scores are calculated 24 hours after the user clicks the Save and train mode button on the Predictive Score Setup page. At least one Keyword Set needs to be created.
To access this page, from the left navigation bar, go to

Settings > Demandbase Wide-Settings > Predictive Score Setup.
How long does it take the model to run?
24 hours