Technographics is the profiling of target accounts based on their technology stacks. Similar to firmographics (such as industry, revenue, employee count), technographics help provide a more complete understanding of the characteristics of target accounts. For example, knowing which CRM a company uses, or even whether they have adopted a CRM at all, is helpful in understanding that company's ability and willingness to adopt complementary products and services.
For information about setting up technographics in Demandbase One, see Manage Technographics.
Problem
For many B2B companies, knowledge about which technologies (software, hardware, etc.) have been adopted by prospective customers is very valuable in determining whether a prospect is likely to be a good fit, as well as informing the most effective communication strategy for each prospect. Adoption of complementary or competitive products can be a key predictor of whether a prospect is likely to become a customer. The availability of technographic data is increasingly being considered as "table stakes" for an account-based marketing platform. The majority of B2B companies use, or are planning to use, technographic data.
Solution
Demandbase provides you with insights about which technologies have been adopted by companies in your target market. Demandbase has data on over 19,000 technologies.
Technographics are available as attributes of our core account data model, so they are available to use for filtering, reporting, sorting, and segmentation throughout the Demandbase platform. For example, you can set up Selectors using technographic filter criteria to create an Account List. So if there's a particular technology that integrates well with your solution, you can add that criteria to a Selector to generate a list of accounts that have that technology.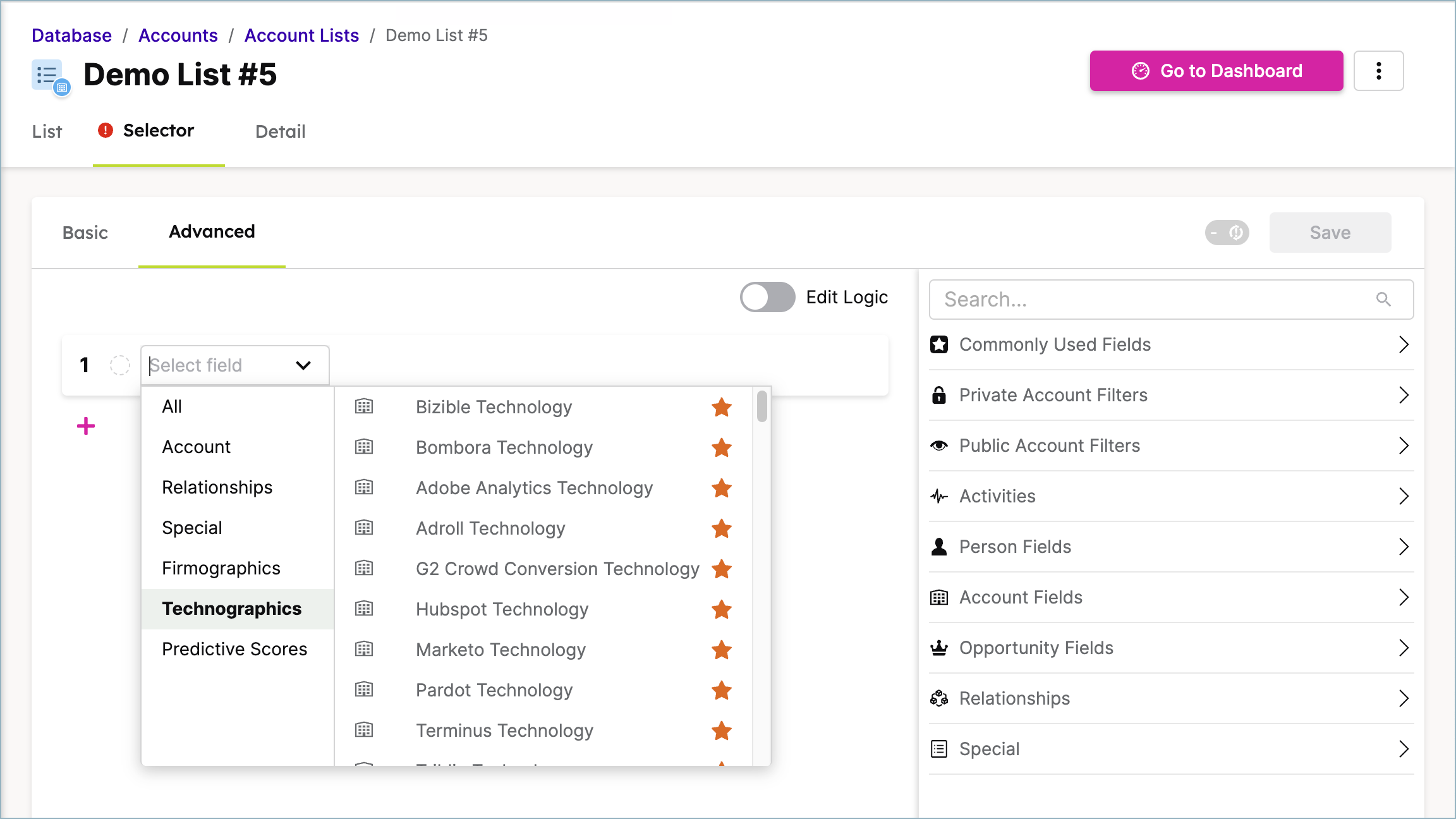 Full technographic data for each account is available as a single consolidated field for all adopted technologies. In addition, you may select particular technologies that are relevant to your business, and Demandbase will generate specific account fields for each selected technology, for easier and more intuitive reporting and filtering.
Use Cases
Technographic data works together with the other components of Demandbase One to allow you to segment your target market in a refined way.
Use cases for technographics include:
Scoring and prioritizing accounts;

Refining the Ideal Customer Profile (ICP);

Segmenting accounts with precision for sales and marketing outreach;  and 

Delivering tightly personalized marketing messages.
All these use cases become easier and more accurate with the addition of technographic data.
There are numerous articles highlighting additional use cases for technographic data.
Trending Skills
While technographics provides an understanding of the tech stacks installed and used in an account, Trending Skills aims at understanding the changes in the tech stack in an account in the recent and previous quarters. Trending Skills signals are extracted from raw data points like projects, career pages, and front end signatures available for an account. The signals are mapped to technology stacks and usage strength is measured for each technology. The changes to usage are computed on a quarter-on-quarter basis to understand the trends in tech stacks in an account.
It gives organizations insight into an account's overall approach to tech architecture, with insight into potential future investments in technology or movements away from technology. 
By understanding the dynamics of changing tech stacks in an account over time you can understand how the distribution of tech stack and tech resources evolve. It allows us to understand a movement towards or away from a particular genre of tech. For example, an account may be adopting an open source tech stack after earlier indicating a shift away from proprietary stacks; or an account may have started moving its big data infrastructure from on-premise to on-cloud solutions. These trends can be correlated to investments in new technologies and software solutions and signal a change in an accounts overall approach to tech architectures.
Trending Skills is part of Demandbase  Data. Demandbase delivers it as a flat file to customers who purchase it. If you're interested, please contact your Demandbase Account Team.
FAQs
For which technologies do we have adoption data available?
There are over 19,000 technologies that are tracked, covering a wide range of software and hardware categories.
Why does the consolidated technographics field use pipe (|) separators?
This makes it easier to use the Contains operator to find a particular technology. For example, "Contains |SAP|" will return SAP but not EPIC ASAP. Some of the technology names include commas, so comma would not be a suitable separator character.
How often are the technologies updated?
The data is updated monthly.