Context
Demandbase provides you with insights about which technologies have been adopted by companies in your target market. Demandbase has data on over 19,000 technologies. Select the ones that are relevant to your business to expose to your Demandbase users.
To manage how you use Technographics, see:
To learn more about technographics, see Understanding Technographic Data.
Steps: Set Up Technographic Fields
From the left navigation bar, go to Settings > Demandbase-Wide Settings > Technographics Setup

.

Search for technologies of interest to your business and add them to the list.

You may select the amount of technologies as defined in your license agreement.

For the technologies you select, Demandbase creates Account fields to expose technographic data to your users.



Searching for the name of the technologies you care about is the easiest way to locate them. However, you can also browse the list of available technologies by selecting a

Category

and

Sub-Category and then expanding the drop-down list below.


Click

Save

.
Outcome
After you select technologies, it may take up to 24 hours for technographic data to be populated in Demandbase.
Steps: Update Table Columns in Default Views
By adding technographic fields to default views, other users will have easy access to technographic data points.
Technographic fields can also make good Quick Filters.
From the left Navigation bar, go to Settings > User Management > View Management

.

Select a view to edit.

Choose a Table Type to edit (Account, Person, Activity, Opportunity). All table types can potentially benefit from technographic fields.

To select from the technographic fields that you set up previously, enter

Technology

into the Search

box for

Table Columns.



Select the fields to include in the data tables.
Next Steps
After you have customized all table types, consider using a key technographic field as a Quick Filter.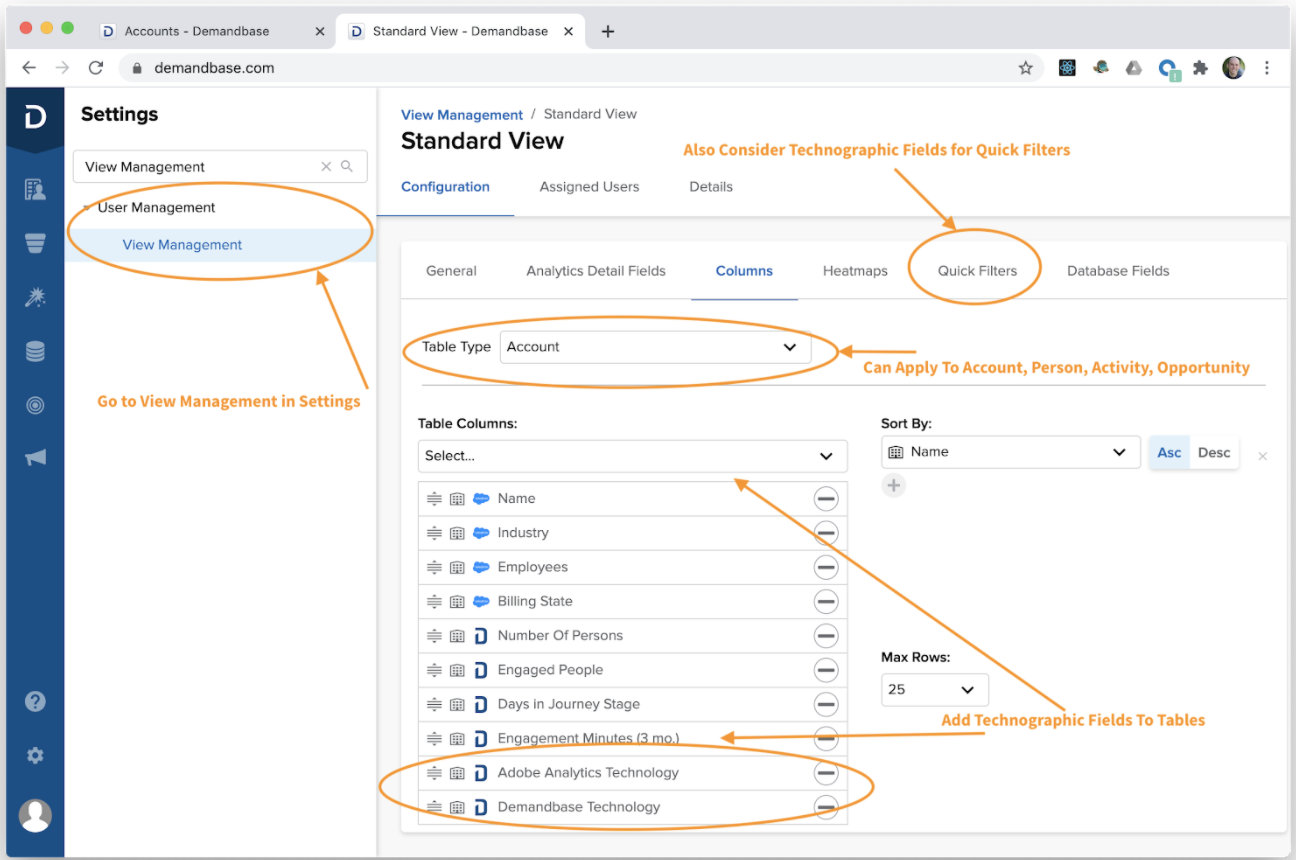 Steps: Display Technographics in Data Tables
From the left Navigation bar, in

Analytics > Accounts, you can use the Edit Columns button to select technographic fields to view in a data table.
Search on Technology to locate the technographic fields that are configured for you in Demandbase.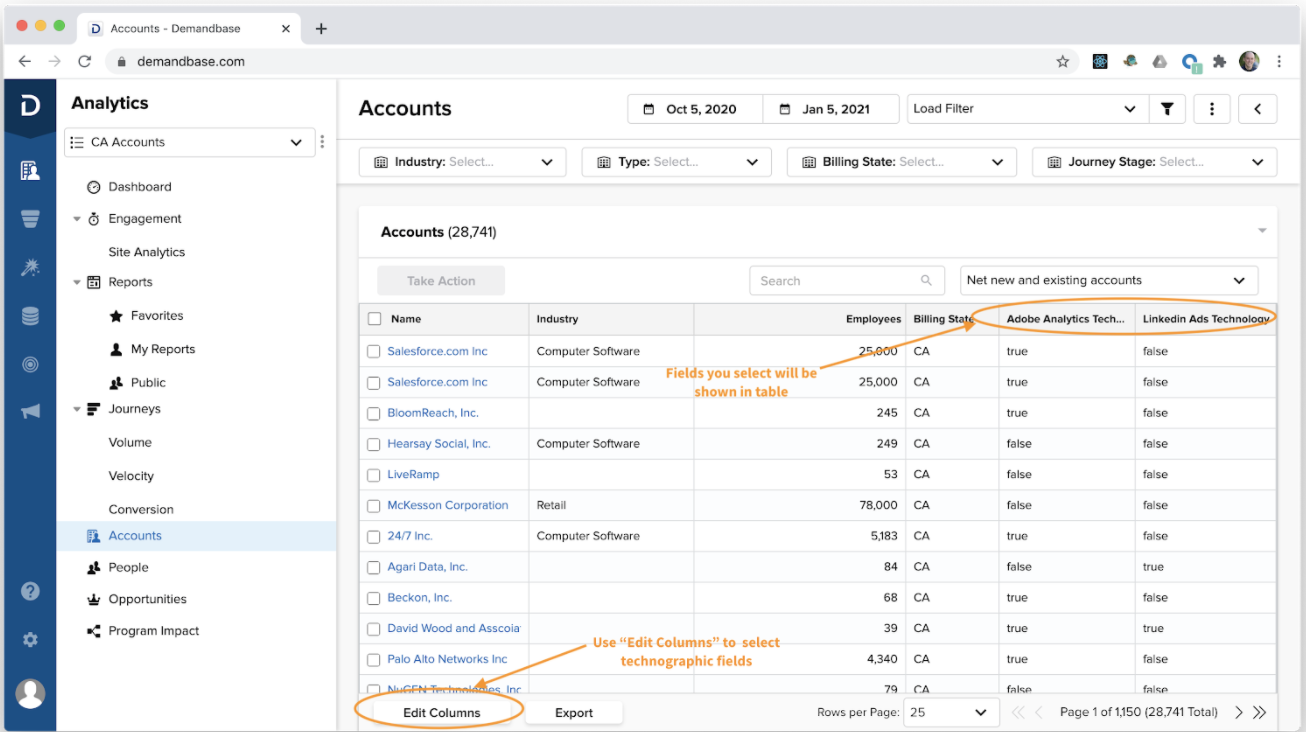 Steps: Filter to Accounts Using a Technology
From the left Navigation bar, in

Analytics > Accounts, you can limit your view to only accounts that are using a particular technology (or, if you prefer, only accounts that are NOT using a particular technology).
Use the Funnel icon to apply a filter.
Select a technology to filter on. You can use the search string Technology to locate technographic fields in the list of all fields.


Steps: Create an Email Report Using Technographics
You can set up a scheduled emailed report that uses technographic fields as part of its filter criteria.
If you choose, the email can go out to all sellers, on a daily or weekly basis. It will be customized for each seller to include their accounts.
Create the report.
a. From the left navigation bar, go to Analytics

>

Reports.


b. Click

Create New.
c. For Member Type, select Account.


d. Enter the

Name

and

Description and c

lick

Create Report.


e. Click the

Selector tab.
f. Enter filter criteria. You can combine filters on technographics with other filter conditions related to account engagement. Search for Technology.
(Optional) Create a subscription.
a. You can customize the columns in the report on the Layout tab.


b. Click the

Subscriptions

tab and click

Create Subscription.


c. To set up the report for all sellers, personalized for each to their individual account lists, use the

Personalized Subscription option.