Context
Site Analytics in Demandbase One enables you to get website analytics with an account-based lens so you can better evaluate website performance and personalize marketing efforts to them.
With Site Analytics, you can select variables that define a specific group of accounts that you want to track on your company's website. Site Analytics returns rich insights around account level site visits that match your input criteria. This ability to instantly answer your unique questions allows you to design highly effective and engaging campaigns, resulting in high-quality, sales-ready pipeline and increased revenues.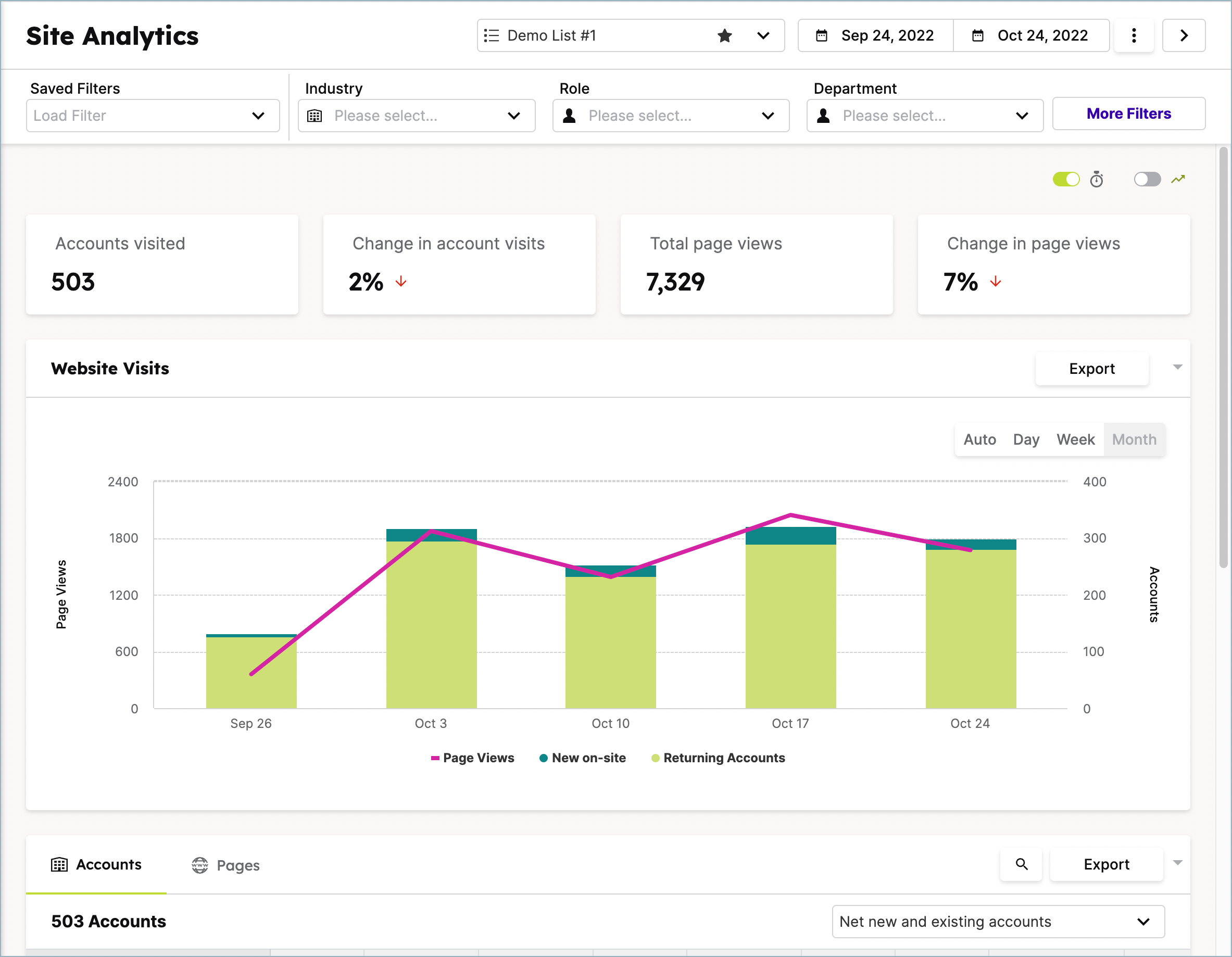 Page Visit Types
Site Analytics reports on two types of page visits:
Anonymous page visits, which are tracked by the Demandbase tag based on IP address and the Demandbase cookie.

Page visits from known contacts, which are synced regularly from an integrated marketing automation system (MAS).
Customers who have synced MAS data might see more page visits per account than customers who haven't integrated an MAS. To only view data about anonymous page visits, create an activity filter from the Type field as shown in the following screenshot.

Page Visit Counts
Demandbase and the MAS use very different technologies for identifying visitors, hence the likelihood of counting duplicates for page visits is low. Demandbase will sometimes identify a visitor to a website when the MAS will not and vice versa. Demandbase and the MAS will sometimes both identify a visitor, while sometimes neither system will identify a visitor.
In the few cases when both Demandbase and the integrated MAS identify a similar page visit to a website, Demandbase counts the visit detected by the Demandbase tag as an anonymous page visit. If the MAS later associates the same page visit to a known contact and syncs the data to Demandbase, the visit ends up being double-counted.
Change in Account Visits and Page Views
The top of the Site Analytics page includes info cards that show the increasing or decreasing percentage change in account visits and page views. Demandbase calculated the percentage change by comparing the selected date range to the preceding equivalent date range.
Prerequisites/Preparation
For anonymous page visits, the Demandbase Tag must be placed on your web pages. See Deploy Demandbase Tag.
For known page visits, integrate with an MAS and assign Engagement Minutes to the MAS page visits. See Integrations: Marketing Automation Systems and Set Up Engagement Minutes.
Steps
From the left navigation bar, go to Analytics > Site Analytics

.

Select an account list and date range.

To filter the page, do the following:


Use the quick filters at the top of the page.

Click More Filters and use Selectors to define your filter criteria.



Toggle

Engagement Minutes

and

Trending Onsite Engagement

on or off for additional criteria.

Engagement Minutes: By default, we only display page visits that have Engagement Minutes assigned. Turn the toggle

off

to display all page visits.

Trending Onsite Engagement: Turn the toggle on for accounts with a recent increase in page visits.

When you toggle on this filter, Demandbase shows the accounts that have more website visits in the past week than in the two months leading up to that week. The 7-day and 2-month time frames that Demandbase uses to find accounts with a surge in website activity is based on the end date that you select. For example, if you select September 30th as the end date, Demandbase compares website activity for the seven days ending on September 30th to the two months ending on September 24th.




To get a shareable link for this view, click the three dots in the upper right corner and select

Get Shareable Link

.

To save this view as a Quick Card that displays on the Account Dashboard, click the three dots in the upper right corner and select

Save View as Quick Card. See Configure Quick Cards.


To take action on specific accounts, select their checkboxes and click Take Action. See Taking Action with Accounts and People.
Tip: You can click the different bar charts in the graph to view the web pages that were visited.

To export the list of accounts in CSV format, click

Export

.



URL/UTM PARAMETERS OVERVIEW
A landing page URL is the URL that a user will arrive at when they click on your ad. The URL should leverage unique "UTM parameters" to track the progress of your campaign. UTM (Urchin Tracking Module) parameters are the format used by Google to track your unique URLs. They are added to the end of your landing page URL. Here is an example of a landing page URL that includes a UTM parameter added to the end of the URL:
http://www.acme.com/product_page/?utm_source=google
Site Analytics leverages the following URL/UTM parameters to track channel performance.
Campaign Source

utm_source

Required.

Use utm_source to identify a search engine, newsletter name, or other source.

Example: google

Campaign Medium

utm_medium

Required.

Use utm_medium to identify a medium such as email or cost-per- click.

Example: cpc

Campaign Name

utm_campaign

Required.

Used for keyword analysis. Use utm_campaign to identify a specific product promotion or strategic campaign.

Example: utm_campaign=spring_sale