SITE ANALYTICS USE CASES
Click the links below to learn how you can use Site Analytics for your marketing initiatives:
CONTENT OPTIMIZATION
Use Site Analytics insights to understand the level of account engagement with your website content and based on the results you can optimize your content. You can review all of the top pages visited as well as further filter the pages by a specific account list, account, UTM parameters, or specific filters. Based on your findings, you can make changes to your content based on the pages showing the most engagement. The example below shows that for the High Intent Account list, the highest page views were on the Demandbase home page, One Vision Launch Page and ABM Master Class. Based on these findings, the content on these pages can be refreshed with additional CTAs (calls to action) or you can create a nurture stream to accounts that visited those pages with content specific to those pages.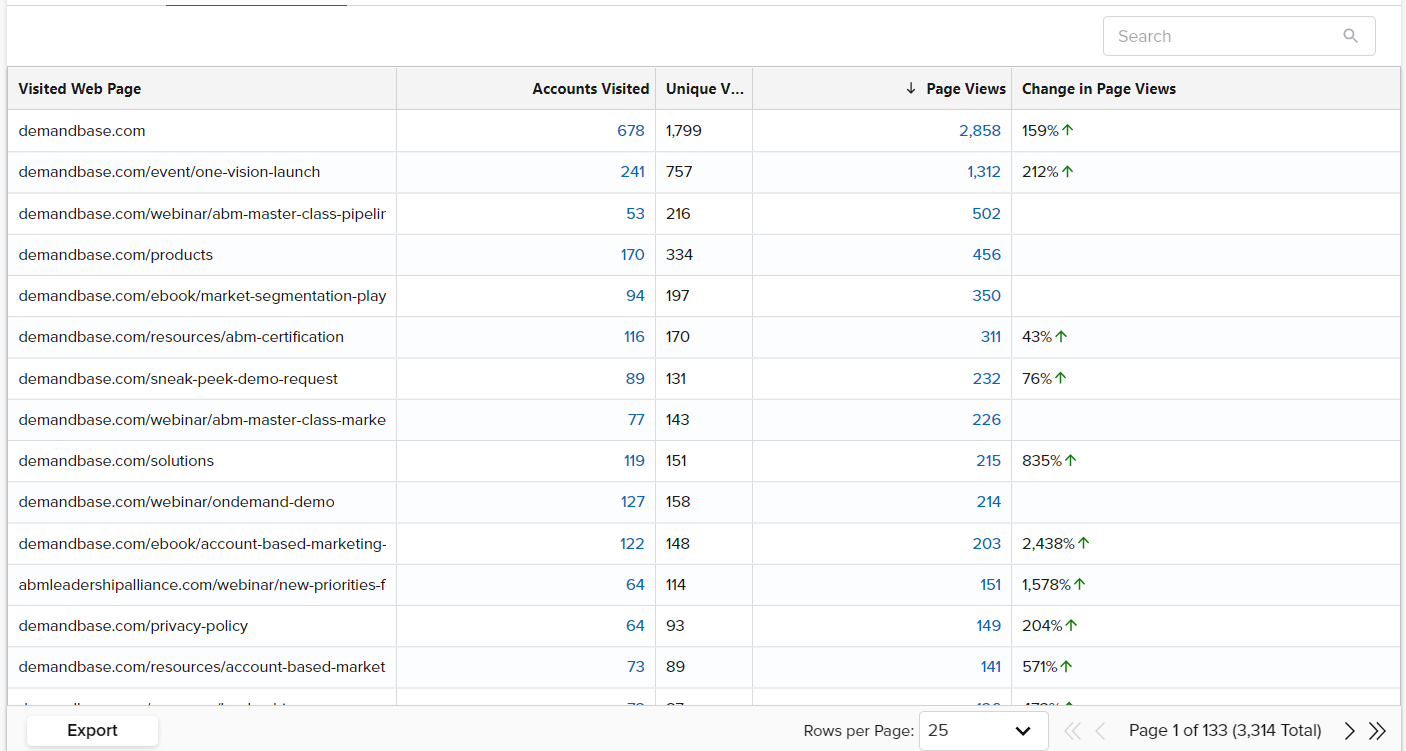 DRIVE DEMAND GENERATION
You can use Site Analytics able to build campaigns around specific levels of activity. View the examples below to learn more.
EXAMPLE 1
This example shows how you can see if customer accounts are engaging with a specific product/solution page. In the example shown below, we wanted to see the level of engagement on the Demandbase ABM Platform pages. In order to do this, we selected a filter to only show the ABM Platform page. The results show that the views aren't very high. Based on these findings, we can add the accounts we want to a new or existing list using the Take Action button at the top of the table. A side bar will open on the right with different options with which to take action, like adding the selected accounts to a new or existing list. You can then advertise to this list to increase awareness of your product.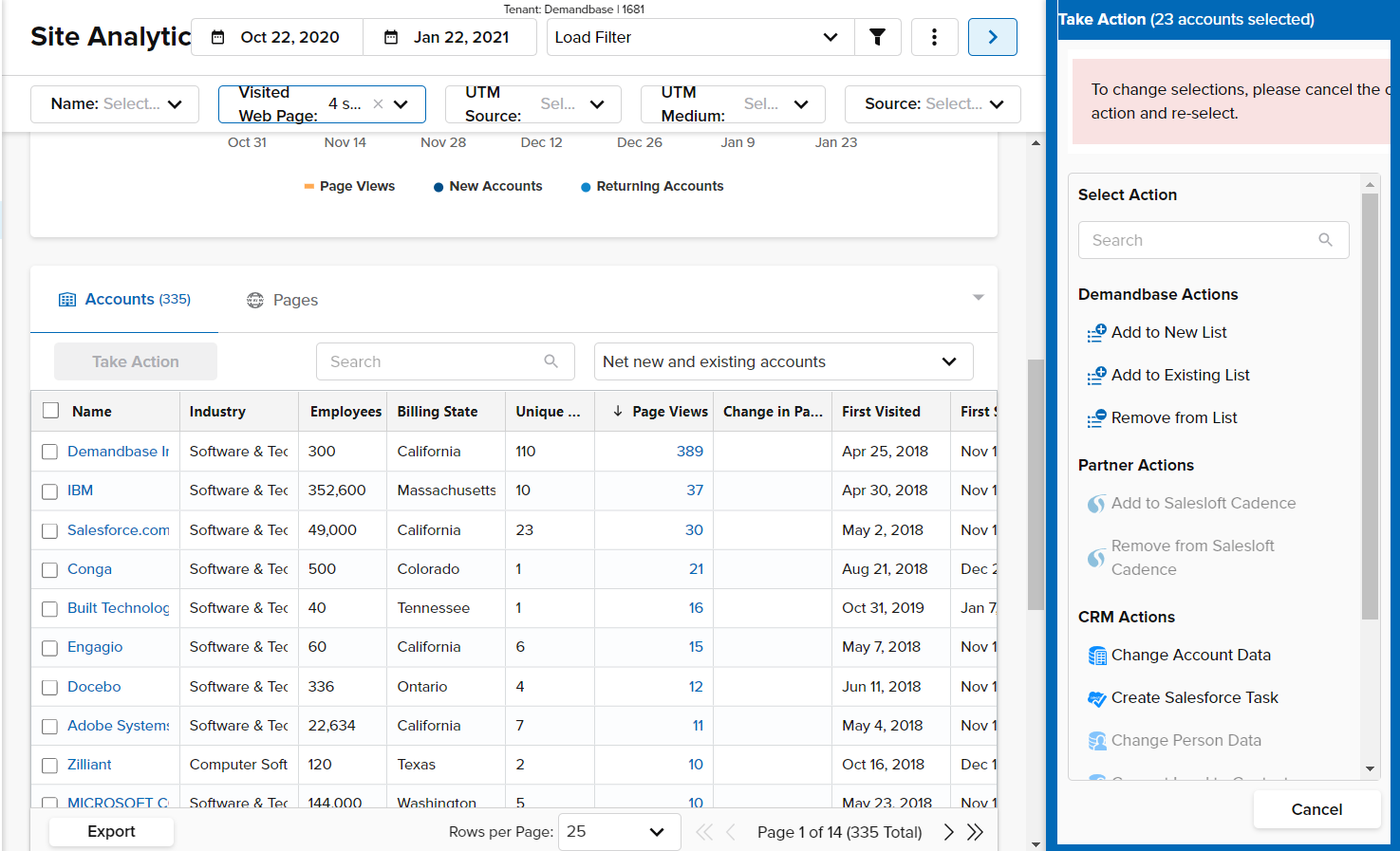 EXAMPLE 2
The next example shows how you can rank engagement with content offers so you can determine which content offers might be the best for future campaigns. In this example, we took a look at all of the eBooks in the Demandbase Resource Center. We did this by filtering for web page visits that contained "ebook" and adding them to the filter criteria, making sure to exclude Demandbase and Engagio from the account list. The results show that the Account-Based Marketing Fundamentals Every B2B Marketer Must Know Playbook had the most account visits with 1848 accounts and 2995 page views. This ebook will be used for future content offers.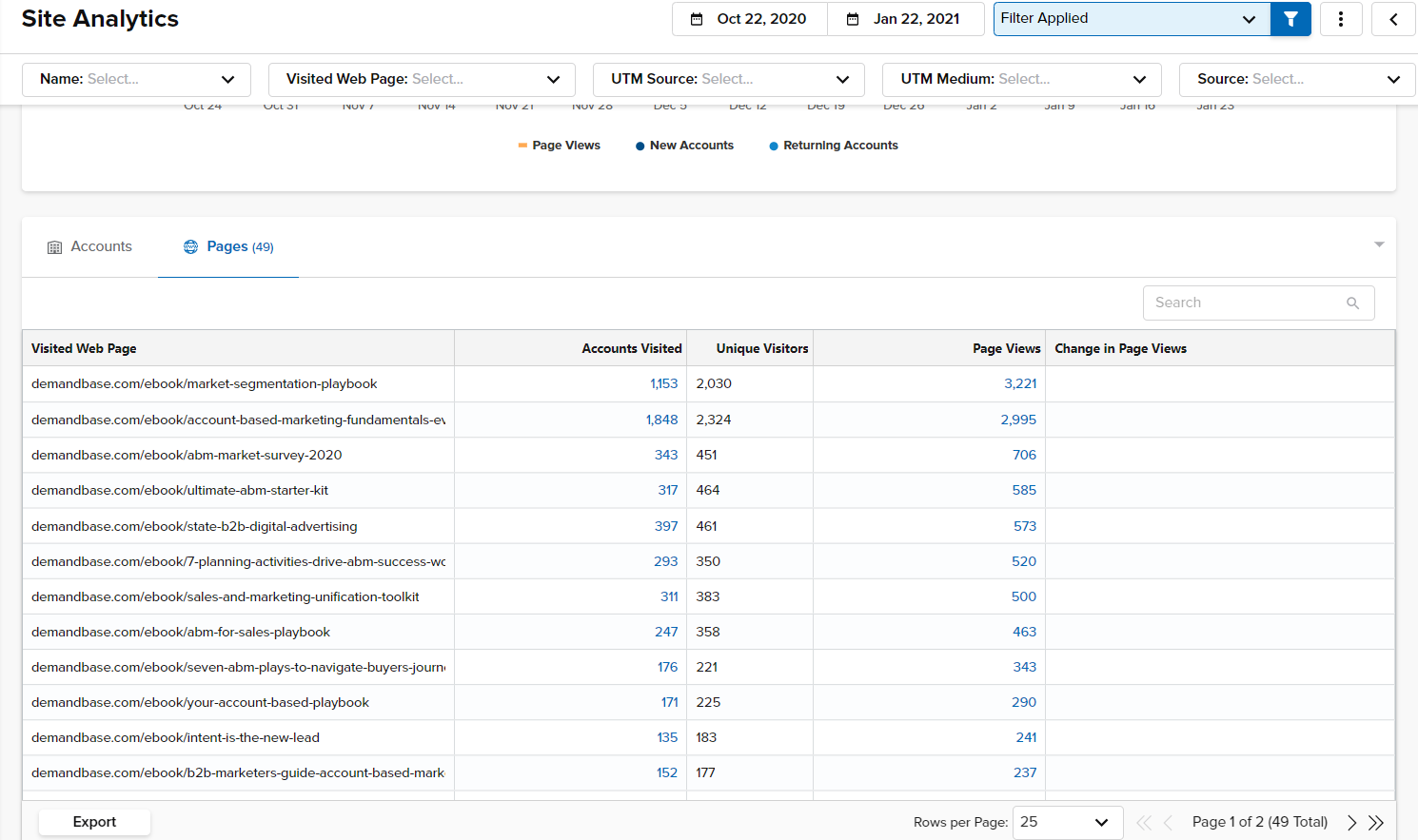 DRIVE REGISTRATIONS FOR UPCOMING EVENTS
You can use Site Analytics insights to discover who has visited your event pages, but has not registered for an event. In the example shown below we created a filter in Site Analytics that only looks at traffic that visits the One Vision Launch registration page. Next, we added the accounts that visited that page to a new list to create an account list of accounts who visited the One Vision Launch registration page. Next, we compared the accounts in this list to the event registration list to cross-reference non-registered accounts and forwarded those non-registrants to the Sales Team and Customer Success Managers so they could follow up with those accounts with messaging that encourages them to sign up for the event.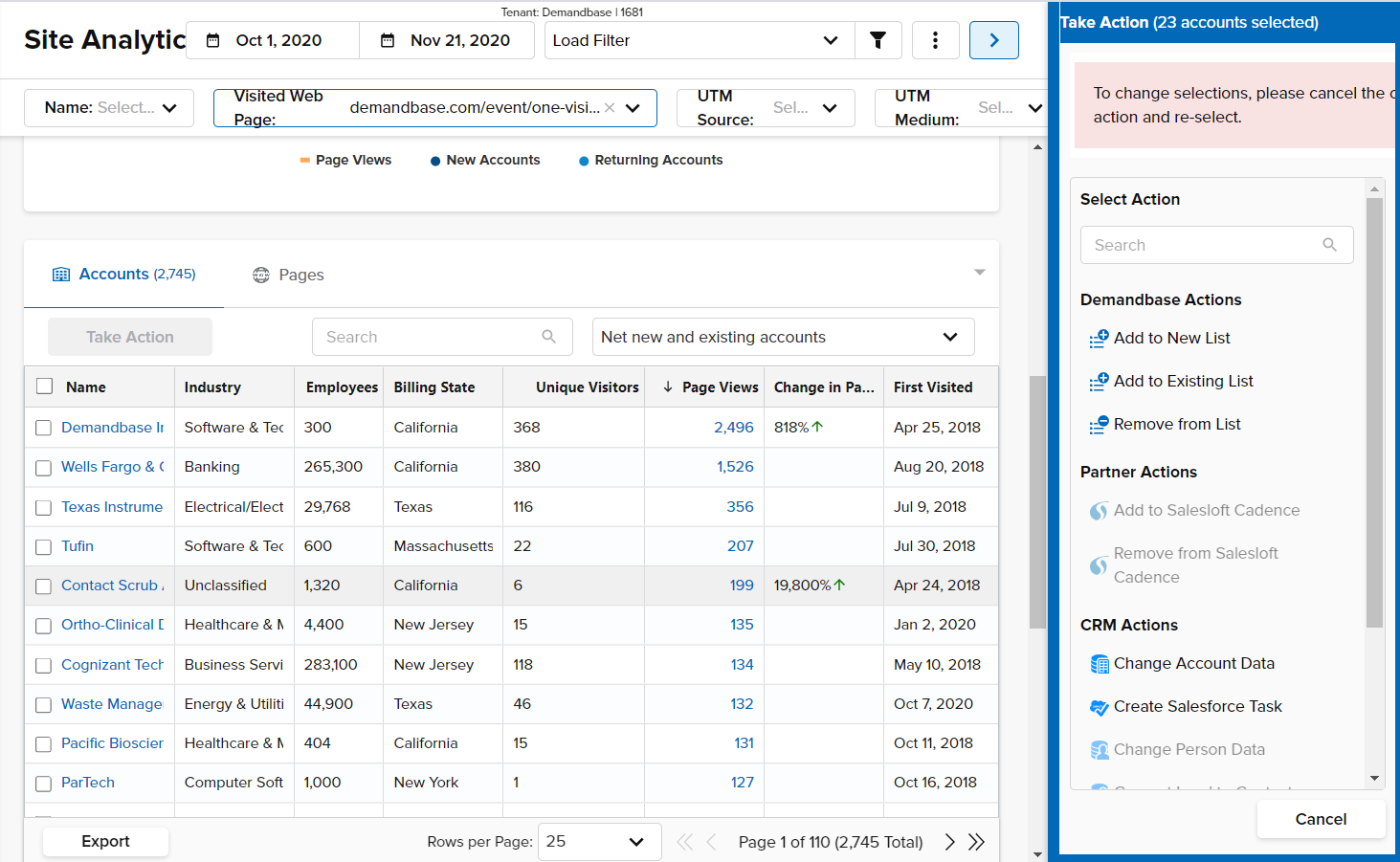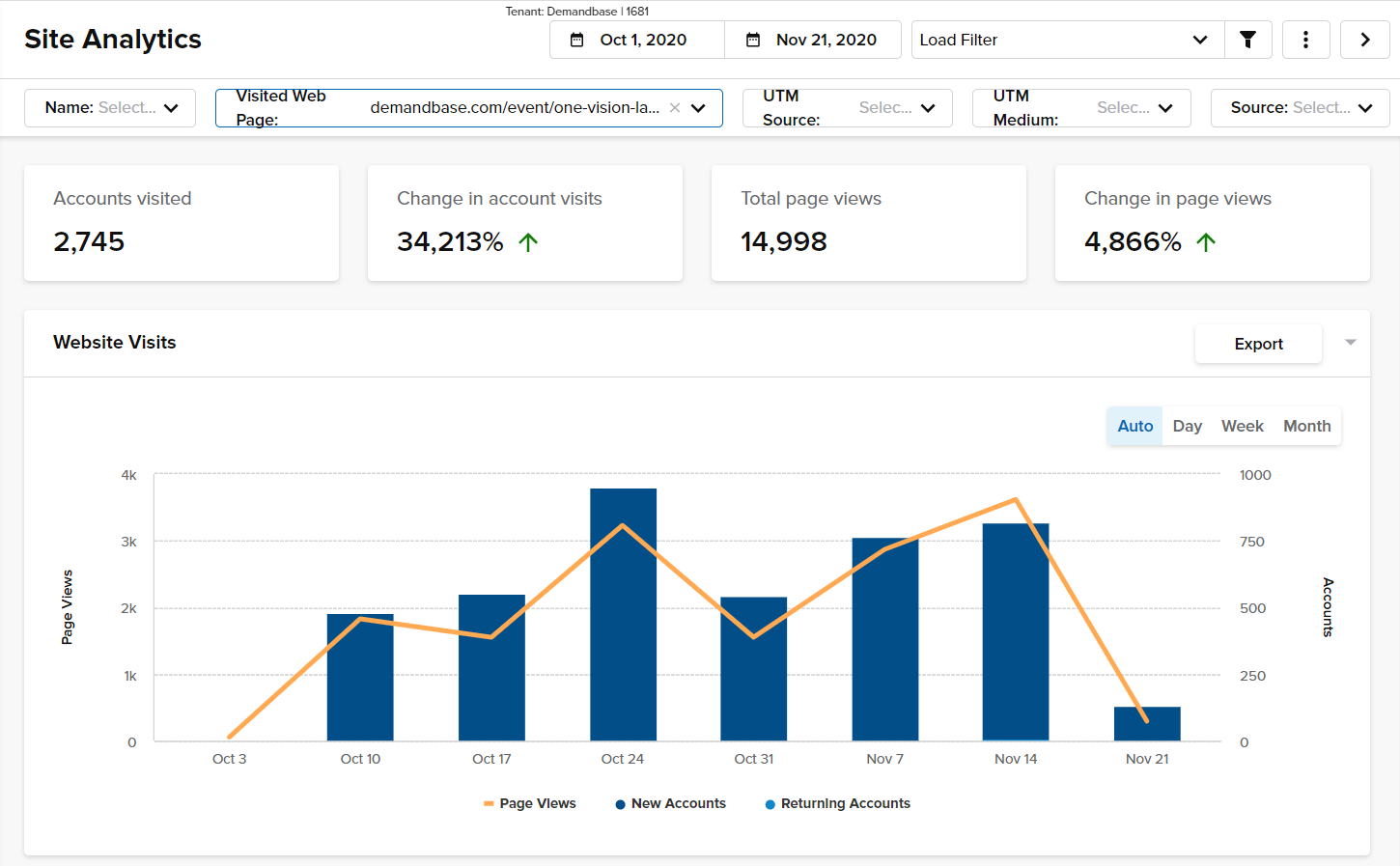 SALES ENABLEMENT
Site Analytics can help identify those accounts who are visiting solution/pricing pages or other pages that indicate a forward progression through the funnel. You can select an account list for a specific Sales Rep in the Account List dropdown. Based on the level of activity, the Sales Rep can determine which accounts to remove from the audience, add to the next campaign, or follow up with personalized messaging. The example shown below shows a filter for a list of accounts that belong to a Demandbase Sales Rep Joe. Another filter was added to show all of the activity for Joe's accounts on the Demandbase product pages. Based on the engagement level, Joe can follow up with highly engaged accounts with personalized talk tracks and he can add those accounts to the next Demandbase product campaign. Joe can also remove accounts from the list that have low engagement. If Joe wanted to cross-sell another product, he could select a specific product page to see which accounts visited that page and follow up with them directly with cross-sell messaging.