New Features:
Advertising Cloud - Creative Library
Our Digital Marketer's ability to upload and manage advertising creatives has just become much easier. The new Creative Library within the Advertising Cloud allows uploading and managing in a more user-friendly manner. Some key benefits include:
Creative upload capabilities independent of the campaign builder

Ad Groups: allows you to organize creatives into easily retrievable groups, following your campaign logic

Moving creatives in and out of Ad Groups, including re-naming and archiving

Wide range of editing capabilities on uploaded assets: change file names, creative sizes, landing page URLs, and more

Easier discovery of creative placement in ads as well as insight to campaign performance of displayed creatives
See The Creative Library for more information.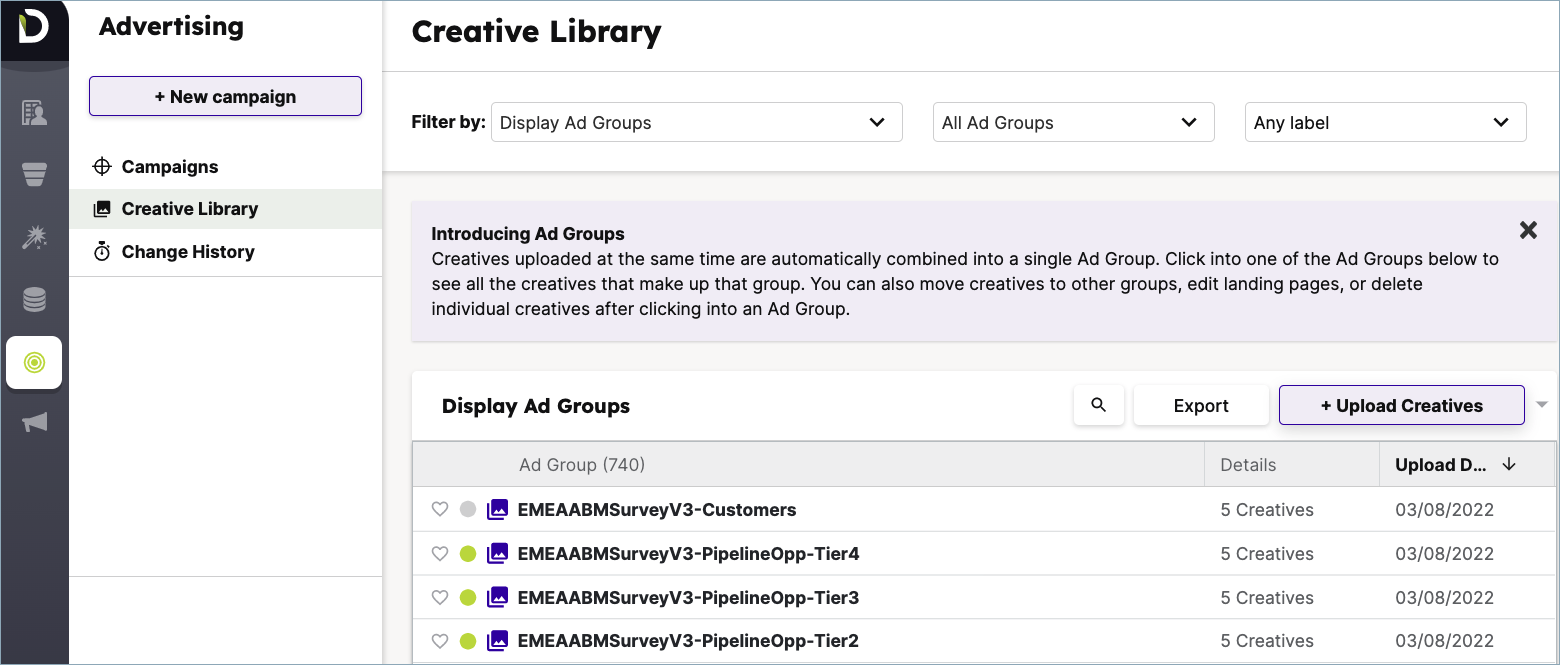 ABX Cloud - Excluding URLs for the Slack Integration
We've enhanced our Slack integration with new customizations. All individual Slack users can now exclude URLs in their web traffic alerts. This is accomplished by clicking the Preferences link within the Slack alert. This opens the Edit Slack Alerts window within Demandbase, which allows users to exclude URLs (e.g. removing career or support page visits).
See Create or Customize Slack Alerts for more information.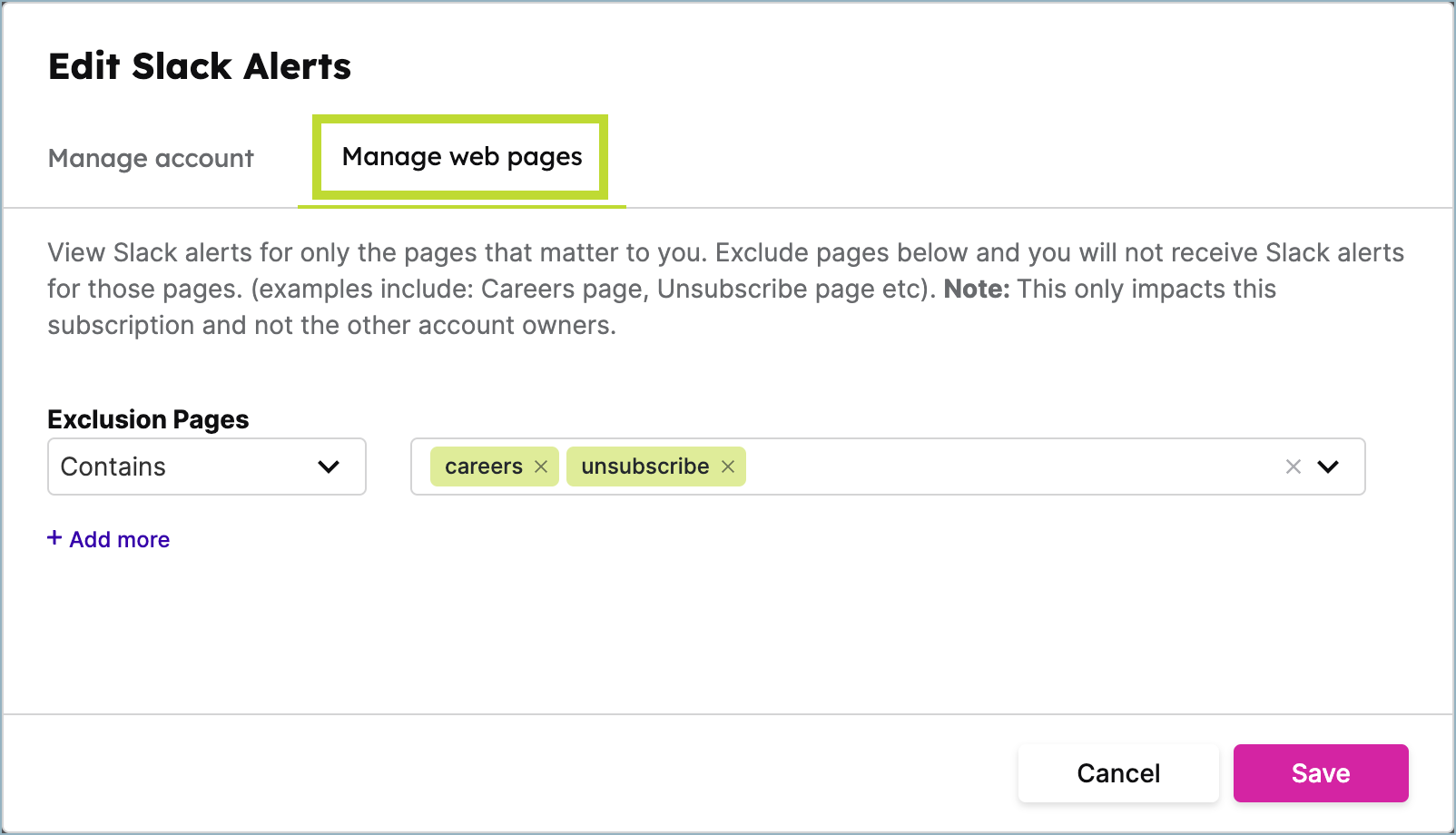 ABX Cloud - TrustRadius Integration (Available March 29)
Demandbase customers can now expand the intent capabilities of Demandbase One by incorporating TrustRadius intent into their selector criteria. This extends the insight you can gain from the technographic intent signals of both existing and new accounts in B2B, and opens up a variety of new use cases.
See Set Up Intent for TrustRadius Integration.
Product Changes:
ABX Cloud - Salesforce Package (Available March 24)
On March 24, we will be making the following changes to our Demandbase (ABX Cloud) Salesforce Package. These changes will take effect the next time your organization updates the package.
We are renaming the existing picklist fields, "High Intent Keywords" and "Competitive Intent Keywords" with "- legacy" at the end. The original fields will be replaced with a longtext-type with new API field names. If you're currently utilizing the two older fields, please update the fields to prevent any issues with the data sync. See the List of Fields to Add for Each Object table in Step 4: Add Demandbase Fields to Salesforce.

We have removed the stand-alone Visualforce elements on the account object based on customer feedback. This was removed since it's duplicative information that's already on the Demandbase widget. The Visualforce elements will still remain on the opportunity object, providing sellers with immediate access to information.
ABX Cloud - Notifications to Retrain Predictive Models
Users will now be reminded when it's time to retrain their predictive models. In-app notifications will be displayed on the Predictive Score Setup page in Settings when it's time to retrain their models.

Sales Intelligence Cloud - Single Sync Update (Available March 26)
On March 26, we will release a product update for Sales Intelligence Cloud (formerly InsideView Insights) to ensure users have a consistent experience whether syncing one record or multiple. For more information, read the following articles in our Knowledge Base:
Data Cloud - The Data Expansion Continues
We are excited to announce that we have grown our mobile data numbers to over +25 million.
With the work world evolving and professionals now working remotely from anywhere in the world, access to mobile phone numbers is more crucial than just having corporate deck phone numbers. This will provide more value for B2B sales professionals to access those buyers, when they are ready to buy.