Introduction
Quick reference guide for your IT department to see what versions of Microsoft are supported. Learn how Demandbase syncs, what Demandbase syncs, when Demandbase syncs, and how to verify that you can sync with Demandbase.
Versions Supported:
Exchange Online / Office 365: Supported

Exchange Server 2019: Supported

Exchange Server 2016: Supported

Exchange Server 2013: Supported

Exchange Server 2010 SP1/SP2: Supported

Exchange Server 2010: Supported

Exchange Server 2007 SP1/SP2/SP3: Supported, but contact your AE/CSM

Exchange Server 2007: Not Supported
Identify the Version of the Exchange Server
Step 1. Make sure to have Outlook running, then press and hold CTRL while you right-click the Outlook icon in the notification area in the bottom right.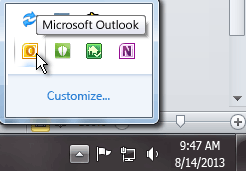 Step 2. Click Connection Status
Step 3. Move the horizontal slider all the way to the right. Note the version number and compare it to the list below:
Microsoft Exchange Server 2013: 15.0.516.032

Microsoft Exchange Server 2010 SP2: 14.2.247.5

Microsoft Exchange Server 2010 SP1: 14.1.218.15

Microsoft Exchange Server 2010: 14.0.639.21

Microsoft Exchange Server 2007 SP3: 8.3.83.006

Microsoft Exchange Server 2007 SP2: 8.2.176.002

Microsoft Exchange Server 2007 SP1: 8.1.240.006

Microsoft Exchange Server 2007: 8.0.685.24 or 8.0.685.25
NOTE: Exchange versions below 8.0.685.24 are not supported.
How Demandbase Syncs
Demandbase allows users to enter their Exchange credentials into the Demandbase application. Credentials are encrypted both in transit and at rest. If a user's Exchange password changes, Demandbase would need the user to re-enter their credentials.
What Demandbase Syncs
Demandbase securely stores emails and calendar meetings between users and specific target accounts. For example, if a Demandbase user joe@demandbase.com was talking to a prospect (charlie@sesame.com), and Sesame was a target account identified within the application, that email correspondence would be securely stored by Demandbase and made visible within the application to users at Joe's organization. See the Exchange Overview article for options to limit email visibility within the application.
When Demandbase Syncs
Demandbase syncs emails and calendar meetings at scheduled intervals that are determined by your Data Sync Settings for your organization.
Verify That Demandbase Can Sync
If you want to test if we can connect to your Demandbase instance, click here.
Step 1. Select the option indicated below: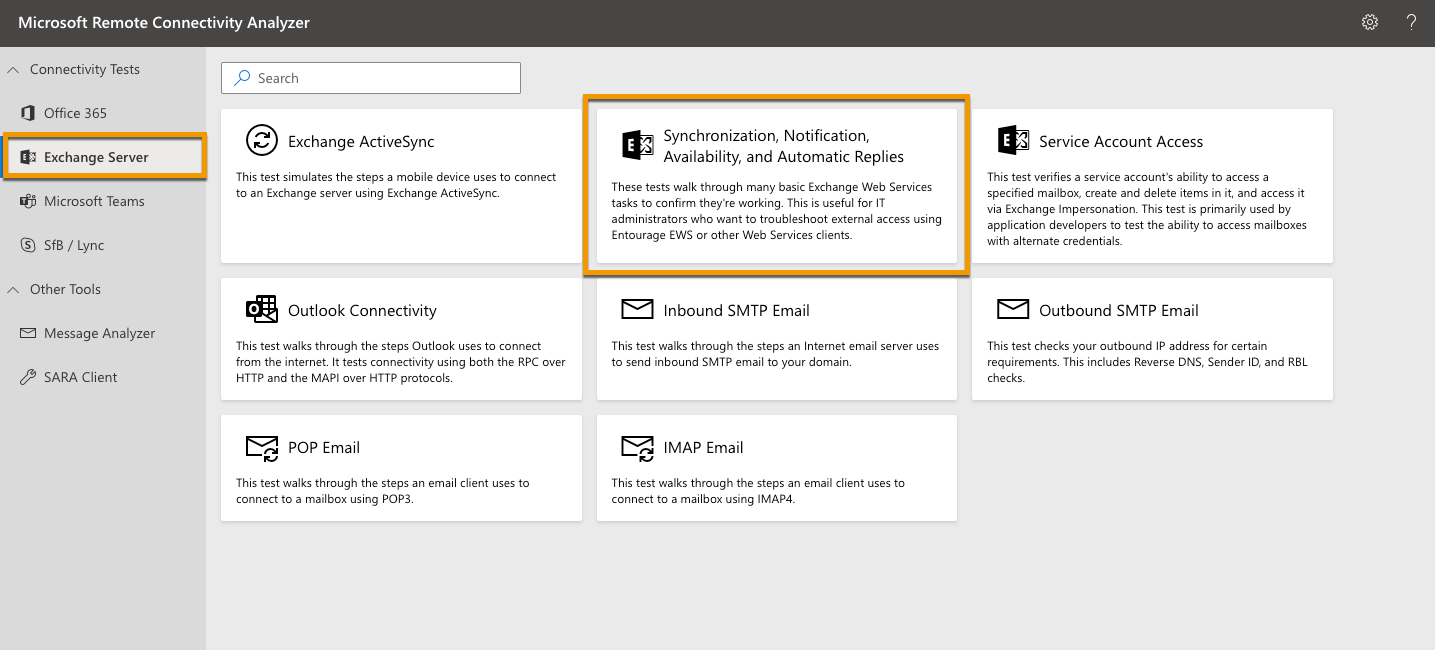 Step 2. Enter your credentials/details
Step 3. Click Perform Test on the left-hand side
Step 4. The test should Succeed or Pass with Warnings
Can we connect?

As long as the test passes, Demandbase can connect successfully.

Test didn't pass?

Just export the results, as indicated below, and send them to

support@demandbase.com

.
Demandbase needs the RCATestResults.html file attached to the email.
If you have any more questions, please send them to your account executive or support@demandbase.com.