Context
Demandbase integrates with a wide variety of systems. On the Integrations page (

Settings > Demandbase-Wide Settings), you can set up third-party integrations as data sources, so that you can receive data FROM an integration.
To set up Demandbase to send data TO an integration, see Set Up Demandbase to Send Data to an Integration: Account Connector.
See more specific instructions for Salesforce integration (which is 2-way integration) at Step 3: Set Up Salesforce Integration in Demandbase One.
Direct integrations
Demandbase directly integrates with the following systems:
Salesforce (CRM) - 2-way integration

Marketo (Marketing Automation)

Eloqua (Marketing Automation)

Hubspot (Marketing Automation)

Pardot (Marketing Automation)

Slack

Email

Calendar

SalesLoft (Sales Automation)

Outreach (Sales Automation)

LinkedIn (Ad Management)
Indirect integrations
Demandbase does not directly integrate with the following platforms, but our connections to Salesforce allow us to initiate, track, and augment activities with:
PFL (Direct Mail)

Sendoso (Direct Mail)

Drift (Conversational Marketing)

And many more!
Prerequisites
Authentication for the platform to connect to.
Steps
1. From the left navigation bar, go to

Settings and navigate to Demandbase-Wide Settings > Integrations.
2. Click Create Data Source.
3. Select a data source from the drop-down menu.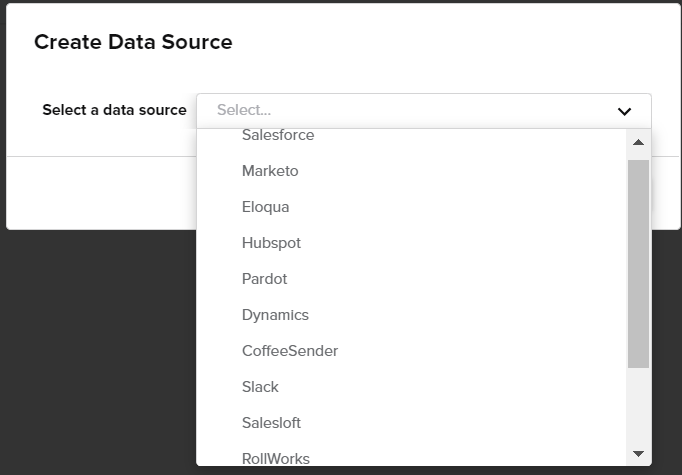 4. Enter the authentication information requested and activate the data source if prompted.
The authentication information required varies depending on the type of data source you select.

The example below shows the required authentication information to integrate with Eloqua.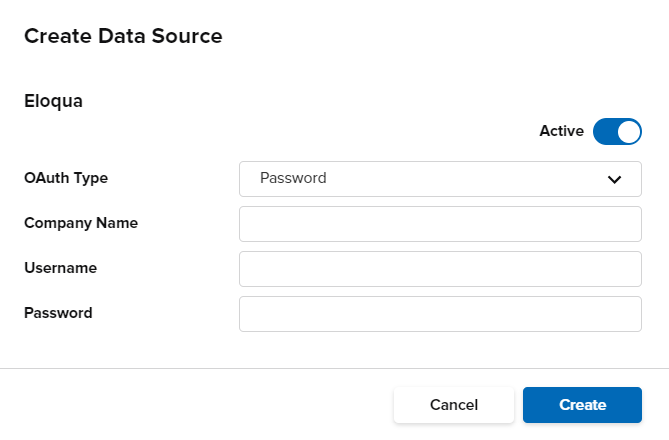 5. Click Create.
Outcome
To learn more about each service, see: