Context
After you customize your Journey Stages, you can assign the Stages to align with three key milestones of the Demandbase Account-Based Marketing Journey: MQA (Marketing Qualified Account), Pipeline, and Customer. You can assign Stages to these key milestones by clicking the Designate Stages button on the Account Journey Builder page. The assignment of Stages to these milestones are critical in Demandbase because they affect key metrics such as:
When accounts reach a point that they are calculated in Pipeline Predict scores

Pipeline and Revenue dollar amounts on the Journeys dashboard

Pipeline Revenue and Closed-Won Pipeline Revenue in the Program Impact view of Analytics
Important: The field names in the Designate Stages window don't represent individual Account Journey Stages. Instead, the fields are for designating categories of Stages.
Designate Stages
Field Name
Criteria
Stage(s) to Assign

MQA

Only your MQA Stage belongs here

If you don't have a Stage named MQA, select the Stage that's the equivalent.

Pipeline

Stages that reflect activity of accounts in your sales pipeline

Examples of commonly used Stage names for Pipeline category are Scoping, Pipeline Opportunity, In Negotiation, and Pending Contract.

Customer

Stages that reflect activity of accounts after they become customers

Examples of commonly used Stage names for Customer category are Customer, Closed-Won and Renewal-Won.
Tip: Don't expect to assign all Stages in the Designate Stages window. Most Stages before Pipeline don't get assigned in the Designate Stages fields.
Prerequisites/Preparation
Demandbase Admin privileges.
Complete Journey Stage setup as documented in Edit and Publish Account Journey Stages.
Steps
1. From the left navigation bar, go to

Settings > Journey > Account Journey Builder and click Designate Stages.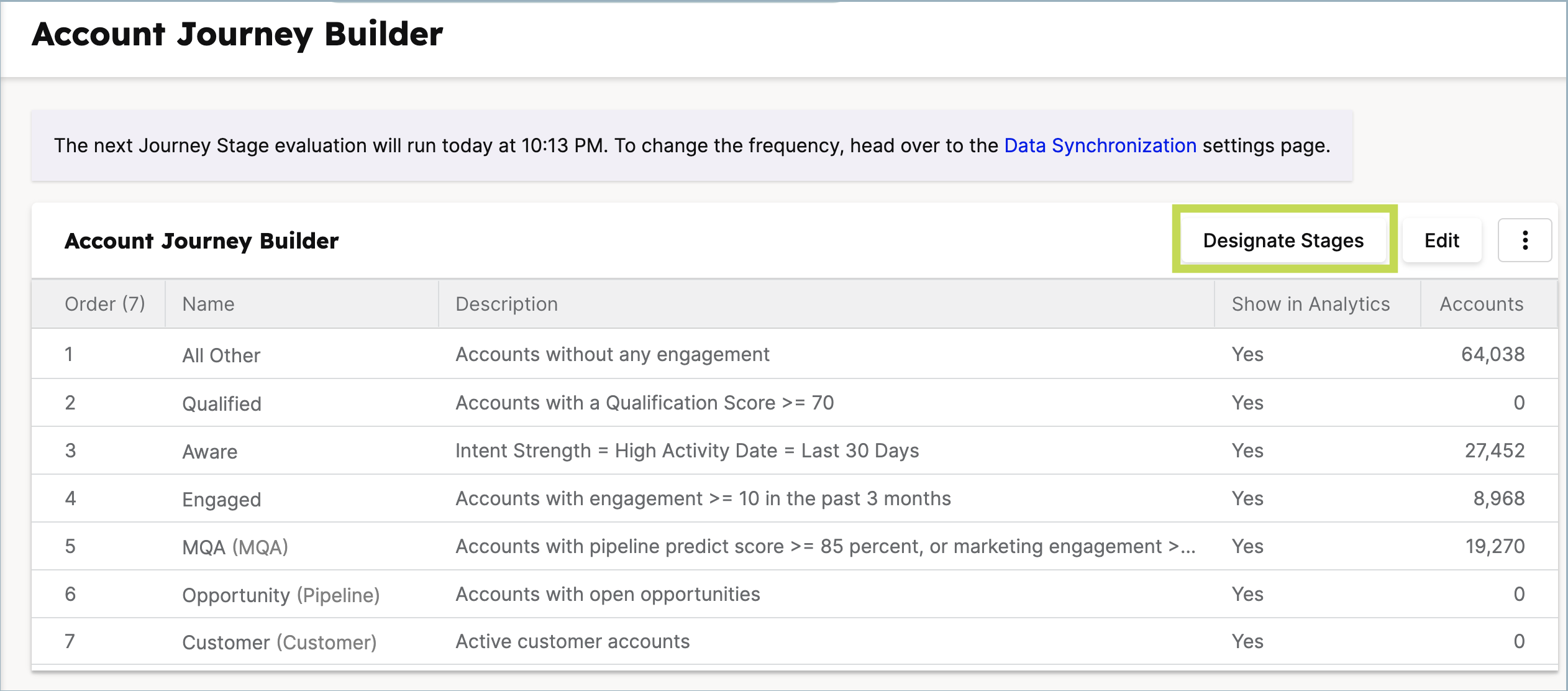 2. Use the drop-down menus to add the Stages in your Account Journey that belong to each of the three categories. If there are values in the fields that no longer apply, you can remove them by clicking the X marks.
3. Click Save.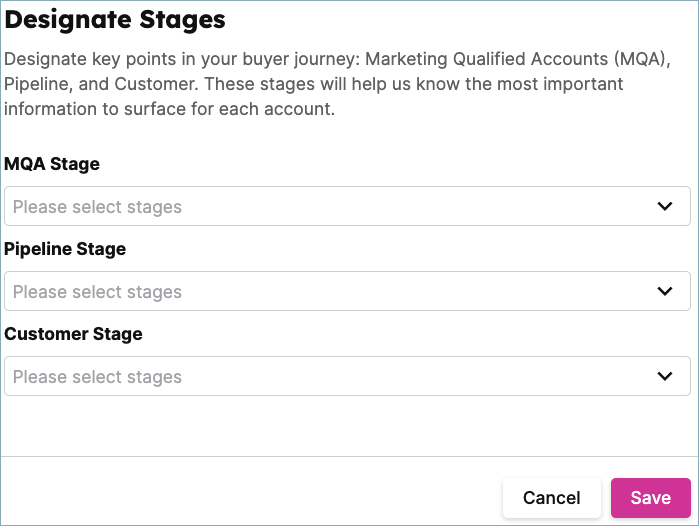 Outcome
After you've saved your Stage selections, the Account Journey Builder page refreshes to display your designations after each name. For example, see (MQA), (Pipeline), and (Customer) in the screenshot below.