When an account clicks on your ad, the landing page should guide the account to accomplish your objective for the account-based advertising campaign. The landing page is where the account has the opportunity to consume information, navigate through different areas of your website, or be called to a specific action.
All of these options can spark account progress through the funnel. User behavior based on your landing page feeds data to various ABM key performance indicators (KPIs) that measure campaign performance, such as an increase in website visits, site engagement, and pipeline/opportunity creation.
How to Approach Setup of a Landing Page
The example landing page below demonstrates general best practices around the setup and layout of your landing pages. Follow along with these tips, which correspond with the numbers in the screen shot:
Keep top level navigation on landing pages.

Ensure the main message and primary call-to-actions (CTAs) are prominent and synch with your campaign and creative objectives.

Render the landing page so that it's easy to skim. Simplified content or bullet points with a clear visual hierarchy can improve interaction rates.

Include secondary CTAs for additional learning paths.

If engagement is a goal, use a mix of gated and ungated assets to provide additional options for visitors.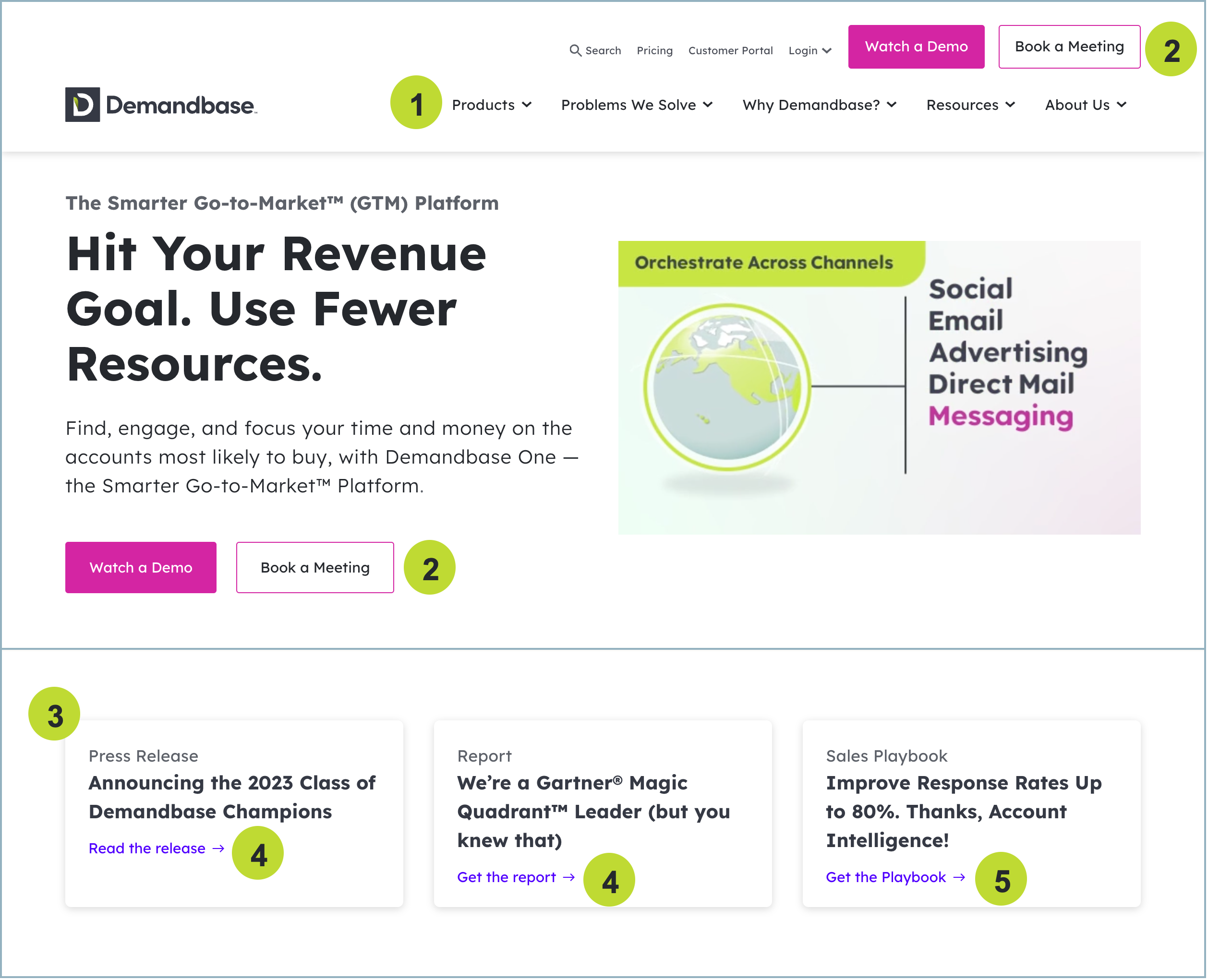 Objective-Based Guidelines
Follow the guidelines in the table below to further optimize campaign performance.
Objective 
Result 
Guidelines

Raise awareness

Top-of-funnel prospecting; New market entry

Use a broad value proposition to increase awareness.
Use ungated content (for example a solutions page, blog article, white paper, and general information).

Build pipeline

 

Generation and acceleration of qualified leads

Include a tailored value proposition. Use a mix of gated and ungated content for engagement options.

Have a clear CTA and important information above the fold. Include a form for the primary CTA.

Use a shorter form to get people into your funnel and nurture them from there

.

Retain/upsell customers

Renewal; Upsell

Reinforce the value proposition.

Use a mix of gated and ungated assets for  engagement options.

Have a clear CTA and important information above the fold

.
Tip: To increase the effectiveness of the campaign, implement Demandbase Personalization to maximize visitor engagement on your website.