You can connect your Demandbase account data with other third-party integrations by using the Account Connector. Account Connector will support Adobe Analytics, Google Analytics, Drift, Optimizely, Uberflip, and other custom integrations. Learn more about setting up Adobe Analytics and Google Analytics integrations here.
To access the Account Connector page, click the
Settings on the let Navigation bar and navigate to Demandbase-Wide Settings > Account Connector.
Steps
1. Create a new integration in Account Connector. To create a new integration either select a new integration from the list in the drop-down or type in the name of your custom integration.
2. Choose Client side or Server side as the integration type (if you are unsure which option to choose, consult with the third-party partner before proceeding).
3. Select the fields to include in the integration.
4: Map the fields included in the integration in the Field Mapping section.
5. Generate API Token. Our Professional services team will review the setup of your custom integration. You will be notified via email when the integration is approved and the API Token is ready for use in the third-party application.
6. Copy the token and paste into the third-party application.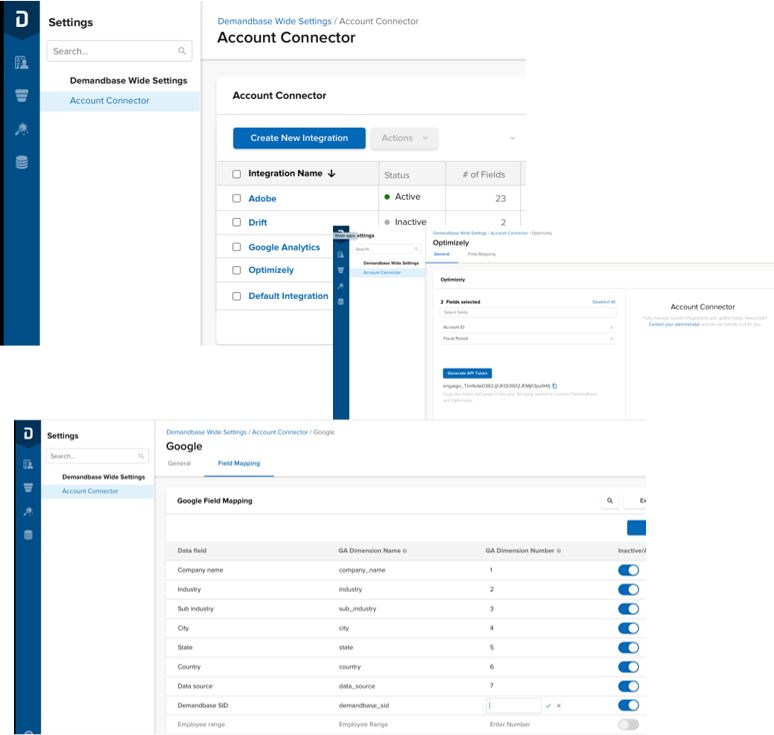 Note: Editing existing integrations will also require approval from the Professional Services teams.