Context
The SalesLoft action in Demandbase allows you to assign a Cadence to a SalesLoft user to run against a prospect. This integration helps you to easily manage assigning and running Cadences in SalesLoft from within Demandbase without having to leave Demandbase.
Setting Up SalesLoft in Demandbase
SalesLoft has two components:
A

tenant-level integration

(Setup by an Admin in SalesLoft is required)

A

user-level integration

(Setup by individual users who will take the action of adding people to their SalesLoft Cadences is required)
Steps: Tenant-Level Integration
1. Go to

Settings > Demandbase-Wide Settings > Integrations.
2. Click Create Data Source and select SalesLoft.
3. Confirm Is Active toggle is on and click Create.
4. Choose the Automatically create people toggle to automatically create new people when new people are added to a Cadence in SalesLoft. When disabled, only Leads and Contacts who already exist in SalesLoft will be added to a Cadence.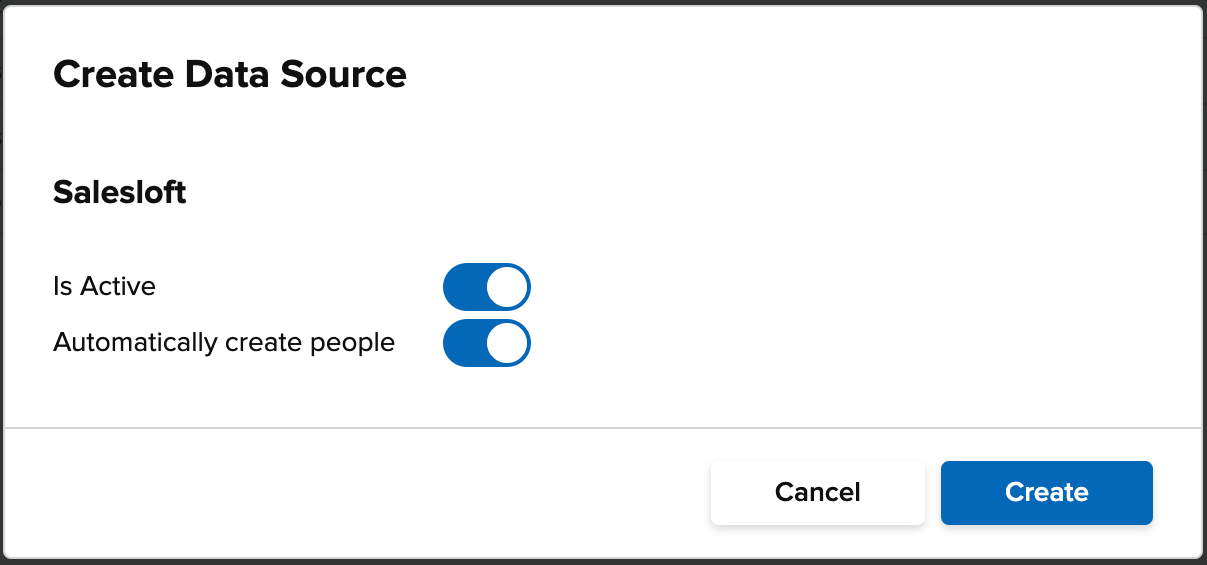 Steps: User-Level Integration
1. Go to Settings > My Profile > Connected Accounts.
2. Click Connect for SalesLoft which will give you a pop-up.
3. Select Connect Account to be redirected for SalesLoft account authorization.
4. Once completed, a notification will confirm you are set up.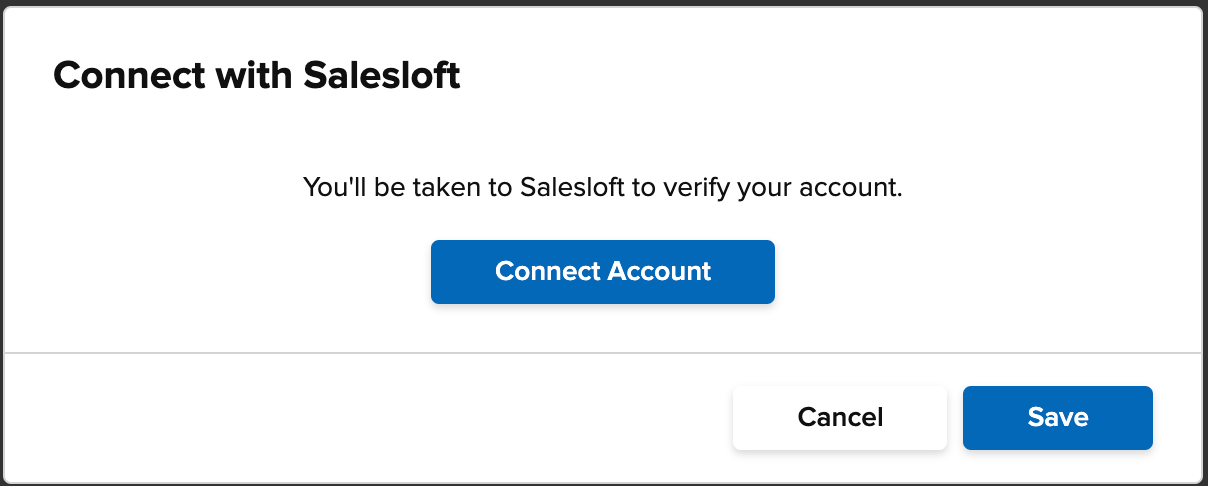 5. After connecting, the option to toggle the Require Approval for the specific user account is available.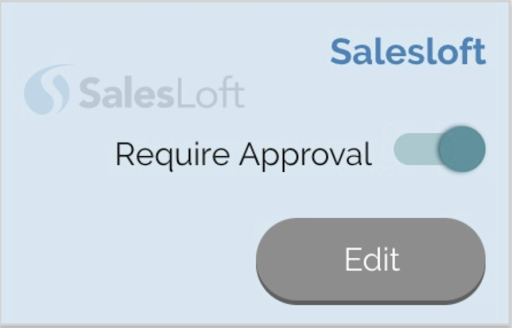 Execute the SalesLoft Action in Demandbase
For the user-level integration, individual users must connect their SalesLoft account to use the Add to SalesLoft Cadence action.

SalesLoft users who are only assignees do not need to have a Demandbase account.
Steps: Assign a prospect to a Cadence for a SalesLoft user
1. Select a Prospect (To) from the dropdown.
2. Select a SalesLoft Assigner from the dropdown. The user can be any SalesLoft user that has connected their account into Demandbase, including yourself. The user selected as the SalesLoft Assigner here will determine which Assignees and Cadences you are able to see and select.
3. Select a SalesLoft Assignee from the drop-down. The assignees shown are determined by the SalesLoft user selected as the assigner and who they can assign to. You are able to assign to yourself, as well.
4. Select a Cadence from the drop-down. The Cadences shown are determined by the SalesLoft user selected as the assigner earlier and which Cadences they have access to.
Team Cadences are available for all users.

You can only view, access, and assign Private Cadences when the selected SalesLoft User and Assignee are the same SalesLoft user.

See

Common Errors

at the bottom of this article for more details.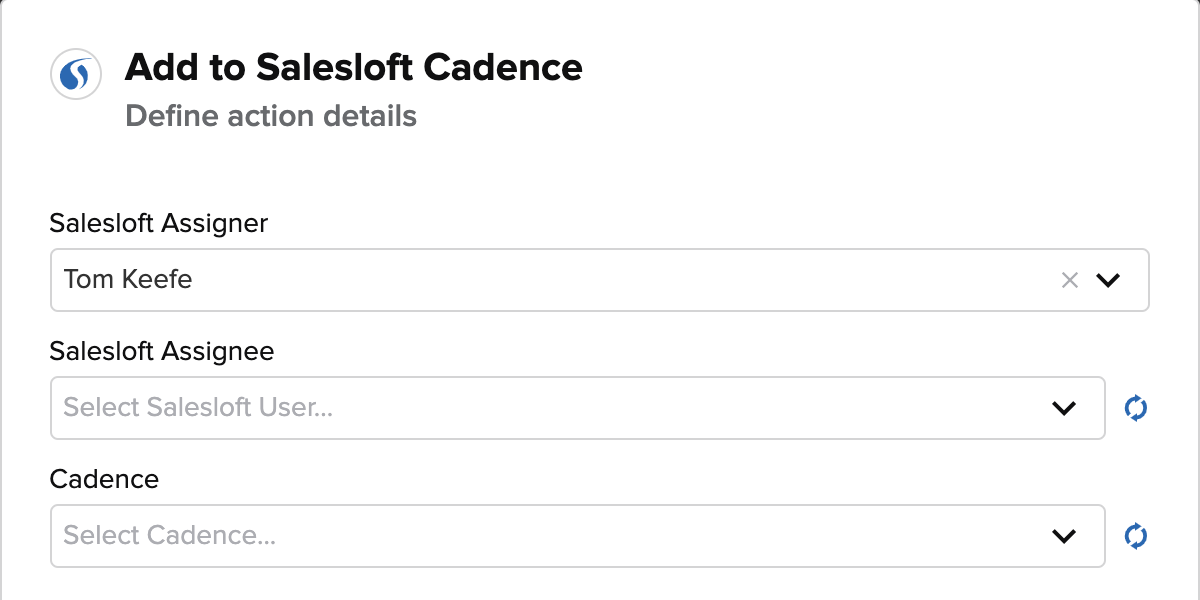 5. An Approver is optional and appears if toggled on under Connected Accounts (see set-up).
The prospect is added to the Cadence immediately following the execution of the action, and is visible in the SalesLoft Assignee's Cadence dashboard.
Important notes about the SalesLoft Cadence
If a prospect is already being targeted in another Cadence, an error displays in the Action History page and a pop-up warns you that Demandbase was not able to complete the action.
Common Errors
Invalid entry selected for Cadence given selection in Salesloft User

- This error occurs prior to action execution when assigning a Cadence to a Salesloft user that doesn't have access to the Cadence.

Cadence is not owned by the provided user and is not a Team Cadence

- This error occurs at action execution when assigning a Private Cadence to a user that doesn't have access.