People-based advertising sharpens the focus of ad targeting and reports campaign results from the intended audience. After campaign launch, the Campaigns dashboard table reports on ad engagement metrics specifically among people who you targeted. The dashboard reports people-based advertising results in addition to broader data points about the campaign and reach to account domains.
People-based advertising prioritizes individual people included in the account list of a campaign who match one or more of the following attributes:
Email address (a person targeted in an ad campaign by way of a matching email address is referred to as a

Known Contact

)

Job level

Job function

Persona (a mix of the person's job level and job function)
You can enable and configure people-based advertising in the People based targeting (optional) section of the Step 4: Strategy page of the Campaign Builder.
Important: As you build an ad campaign with self-serve Advertising and assess whether you want to focus with certain people-based targeting attributes, keep in mind the following:
You need to select and configure

Contacts you already know

if you want to target Known Contacts and view campaign results by this attribute.

The Campaign Details page will always display ad performance data for accounts reached that match job levels and job functions. You only need to configure job levels and job functions in the

People-based targeting

section of the Campaign Builder if you want to target by these attributes.

You can't change or add Known Contacts, job function, job level, or persona targeting attributes of a campaign after you publish it.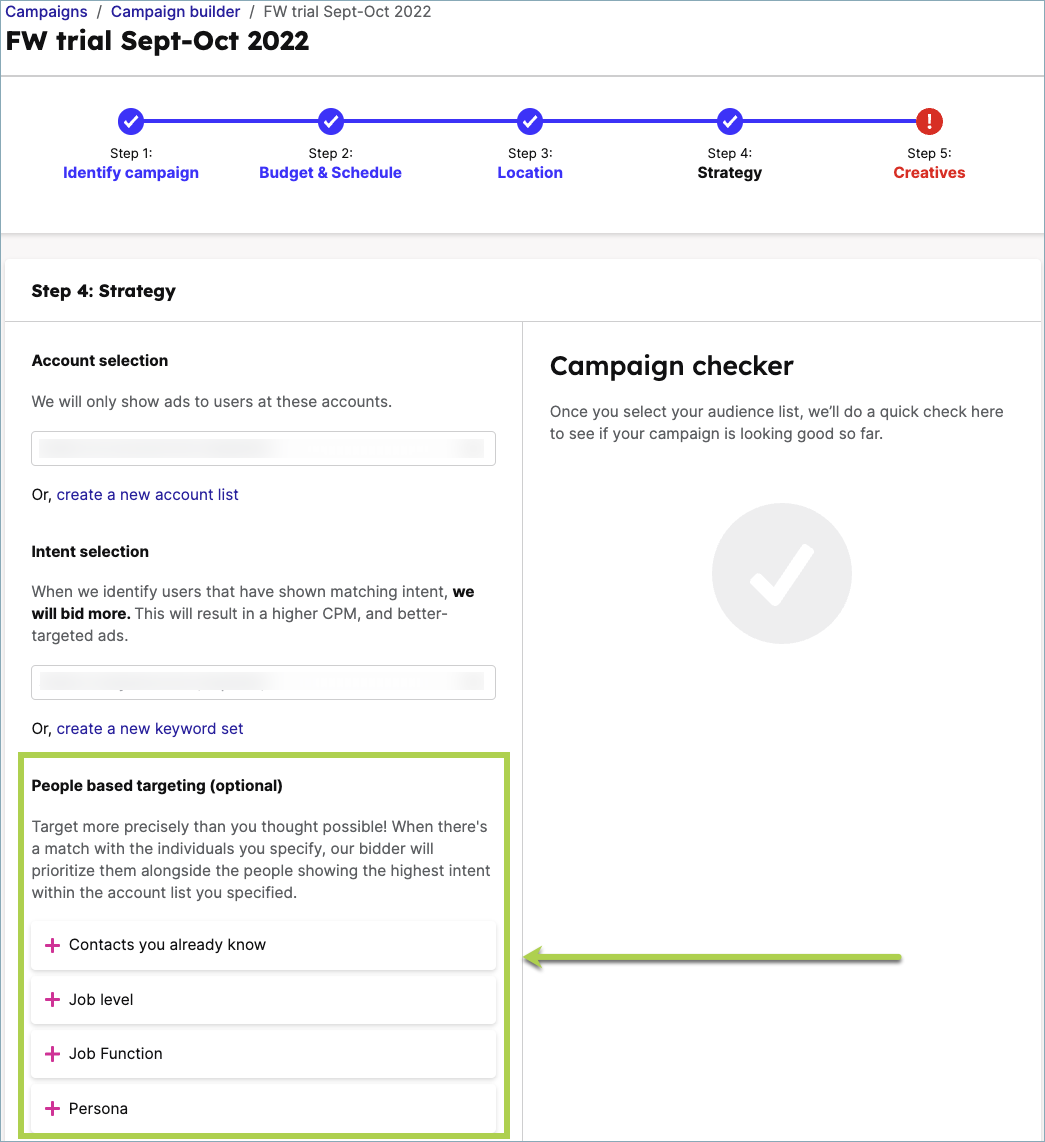 If a person is a match with one or more of the selected people-based attributes, the Demandbase DSP prioritizes the impression to them even if we haven't identified them as demonstrating Intent. The prioritization goes so far that Demandbase always bids to place an impression when a person-based attribute match occurs–and does so with a higher bidding price.
Important: Bear in mind that people-based advertising supports a flexible "mix and match" approach to targeting attributes and specific attribute traits:
You can configure people-based advertising to target ads to accounts who match either one type of attribute or a subgroup of the four attributes.

Your Known Contacts, Job Function, Job Level, and Persona targets are equally weighted.

When you target based on more than one attribute trait, the Advertising solution prioritizes people that match any one of the attribute traits–regardless of whether they are all contained in one attribute category or not.
For example, if you've chosen to target ads to accounts with Director for job level and Marketing for job function, Demandbase bids higher for an impression regardless of whether the person's record contains only one or both traits. In the case that a person's job level matches Director and their job function doesn't match Marketing, the DSP doesn't bid lower than if both attributes matched.
Targeting Known Contacts
Prioritizing campaign spend on Known Contacts requires that your account list derives from an integration with records from a CRM or MAS. After the qualifying records are imported into the Demandbase People Database, you leverage Selectors to customize the list to prioritize reach to individuals who you want to target.
In Step 4: Strategy of the Campaign Builder, expand and configure the Contacts you already know node to turn on Known Contact targeting. See Enable Ad Targeting to Known Contacts for how to develop the prerequisite Person Lists and how to enable Known Contact targeting in the Campaign Builder.
Targeting by Job Level
You can target a campaign to accounts with people employed at one or more job levels. Demandbase compares your job level choices with the information available in account records.
See Enable Ad Targeting by Job or Persona Attribute for how to set up a campaign with job level targeting. Demandbase provides the following job level options:
C-Level

Senior Executive

Vice President

Director

Manager

Other/Individual Contributor

Board Member
Targeting by Job Function
You can target a campaign to accounts with people employed with one or more job functions. Demandbase compares your job function choices with the information available in account records.
See Enable Ad Targeting by Job or Persona Attributes for how to set up a campaign with job function targeting. Demandbase provides the following job function options:
Sales

Marketing

Academics

Accounting and Finance

Administration

Business Development

Construction Engineering

Consulting

Customer Support

Human Resources

Information Technology

Investment Management

Legal

Logistics

Manufacturing

Medical

Operations & Administration

Purchasing & Procurement

Quality Assurance

Research & Development

Safety & Security
Targeting by Persona
Target individuals by matching both a selected job level and specific job function with the persona attribute. To cast your targeting net for reach to multiple personas, you can select a combination of job levels and/or job functions.
Important: When you use the persona attribute, Demandbase prioritizes and bids higher for ad impressions equally to accounts with people who match either one pair or multiple pairs of job level and job function attributes.
The job levels and job functions that are available in persona targeting are identical to the options listed in the Job level and the Job Function drop-down lists. If you choose a job level targeting attribute for a persona, you must select job function parameters to apply for the campaign reach. But when you select an option in the Job level drop-down list, Demandbase hones in on the selected job level regardless of what selection (if any) you make in the Job Function drop-down list. Non-persona job level selections encompass all job functions. The same principle applies to job functions in relation to job levels. In sum, view persona-based targeting as more focused–a selection in the Job level or Job Function drop-down list isn't equivalent to selecting the same attribute in the Persona settings.
With personas, you might want to consider that specific ad data about individuals who match the persona attributes that you've selected are reported differently from how other people-based matches appear on the Campaigns dashboard. Campaign results for people who match the persona attribute aren't separated out and identified as such in the reporting table. We omit this specific information as an online privacy safeguard for the campaign audience.
Viewing People-Based Advertising Results
See Analyze People-Based Advertising Campaign Results for how to view reporting from a people-based advertising campaign.