You can import records that identify key information about completed sales or pending deals into the Opportunities database. Opportunities can be imported into Demandbase from a CRM system like Salesforce or can be uploaded with a CSV file using the Data Import utility.
To view the Opportunities database, go to

Database > Opportunities from the left navigation bar.
The following screenshot shows the main types of information you can find in the table of the Opportunities database. The Name column lists the business name of your prospective customer. Owner Name is your company's chief sales contact for the opportunity.

Each entry in the Opportunity Name column is a hotspot, which you can click to open details about the opportunity. The following screenshot displays the details window of an opportunity, with the Fields tab selected. The Export Fields button downloads the fields of the opportunity as a CSV file. The Edit Fields Layout button lets you choose which fields to display and in what order they appear.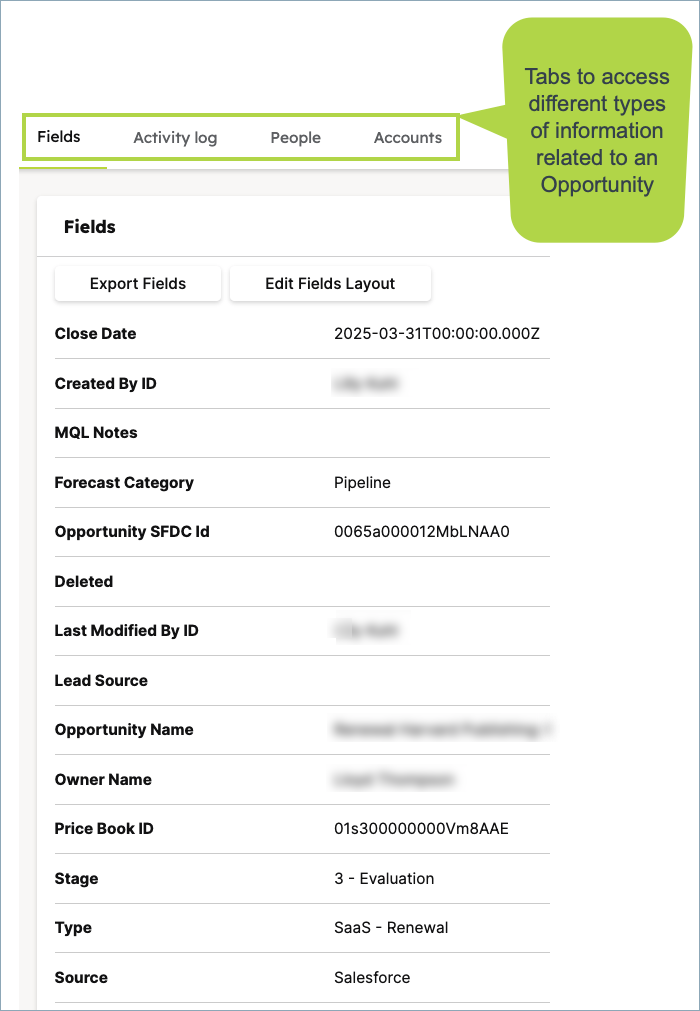 Some Use Cases for the Opportunities Database
The Opportunities database offers an easy way to look up details of an opportunity by its name. But if you only know the company name of the prospective customer, you can search by company name and then sort the rows on the Name column to see all opportunities associated with the company.
With opportunities sourced from CRM, you can sort entries in the Stage column to group rows by the stage of the sales lifecycle. This allows you to see at a glance all opportunities in the same stage. With this view, you can tailor your Account-Based Marketing (ABM) or sales approach that you might want to apply to prospects. By having the list of businesses at the same stage, you might be able to take advantage of Demandbase automations as well.
The Opportunities database enables you to build Opportunity Lists by displaying relevant details about individual prospects in the pipeline. See Create Opportunity Lists for more information.
Import Opportunities in a CSV File
A Demandbase Admin can import or re-import Opportunities that are listed in a CSV file to the Demandbase Database using the Data Import utility. See Import or Reimport Account or Opportunity Data from a CSV File.