Context
You can build reports based on specific criteria important to team members, like territory specific insights or account engagement. Subscribe team members to these reports and get them delivered via Slack or email.
Steps
1. From the left navigation bar, go to

Analytics > Reports in the left navigation bar and click Create New.
a. Enter the following information:
Name - Title of the Report
Description - Add a description for this report
Member Type - Choose which type of results the report should return

Account

Person

Activity

Opportunity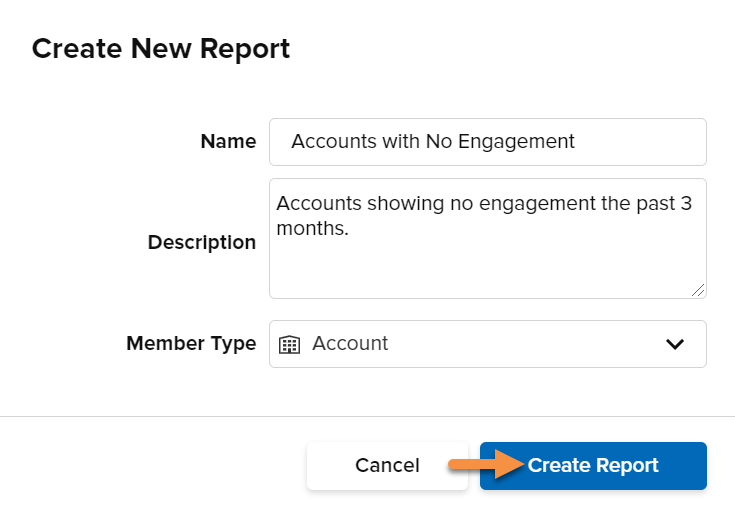 b. Click Create Report.
2. Click Selector to add the criteria to filter the report using Selectors.
For example, this report returns accounts with no engagement.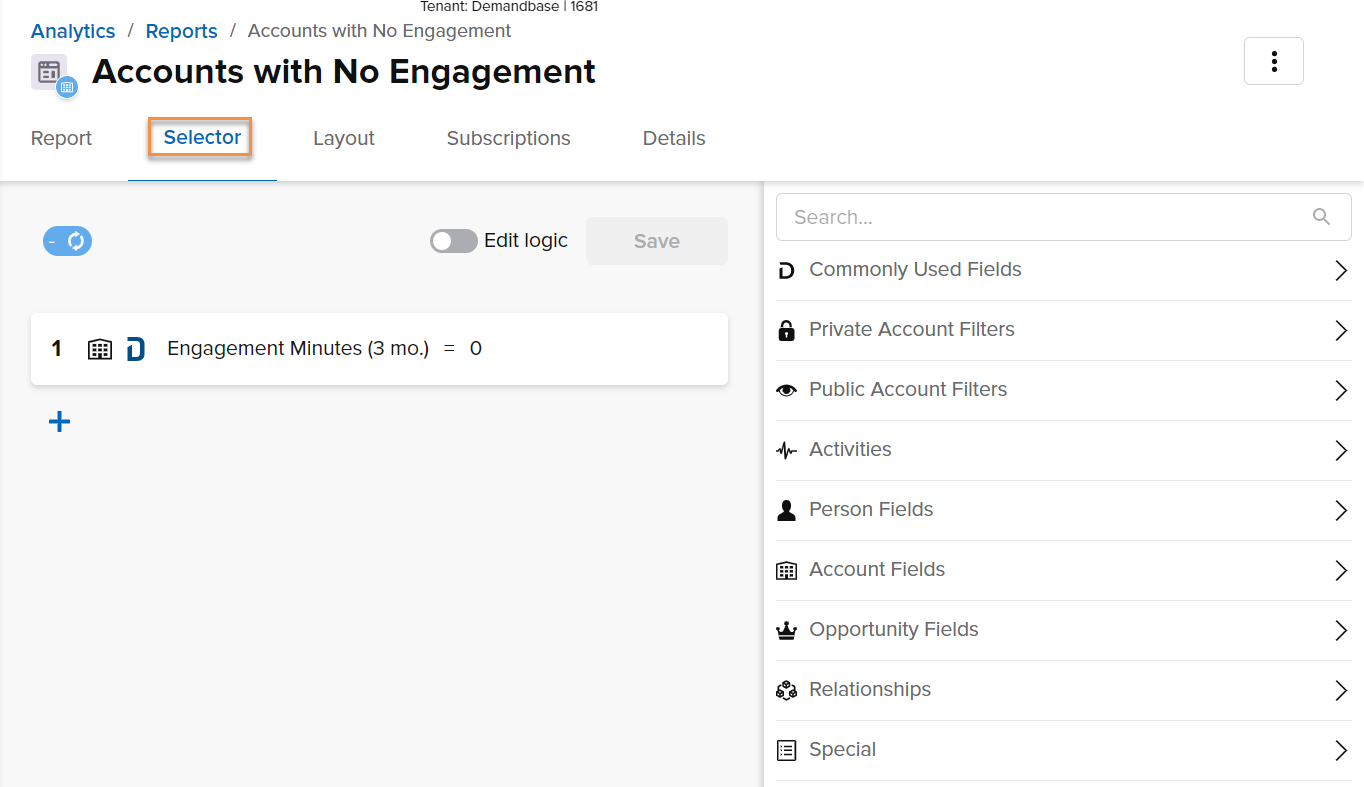 3. Click Layout to set up your report:
a. Click Email or Slack.
b. From the drop-down, select the columns to display in the report. Click the

minus sign to delete a column.
Best Practice: Keep the number of columns in the layout to a minimum to avoid a messy table in your email.
c. Select the field to sort the report on and whether you want it to be in Ascending (Asc) or Descending (Desc) order.
d. Enter the maximum number of rows to view in Max Rows. If more records qualify than the maximum rows, the report displays a See full report link at the bottom of the report.
d. Click Save.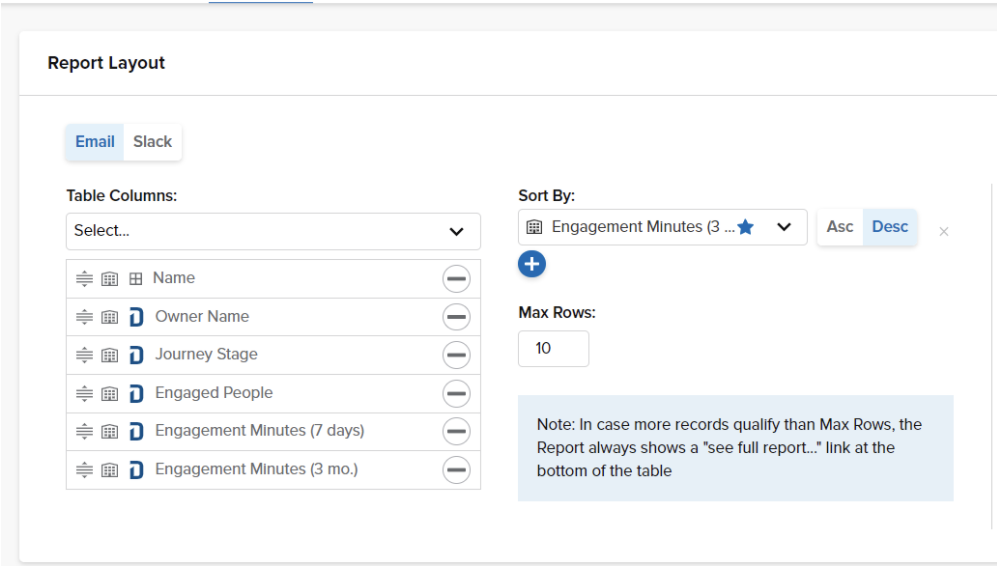 4. Click Subscriptions to set up who receives your report. See Create Report Subscriptions to Send by Email or Slack for the steps.
OUTCOME
Look for your email or Slack message at the time you requested it.
Below is an example of what a report looks like in Slack. To view the entire report, click See Full Report.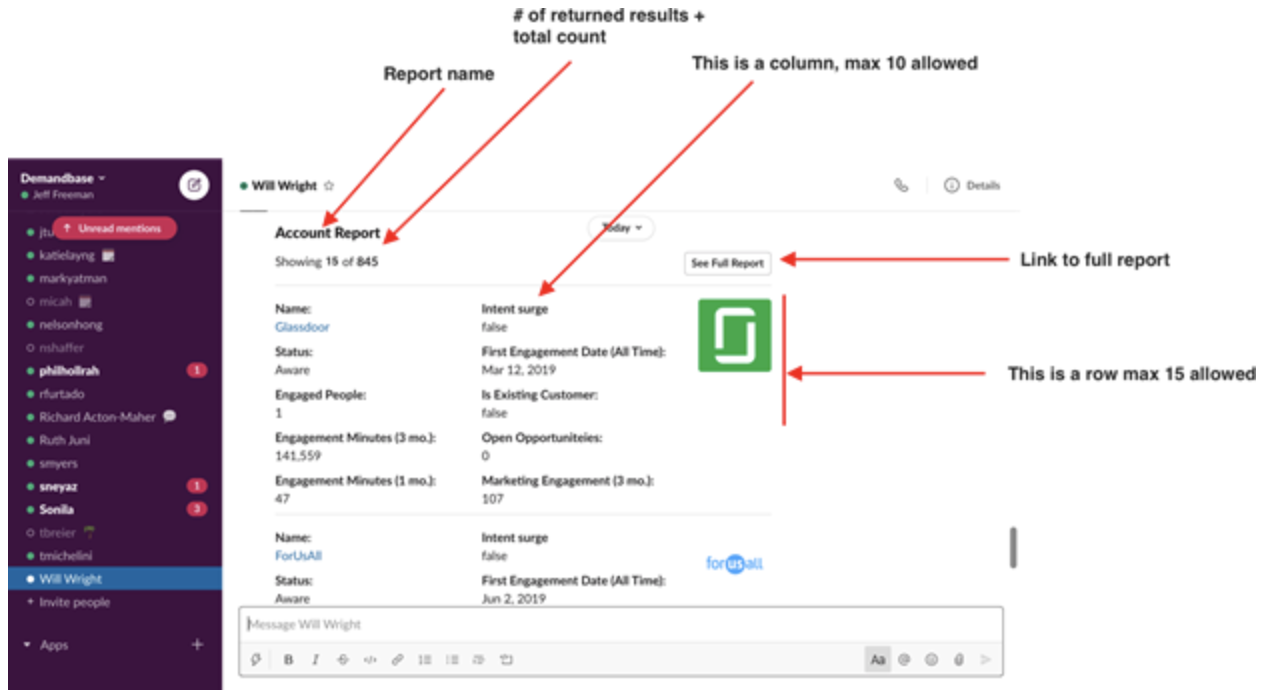 Next Steps
Reports are flexible. You can include them in Snapshot Emails. See Customize Snapshot Emails.
For an example of creating a report that shows the location of visitors to a web site, see Create Report on Activities from a Particular Geographic Area.