Context
Step 2: Budget & Schedule of the Campaign Builder enables you to authorize funding to bid on placements of your ad impressions. When targeted accounts visit online content that accepts ads from the digital marketing platform, you're ready to bid automatically based on predetermined decisions.
Demandbase presents your company's budgeting for ad campaigns based on how allotments were determined by decision makers of ad spend. For example, if your company decides that they want to divide ad spend into three different pools of funding, then you'll choose one of three order numbers to associate with your campaign.
The authorized spending amounts appear as separate entries in the Purchase Order/Order number drop-down list. An entry that begins with Order corresponds with an order number that appears prominently on one of your contracts with Demandbase. Entries that begin with PO provide your company's unique purchase order (PO) number for billing purposes as well as the contract's order number. If your company doesn't require PO numbers for billing, you will only see your Demandbase order numbers.
In addition to selecting the appropriate PO or order number, you also:
Select flight dates for your campaign

Specify total U.S. dollar amount that can be spent on the campaign

Determine at what pace you want to bid on placement of your ads
The Step 2: Budget & Schedule window ensures that you don't overspend and helps minimize any amount of unspent ad budget at the end of the campaign.

Prerequisites/Preparation
Access to these Demandbase solutions:
Engagement Platform

Self-serve Advertising
You've completed Step 1: Identify campaign of the Campaign Builder in the Advertising Cloud.
Review Best Practices for Budgeting an Advertising Campaign.
Steps
1. Select an entry in the Purchase order/Order number drop-down list to allocate funding to your ad campaign.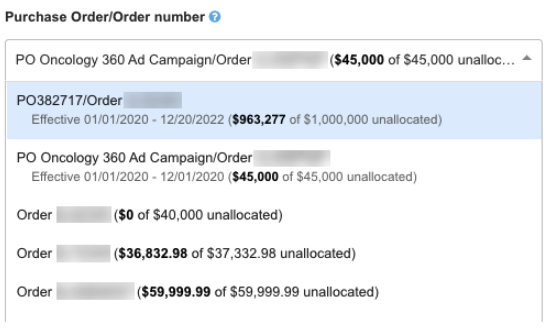 2. Enter the dollar value, which must be equal or less than the funding remaining in the PO or Order amount, for the campaign ad spend as a one-time expenditure or as a monthly expenditure. Note that the PO or Order number entry shows you how much funding is left for that allocation.
3. Select either One time campaign or Monthly campaign in the drop-down list by your budget for the campaign.
4. If you selected Monthly campaign, determine whether you need to select or de-select the Pro-rate and/or Budget rollover checkboxes. See the the articles Pro Rate Option and Budget Rollover Option to help you choose your selections.
5. Enter the beginning and end of your campaign in the Select flight dates fields.
6. Click Continue.
Outcome
As long as the campaign remains in draft status, you can come back and change your budget and schedule settings.
After you publish a campaign, you can't do the following:
Change the PO or Order number.

Change from a one-time expenditure to monthly expenditure frequency, or vice versa.
However, after you publish a campaign, you can change the dollar amount in the Enter your budget section.
Next Step
After you submit your ad budget and schedule by clicking Continue, the Campaign Builder wizard brings you to Step 3: Location. See Configure Campaign Geotargeting for help in setting up your targeted locations.