Context
The geoselector tool in Step 3: Location of the Campaign Builder enables you to target ads based on geographic location of your account audience. This tool allows you to select from the following parameters in the Geotargeting type drop-down list:
Global

International region or group of regions—available international regions are:

Europe only

Asia-Pacific countries (APAC)

Europe, Middle East, Africa countries (EMEA)

Latin America (LATAM)

North America (NA)

Specific country or group of countries

Specific U.S. state or group of states
See Reference: Directory of Geotargeting Regions and Countries for a complete listing of countries that make up each global region and definitions of the country codes that appear in the geoselector tool.
The Map view by the geoselector tool highlights your selections for quick visualization of your potential ad reach.
Prerequisites/Preparation
Access to these Demandbase solutions:
Engagement Platform

Self-serve Advertising
Steps: Select Geotargeting Parameters for a New Campaign
If you're not in the Campaign Builder, select Advertising

in the left navigation bar > click

+New campaign

in the upper left corner of the Advertising home page.

Complete

Step 1: Identify Campaign

and

Step 2: Budget & Schedule

of the Campaign Builder.

Select an entry in the

Geotargeting type

drop-down list.

If you selected any other entry besides

Global

, define the specific area to target by selecting the region(s), country or countries, or U.S. states in the

Select a region

drop-down menu. Note that a

US only

parameter is available in the regions drop-down list so that you can combine it with international regions.

Click

Continue

.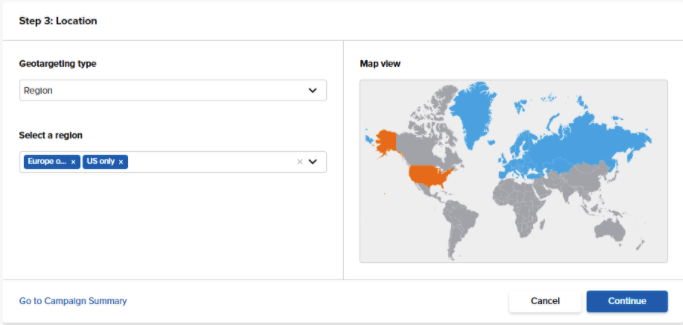 Steps: Change or View Geotargeting Parameters of a Saved Campaign
Go to the Advertising home page, where the

Campaigns

tab appears in the lower part of the screen.

Hover over the

Campaign Name

listing that you want to inspect until you see a blue cogwheel to the right of the name.

Click the cogwheel, and select

Settings

. On the right side of the window, you can view existing location settings and can click the

Edit

link to change the geotargeting parameters.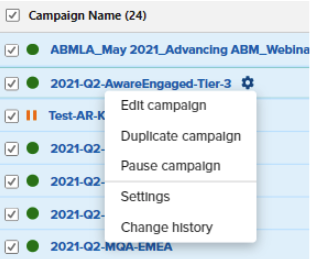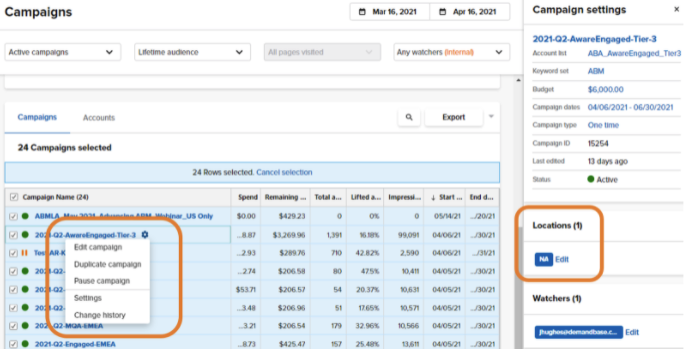 FAQs: Geotargeting
If I want to target Canada and selected U.S. states, is that possible in a single campaign?
No, you can't target a country and a selection of individual U.S. states in the same campaign.
If I want to target only European countries instead of the whole EMEA region, is there an easy way to do this?
After you specify Region as Geotargeting type, you can select Europe only in the Select a region drop-down list.
If I select multiple countries or regions, will the campaign reporting in the Advertising Cloud be broken out this way?
No, the campaign reporting for impressions, clicks, and CTR is based on all targeted locations. The onsite (post-click) metrics are at the global/domain level.
Can I get reporting broken out by my geotargeting settings?
Contact your Demandbase Customer Success Manager (CSM) if you need reporting broken out by account location.
Does the tool allow me to select different targeted parameters for different accounts within my account list?
No. If you want to have different geotargeting for different accounts, you'll need to set up multiple account lists by the locations you want to target.