Context
Snapshots are created automatically when you set up an Auto-Create Account List. But you can reconfigure them. For each type of snapshot email, you can customize:
Sections to display

Order in which they appear

Show or Hide empty sections

Whether to include reports or not
Here are the snapshot sections that each account owner receives by default. Each section is filtered by what the SDR, AE, or Marketing owns. If you reconfigure them and change your mind, you can Reset to Default at any time.
| Sections | Account List | Sales Development Representative | Account Executive | Marketing |
| --- | --- | --- | --- | --- |
| Highlights this Week | X | X | X | X |
| Most Engaged Accounts | X | X | X | X |
| Pipeline Predict | X | X | X | X |
| Top Intent Keywords | X | X | X | X |
| Account Journey | X | | | X |
| Open Opportunity Engagement | X | | X | |
| Web Traffic | X | | | X |
| Most Engaged People | X | X | | |
| Most Engaged Executives | X | X | X | |
Strictly speaking, a snapshot is a collection of reports that that are represented visually, as opposed to reports, which are presented as tables. However, you can also add reports to snapshot emails, to make them even more relevant and useful for your recipients. (See step 3 below.)
Here is an example of Account List options at

Settings > Analytics > Snapshot Settings:
Prerequisites
You can set these up at any time, but you'll see the benefits of them once you subscribe to email snapshots. To set up subscriptions, see Create Report or Snapshot Subscriptions.
Steps
From the left navigation bar, go to Settings > Analytics > Snapshot Settings.

In the

Type

drop-down menu, select the type of Snapshot you want to customize: Account List, SDR, AE, or Marketing.

From the

Sections to Include

drop-down menu, s

elect the sections you want to include in the snapshot email

. This is where you have the option to include reports in addition to snapshots. (See Create Reports, if you haven't created any yet.)

To change the order the sections appear in the snapshot email, drag and drop them.

To indicate whether to show or hide each section, click the toggle next to it.

Click

Save Snapshot

.
Outcome
You'll get a customized set of snapshots that users can subscribe to. This image gives you an idea of a few sections with company information blurred out. In the actual email, you'll be able to scroll through all the sections.
Next Step
Create an email subscription. To manage snapshot subscriptions, select Personalized Subscriptions at the top of the Snapshot Settings page,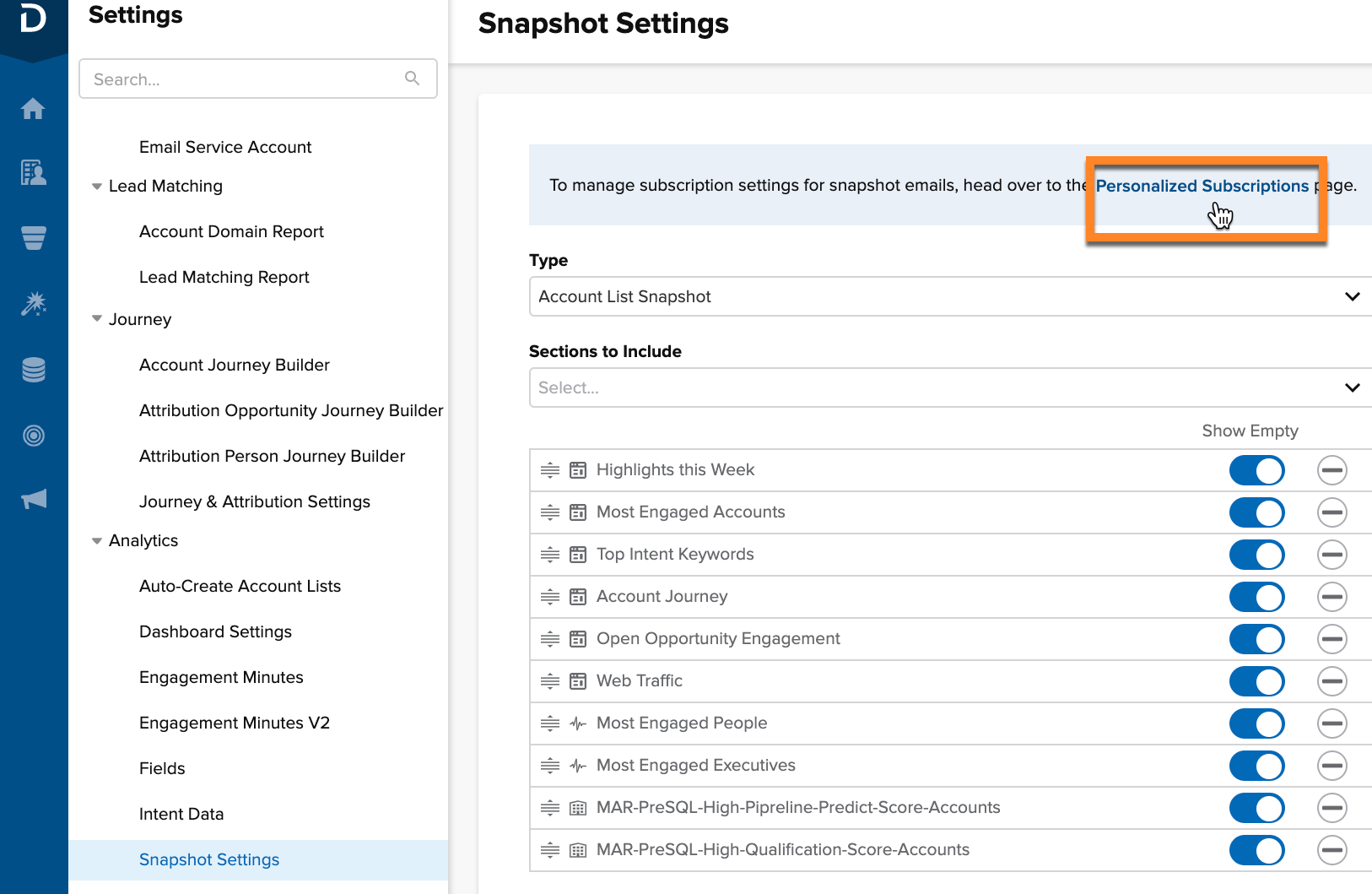 or

Settings > Analytics > Subscriptions
or

Settings > Analytics > Auto-Create Account Lists > Configure Snapshot Subscriptions > Create or Manage workflow and follow the steps at Create Report or Snapshot Subscription.