Context
Use CSV files to add and update database records for accounts or opportunities.
For each field in a Merged Account record (a record with multiple sources), Demandbase prioritizes them (depending on what is available):
CRM Data

CSV Data

Demandbase Data
CRM data would override CSV and Demandbase data, and CSV data would override Demandbase data.
Prerequisites
You must have Administrative privileges to use the data import function.
For Accounts
Your Accounts CSV file must have these fields:
Account Domain or Account Name
These fields are optional for accounts:
Owner

(Email preferred or Name)

Phone Number
Employees
Annual Revenue
Industry
Custom fields
Important: Owner fields are recommended and can have either a person's name or email address. Including an email address is preferred, because having the account domain drastically increases match rates and it makes the owner eligible for snapshot subscriptions, which you can configure on the Auto-Create settings page. See Set Up Auto-Create Account Lists.
For Opportunities
Your Opportunities CSV file must have these fields:
Opportunity ID

(key)

Opportunity Name
Account Name
Type
Account Domain
Created Date (Format: month-day-year)
Owner (Assigned owner email of opportunity)

These fields are optional for opportunities:
Stage

(Current for Opportunity)

Probability
CloseDate (Format: month-day-year)
IsClosed
IsWon
Steps
1. From the left navigation bar, go to
Database and select:
Accounts > Data Import or Opportunities > Data Import.
2. On the Import Data dialog box that opens:
a. Enter a name for the data import.
b. Click Browse and select the CSV file to upload.
c. (Optional) Automatically create account list is checked by default. You can deselect it if you don't want to create a new account list from the import.

d. Click Import Data.
Re-import: If you need to update your imported data, return to Accounts > Data Import or Opportunities > Data Import, select the Data Import, and click Re-import. Demandbase updates the fields that have changed according to the same prioritization as the import: CRM Data, CSV Data, Demandbase Data.
Outcome
After Demandbase processes the CSV file, the List tab opens and displays the accounts or opportunities that it added or updated.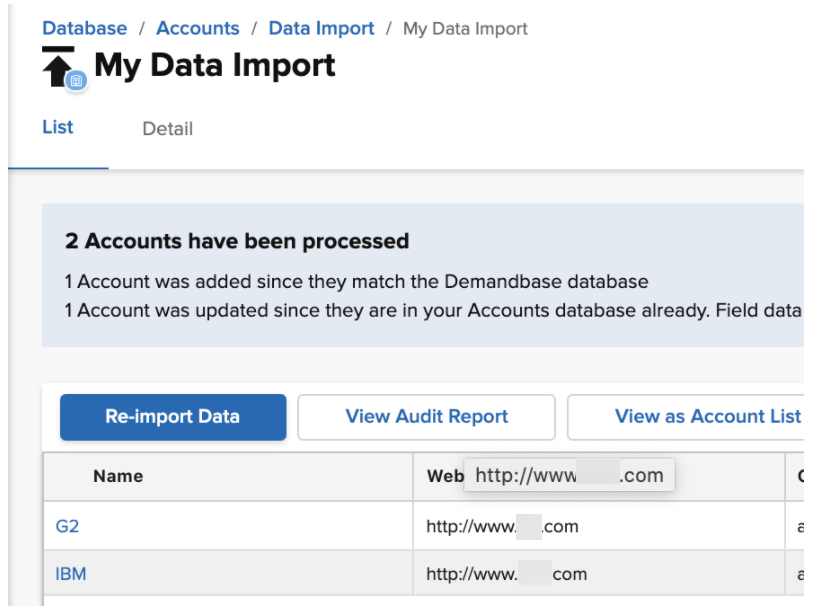 You can see the resulting field data at

Settings > Analytics > Fields.
If you kept the default selection to create a list with the data import, the new list is available at:
Database > Account Lists

or

Opportunities Lists
Analytics

drop down for

Accounts

and

Account Lists
Next Steps
Review your imported list.
Audit Report
An Audit report can help you find discrepancies in your list and is available for every data import (or the most recent re-import).
The Audit Report helps you find errors in your upload. To view the Audit Report, click View Audit Report on the Lists tab. it provides the result of processing each row in a data import CSV File.
Keep in mind that Demandbase ignores CSV data for which:
there are no existing accounts, or

CRM or Demandbase data already exists.