Context
Bombora is one of three options for using Intent in Demandbase:
Bombora intent is based on entire topics, instead of individual keywords that Demandbase uses. Bombora has the advantage of doing the hard work of figuring out what the many keywords are in that topic, but Demandbase Intent shows more detail.
If you migrated to Demandbase One, you may already know and have Bombora Intent, and you can keep it. If you don't have it, you can add it. If you're not sure, we recommend starting with Demandbase, because it's based on much more data. Here's a comparison of them: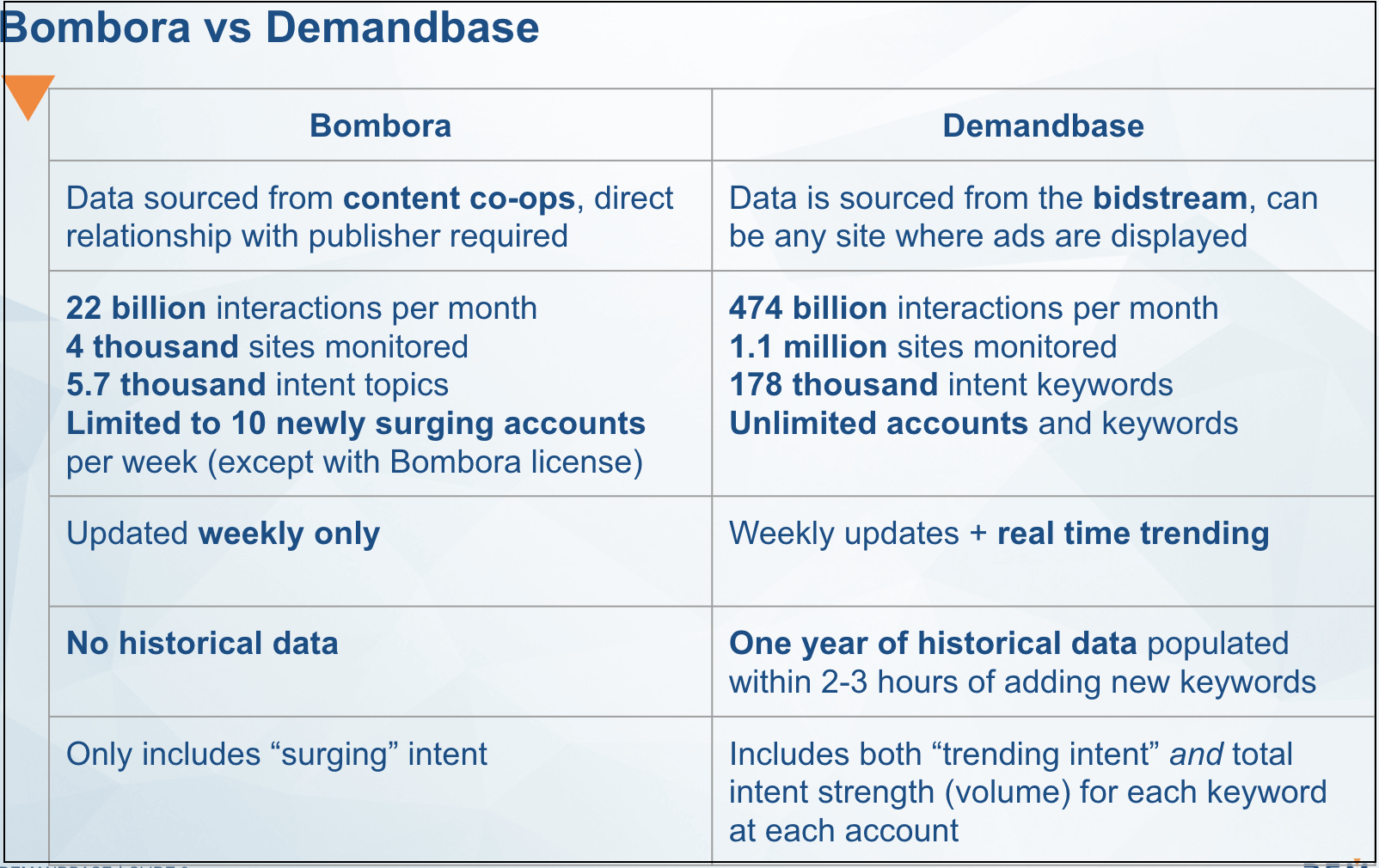 With Bombora, you can select up to 25 topics to track and you receive the intent activities for the top 10 in-market (known accounts in Demandbase) accounts a week for free.
The top 10 in-market accounts are based on the number of surging topics per account, each week the 10 accounts in Demandbase with the most surging topics will have those intent data activities pushed to Demandbase automatically through the integration on Saturday evenings.
If you move on to a paid Bombora subscription, you receive the benefits of the integration for all of their accounts and up to 2,000 topics.
For existing Bombora customers who have already selected their topics in Bombora, there is also the ability to manually import intent data topics.
Prerequisites
Intent is fundamental to your ABM success, so it's best to set it up very early on. You should have at least these basics set to see meaningful results:
Steps
From the left navigation bar, go to Settings > Analytics > Intent Data > Bombora Intent Topics tab.

Select Intent Topics to add or Import CSV File

.




Include the names of the topics you want to import (you do not need to include a column header). Importing a list of topics overrides any previously selected topics.





Outcome
After you select the relevant intent topics, Demandbase and Bombora sync weekly to integrate the third-party intent data with Demandbase's first-party engagement data on an ongoing basis.
Next Steps
You can use Selectors to access intent data through the Intent Surge Activity Type. To filter out specific intent activities, use Add Constraint. See Working with Selectors.