Context
Role-Based Dashboards let you create customizable Analytics dashboards that provide role-specific information. Demandbase provides you with a Sales Dashboard and a Marketing Dashboard out of the box. You can also create your own or customize the existing ones further for each of your roles, typically Sales and Marketing roles.
You can customize which sections and reports appear for each dashboard, so that each role can quickly find what they're looking for and take the appropriate action.
Prerequisites
Users must be created in Demandbase. See Manage Users and Roles.
You must have Administrative privileges.
Steps
From the left navigation bar, go to Settings > Analytics > Dashboard Settings

.

Create a dashboard:


Do the following to create a new dashboard or skip to step 3 to customize the existing

Marketing Dashboard

and/or

Sales Dashboard

.




a. Click

Create New Dashboard

.





b. Enter the

Dashboard Name

and click

Create

. The

Dashboard Sections

page opens.

Customize a dashboard:


By default, the

Dashboard Sections

page includes all available sections and no individual reports. You can accept the default settings or customize your dashboard as follows:




a. To remove a section, click the minus sign on the right. To add a section that you removed, select it from the

Select…

drop-down.





b. To add a report, select it from the same

Select...

drop-down.





c. Drag and drop sections and reports to change the order in which they appear.

Assign users to the dashboard.


a. In Settings > User Management > View Management

, create or select the View that you want to assign the dashboard to. See

Manage User Views

.




b. From the

Analytics Dashboard drop-down, select the dashboard that you want to share.


Outcome
The users assigned to the View you selected see the Analytics dashboard that you created.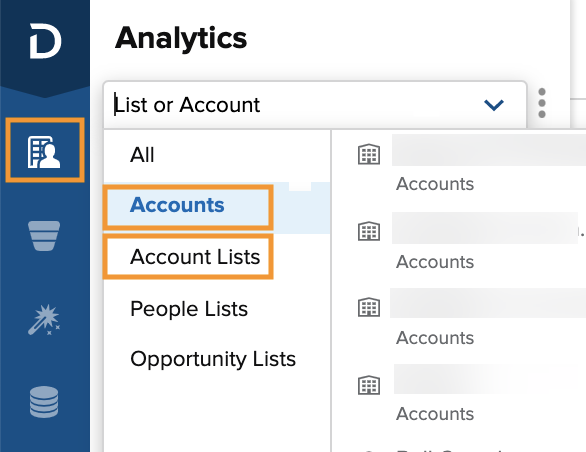 By default, here are the sections that can be displayed on the Analytics drop-down for Accounts:
| Sales Dashboard | Marketing Dashboard |
| --- | --- |
| Quick Cards | KPI Cards |
| Highlights | Highlights |
| Timeline | Timeline |
| Intent Keywords | Intent Keywords |
| Site Analytics | Site Analytics |
By default, here are the sections that can be displayed on the Analytics drop-down for Account Lists:
| Sales Dashboard | Marketing Dashboard |
| --- | --- |
| Quick Cards | KPI Cards |
| Highlights | Highlights |
| Accounts | Accounts |
| Intent Keywords | Intent Keywords |
| Site Analytics | Site Analytics |
| | Firmographics |