Context
Predictive Score Setup enables you to change settings that affect the outcome of Pipeline Predict Score and Qualification Score.
Important: Changes to the model can have major implications platform-wide. The model takes up to 24 hours to update. Any changes are reflected after the model has been re-trained and each account score is updated. You cannot make any additional changes until the update process is complete.
Qualification Score
The Qualification Score uses machine learning to quantify what truly defines an ideal customer, beyond basic firmographics, and then scores every account in your CRM along with the 20 million accounts in the Demandbase company database. The Qualification Score looks far into the future and scores each account on the likelihood that it would ever become a customer, regardless of where it is in the buyer journey.
Qualification Score takes the following into consideration:
Past Opportunities

Firmographics

Country

Industry

Revenue Range

Employees

Product Categories

Technographics

Historical Intent
Pipeline Predict Score
Pipeline Predict is a machine learning model that looks at past opportunities from your CRM, learns account properties and activity patterns that are leading indicators of new CRM opportunities being created at accounts, and then it identifies those leading indicators in other accounts. The score indicates how likely it is that a new CRM opportunity will be created at the account.
Pipeline Predict takes the following into consideration:
Past opportunities from CRM

All available data within CDP

Email Activity from MAS including opens/clicks/etc.

All activity logged in CRM for each person in the account

Sales Inbox Activity

Firmographics

Intent Data, Historical and Trending

Website Visits

Advertising Activity
Preparation/Prerequisites
At the very least, a Qualification Score requires a .csv upload of customer accounts. Ideally, both an Account/Opportunity upload or our standard Salesforce integration. Otherwise, it will not be used.
Pipeline Predict scores require either a CRM integration or an upload of open opportunities via a .csv file.
To upload to open opportunities, both predictive scores leverage the Create Data and (<13mo) and Actual Website fields. The Owner field is useful for filtering opportunities.
Steps
1. From the left navigation bar, go to

Settings and navigate to Demandbase-Wide Settings > Predictive Score Setup.

2. Select the opportunity filter logic you want to use for the scoring model. See Working with Selectors.
3. Select the Keyword Sets you want to use for the scoring model.
4. Click Save and train model.
Outcome
The model takes up to 24 hours to update.
Accessing Pipeline Predict Score Results
To access the Pipeline Predict results within an account list, from the left navigation bar, go to

Analytics > Dashboard, scroll down to the Accounts section, and view the Pipeline Predict tab. This tab shows the accounts recommended using the Pipeline Predict Model.
For both Qualification Score and Pipeline Predict score, a score above 75% is a good indicator this account is a qualified account. If the score is 90% or above, the Sales team should take immediate action to engage with the account.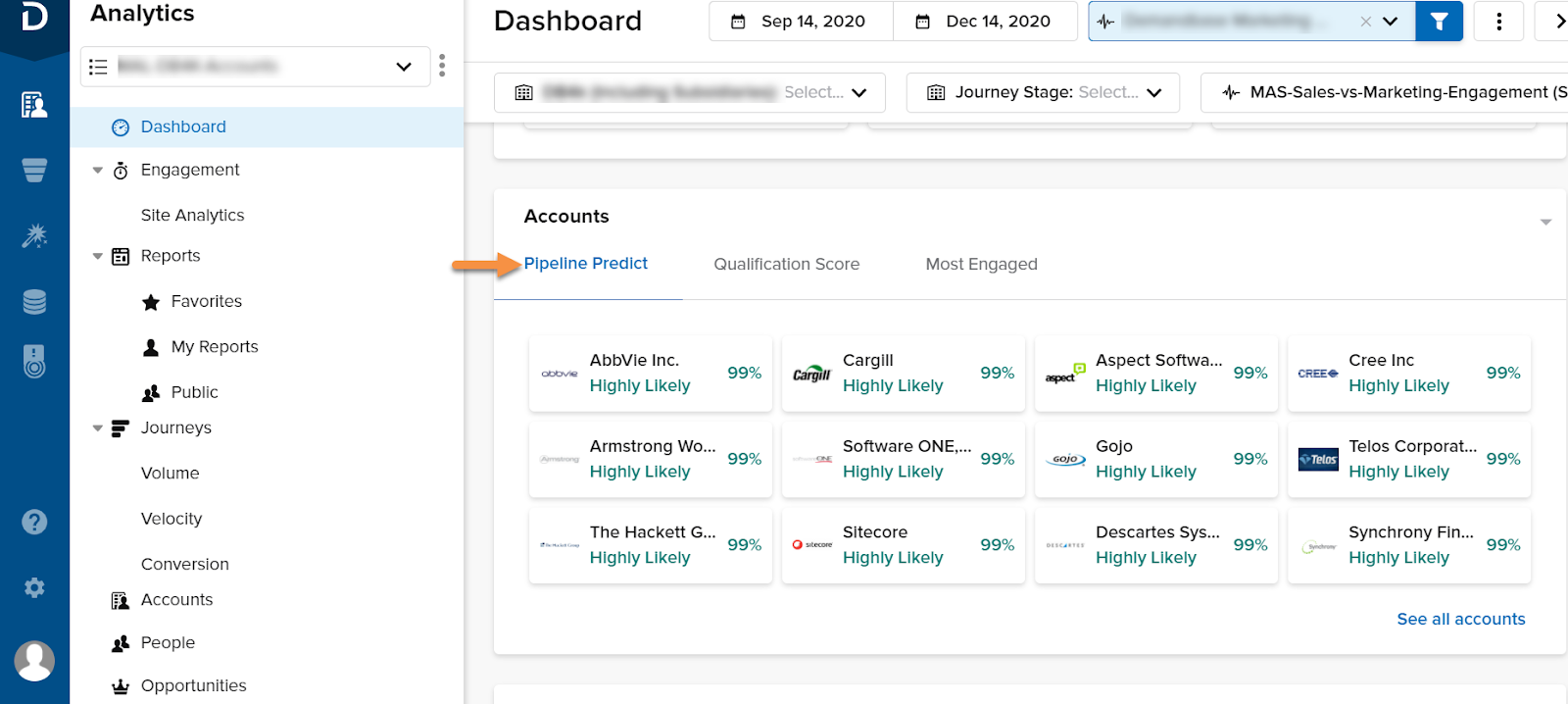 Take Action with Recommended Accounts
To take action to engage with the recommended accounts follow these steps:
1. From the Pipeline Predict tab, click the See all accounts link:

2. On the Engagement page, scroll down until you see the Accounts view.
a. Select the accounts you want to work with.
b. Click Take Action.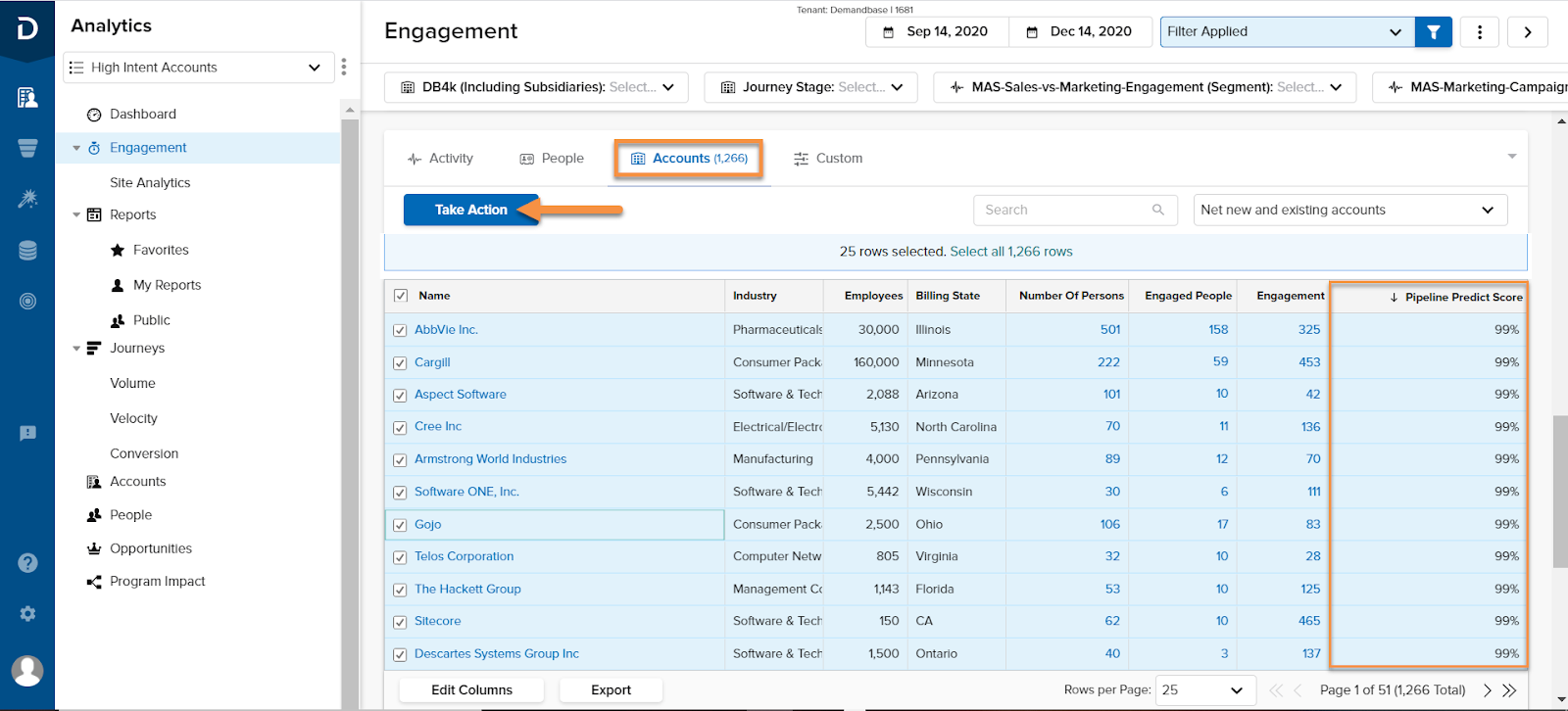 3. Select the action you want to complete for the selected accounts. For example, you can create a task in Salesforce to have these accounts assigned to a person on your Sales Team for follow up.