Context
Demandbase One Intent is a way of identifying prospects who are most interested in your products or services and those of your competition. It measures the strength of intent by matching data (such as firmographics and technographics) with criteria that you describe for your Ideal Customer Profile (ICP). An important ingredient in these criteria is the number of people researching a certain set of terms, or keywords, for accounts of similar size. Creating keyword sets is how you set Demandbase One Intent in motion.
Demandbase One Intent is one of three critical elements of your ABM strategy:
Defining your company goals: what you want to accomplish with Demandbase.

Creating your target account lists.

Creating keyword sets to identify prospects on the internet.
Goals
Knowing what you want to accomplish can deeply affect how you build your account lists and keyword sets. If you want to grow a certain division of your business, you'll create account lists that include potential customers for that set of products and you'll choose keywords that would identify their interest in them.
Here are some of the goals you might have during different stages of the account journey for which you may want to surface Intent surges:
Pre-Opportunity

Find net new accounts that are already in-market

Prioritize driving high Intent accounts to direct engagement

Tailor messaging to speak to the account's pain points

Open Opps

Become aware of competitors sneaking into the conversation

Customer Accounts

Churn prevention: Find out if at risk accounts are researching competitors

Upsell/Cross sell: Find Customers interested in additional products
Account Lists
Account lists represent your most sought after customers. Demandbase One will help you discover more accounts like them, but you must have an idea, based on your company goals, of what kind of account represents a successful role model for new accounts. You can use keyword sets to help you create account lists. See Create an Account List Based on a Keyword Set.
Keyword Sets
We describe keyword sets in the article, Concept: Intent. Basically, they are a set of words that represent the kinds of things that your prospects would be interested in reading about who have high potential to convert to being a customer for your company.

For example, Salesforce might include CRM, maybe pipeline management, and lead tracking, and lots of other terms that people would be reading about if they were interested in buying Salesforce.
Best Practice
Set up at minimum a General Keyword Set and a Competitor Keyword Set. If you sell more than one product, create a set for each product.
To create a Competitor Keyword Set, follow the same steps below, but include the names of your competition in the keyword set. See Next Steps below to add the annotation Competitor next to a set to identify it.
Prerequisites
Keyword sets are so fundamental to your ABM success that you should create them very early on after you complete your Demandbase One set up with a Demandbase implementor. Then complete this preparation:
Steps
Access Keyword Sets:
a. From the left navigation bar, go to Settings > Analytics > Intent Data > Demandbase Intent tab.


b. Click

Create New Keyword Set.



c. Enter a name for your keyword set in

Intent keyword set name. (There is currently no way to rename a keyword set. You will need to recreate it by a different name. In the future, we are planning a clone keyword set, which will make it easy to create by another name.)


(Optional) In

Enter website(s) to create your keyword set

, provide the URL for a few pages from your website that contain content about your products and offerings. (Click the

+

sign for each new URL.) Entering website pages gives Demandbase Intent more information on which to base suggested keywords, so it's a best practice if possible.

Click

Continue

and Demandbase analyzes these websites for relevant keywords. It takes a few seconds. If you had entered the keyword

Account Based Marketing

, for example, Demandbase would return a set similar to this one:


To delete any suggested keywords that are not representative of your preferred customers' interests, scroll through the suggested keywords and click the

x

on the right.

If you skip the Enter websites option, you'll see Enter an intent keyword, where you can enter keywords.

Demandbase provides some keyword hints that you can select or ignore:

A good keyword set has about 20 to a 100 keywords in it, depending on your product and content. You can enter all of them, if you know them, or, if you enter at least 5 keywords or you used the website URL option, you can move on to Auto suggest keywords.

Alternatively, you can click Switch to text view at the bottom, and paste in a set of keywords.


(Optional) You can click Auto suggest keywords at this point to get further suggestions from Demandbase for a faster way to get to 20-100 keywords.


Scroll through the suggested keywords on the right and select Add for each keyword that you believe represents your target audience's interests.


Click Save.
Outcome
Depending on whether you used keywords already known to Demandbase or keywords new to Demandbase, your keywords may be ready over-night or in one week. You can then see all of the keyword sets you created by clicking on

Settings > Analytics > Intent Data > Demandbase Intent.
Demandbase creates a field--a placeholder for information, which you can use throughout Demandbase to filter accounts. For example, for a keyword set on Language, you might filter on tone of voice, pronouns, or inclusivity. See Understanding Fields.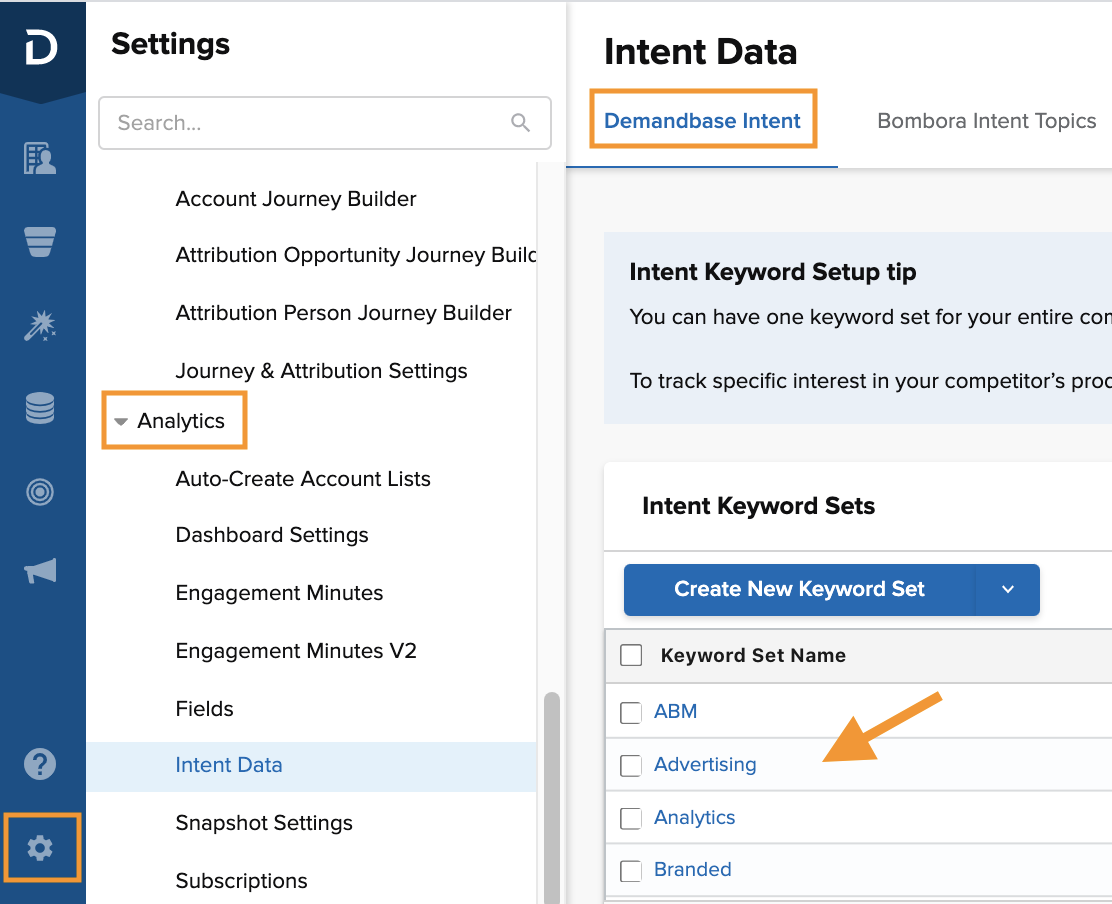 Next Steps
Create Account Lists Based on Keyword Intent
See Create an Account List Based on Your Keyword Set: A Gentle Introduction to Advanced Selectors to learn how to create account lists based on keyword intent, using the Intent Keyword Set field.
Competitive Keyword Set
If you created a keyword set that identifies interest in a competitor, select the keyword set at

Settings > Analytics > Intent Data > Demandbase Intent by clicking the check box next to its link, and, from the downward point arrow next to Create New Keyword Set, select select Set as Competitor.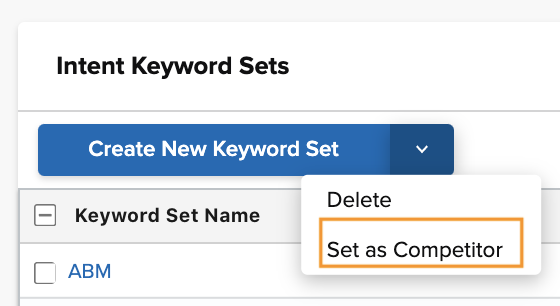 Then you can identify the competitor keyword sets easily.