An Automation is an asset available in Orchestration to help scale Account Based Marketing Initiatives. Automations are designed to be the workhorse of Demandbase. They can be used to automate operational tasks like:
Adding people to your marketing automation system to nurture them when their engagement drops.

Adding qualified executives to Outreach or Salesloft when their Engagement minutes reach a certain threshold.

Adding event attendees to a Salesforce Campaign to give sales visibility into who they need to follow up with.

Driving tighter sales and marketing alignment by automating Salesforce task creation for key activities for sales to follow up on.

Managing account and person data.
Important:
You must have Admin privileges or be assigned to a permission set with the required access to use Orchestration and Automations. There is no concept of Public Automations in Demandbase. Any user that can use Orchestration and Automations can access and manage all Automations.
You must have the Demandbase Orchestration solution to create Automations.
To access automation information, from the left navigation bar, go to

Orchestration > Automations and click the name of the automation you want to view. Automations include the following six tabs.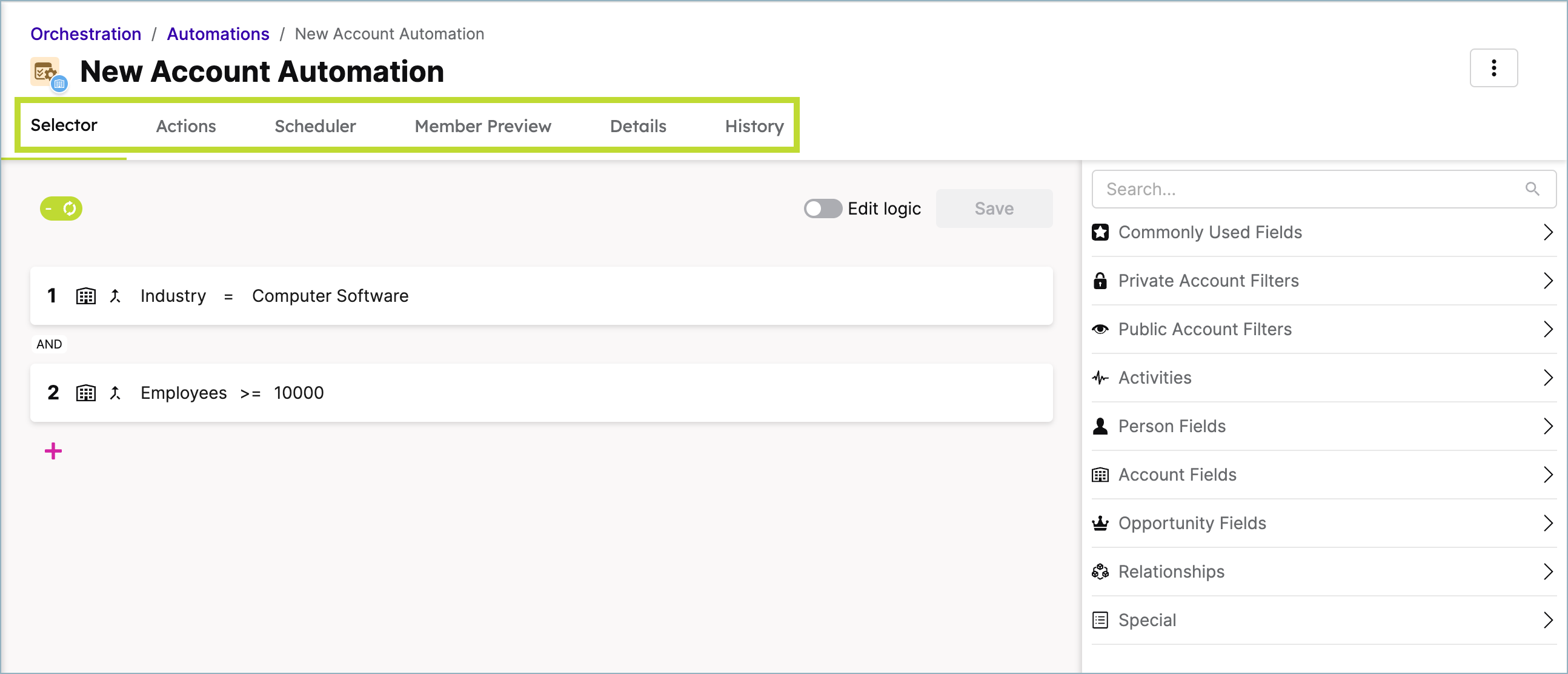 Selector:

Allows you to use Selectors to select the accounts or people you want to run your automation on.

Actions:

Actions are a similar concept to the single

Take Action

selection, but they have more flexibility, and are designed to run against accounts or people in bulk.

Scheduler:

Set how frequently you want an automation to run and how often a person or account qualifies for an automation.

Member Preview: D

isplays all of the people or accounts who are going to qualify for an automation based on the selector and the qualification rules you have set.

Details: S

ee metadata about the automation (who created it, when it was last modified, the description, and more).

History:

Provides you with the details of what has happened with each run of the automation. See the jobs that have run, the members of the automation, and a list of all of the actions the automation has ever done.
Demandbase finds people or accounts in your database based on the selector logic, and then at the scheduled date and time, runs the members through all of the actions you have specified simultaneously.