Introduction
We sync to numerous activities in Pardot, most of which can be found on Pardot's Activity Glossary.
Demandbase syncs all Pardot prospects and their associated activities of the following types:
Form submission

Website visit

Email opens

Email clicks

Form visit

Landing page visit

File visit

Landing page submission

Attended webinar

Registered for webinar

Social post click

Video view

Video watched (> 75% watched)

Video conversion

Event registered

Event checked in
Steps for Adding the Integration
Demandbase currently supports two methods of authentication with Pardot. By default, new Pardot integrations will follow the new Salesforce policy of "Salesforce SSO for Pardot user authentication" and instructions for this is on the Salesforce Integration setup page. Demandbase will continue to support the older standalone Pardot authentication as documented below. Salesforce and Demandbase will stop supporting the older standalone Pardot authentication on July 15, 2021. Customers using the older Pardot authentication are encouraged to contact their Customer Service Representative when ready to move to Salesforce SSO Pardot authentication.
Step 1. Navigate to https://web.demandbase.com/o/ad/i (Settings > Demandbase-Wide Settings > Integrations).
Step 2. Click Create Data Source.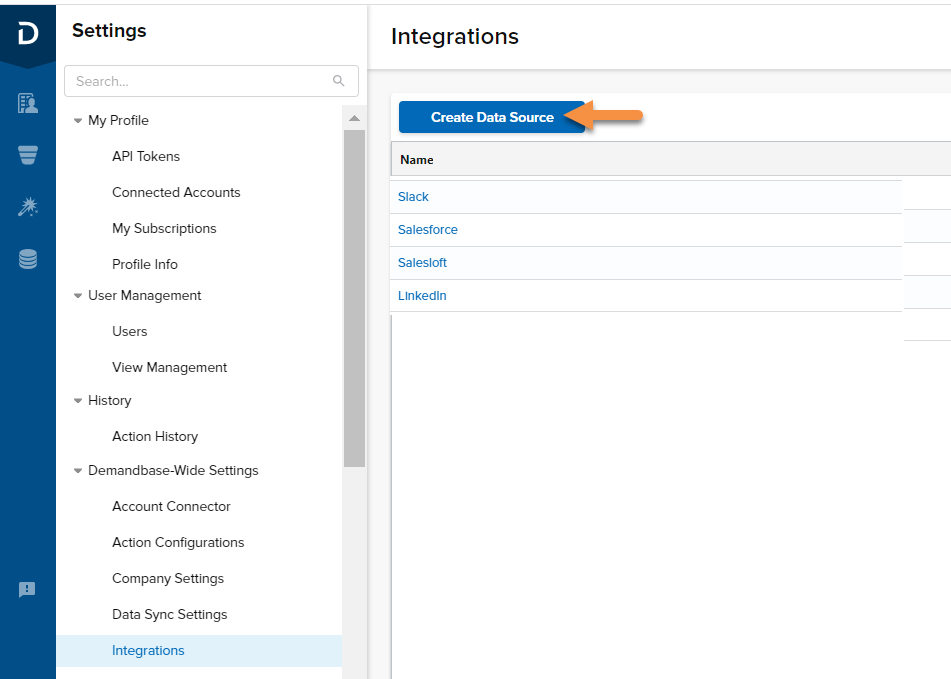 Step 3. Select Pardot from the drop-down menu.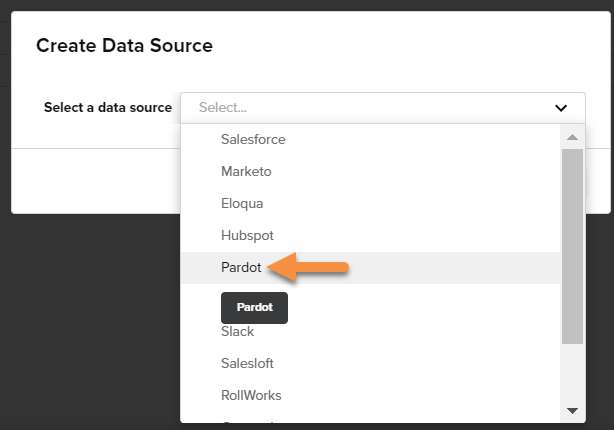 Step 4. Enter the username and password for the Pardot user account that Demandbase uses to connect to the Pardot API.
4.1 Enter the API User Key for that user. You can find the API User Key by logging into Pardot and navigating to Settings > My Profile page.
4.2 Click Create.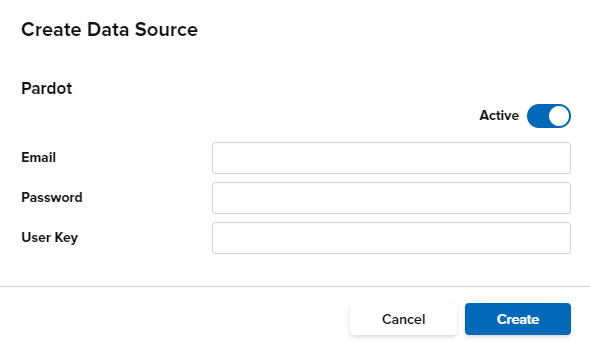 What to Expect
We start syncing nightly immediately when you click

Save

and update Demandbase with the relevant information.

Look at your Engagement Minute rules and adjust the default minutes to better fit your business.

For our average sized customers, we anticipate 1-2 weeks for the sync to fully complete.