Context
Site Analytics in Demandbase One enables you to get website analytics with an account-based lens so you can better evaluate website performance and personalize marketing efforts to them.
With Site Analytics, you can select variables that define a specific group of accounts that you want to track on your company's website. Site Analytics returns rich insights around account level site visits that match your input criteria. This ability to instantly answer your unique questions allows you to design highly effective and engaging campaigns, resulting in high-quality, sales-ready pipeline and increased revenues.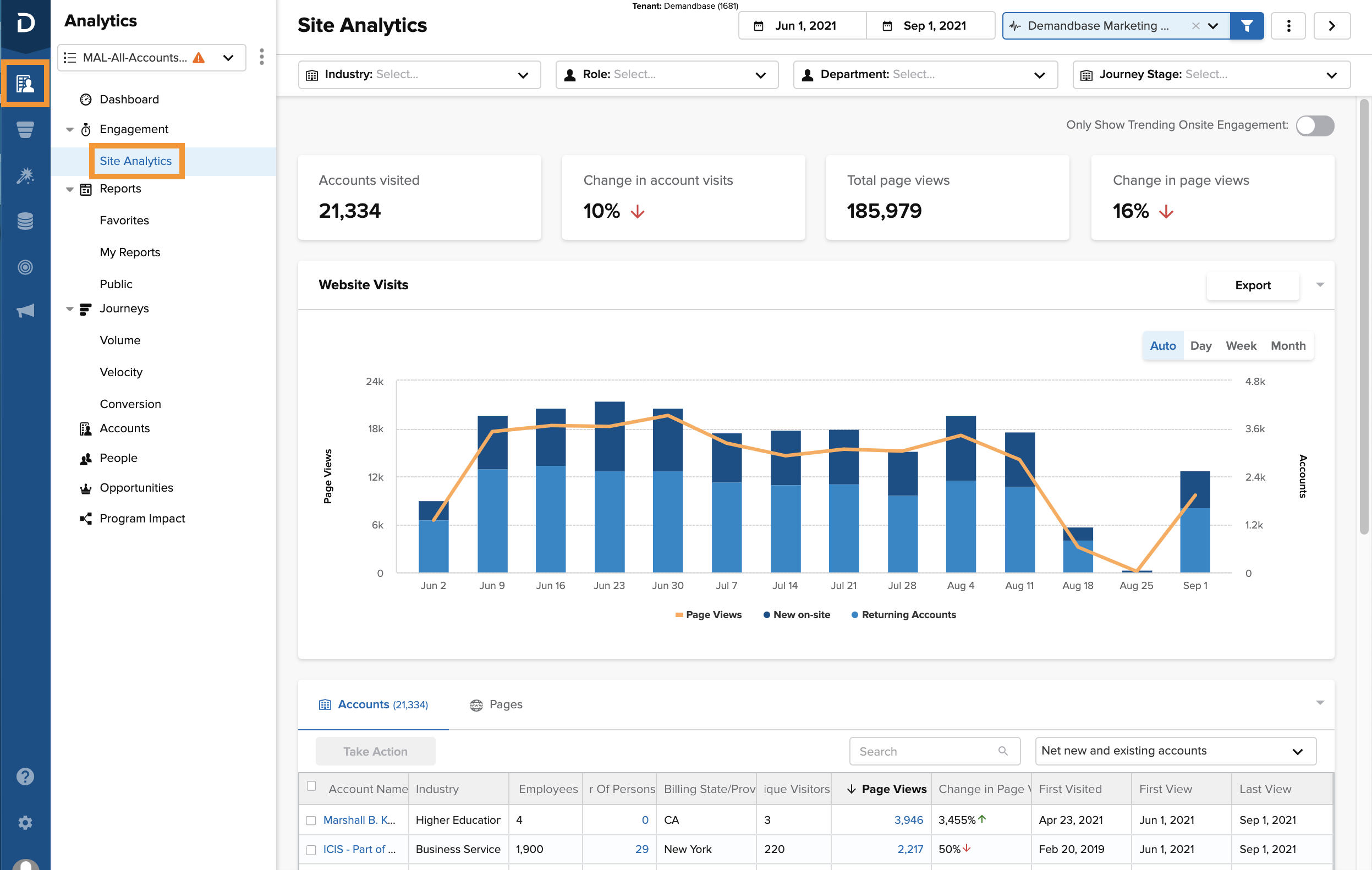 Important: The Site Analytics page only displays web page visits with Engagement Minutes. To view all web page visits, including those that do not have Engagement Minutes, go to

Analytics > Reports or

Database > Activities.
The Site Analytics page reports on two types of web visits:
Anonymous page views,

which are tracked by the Demandbase tag based on IP address and the Demandbase cookie.

Page views from known contacts, which are synced regularly from an integrated Marketing Automation System (MAS).
Customers who have synced MAS data might see more page views per account than customers who haven't integrated an MAS. To only view data about anonymous page views, create an activity filter from the Type field. Your filter criteria should be constructed to resemble the following screenshot.

Prerequisites/Preparation
Engagement Minutes must be associated with Web pages in order for the page visit data to appear in Site Analytics.
Steps
1. From the left navigation bar, click

Analytics > Site Analytics.
2. Select a date range.
3. Use Selectors to create your filter criteria.


4. Alternatively, use quick filters (URLs/UTM parameters) for exact match criteria.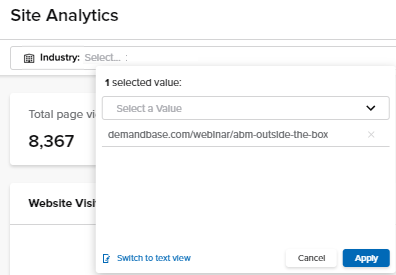 For an overview of these options, see URL/UTM Parameters Overview, below. In the example below, we selected LinkedIn as the UTM Source and Social as the UTM Medium.
You can click the different bar charts in the graph to view the web pages that were visited.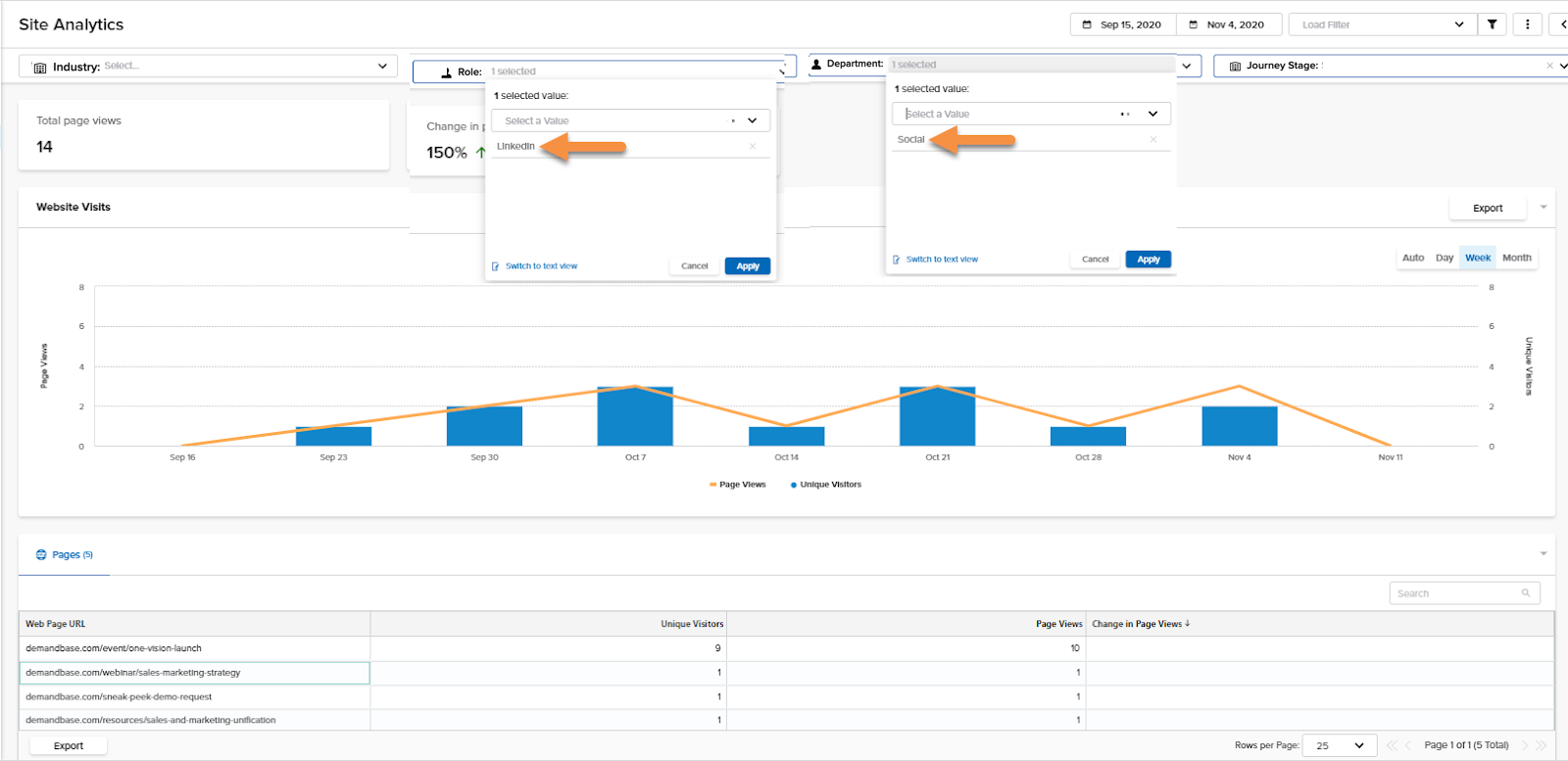 If you want to get a shareable link for this view, click the three dots in the far right corner and select

Get Shareable Link

.

If you want to save this view as a Quick Card that displays on the Account Dashboard, click the three dots in the far right corner and select

Save View as Quick Card

. To learn more about Quick Cards, see

Account List Dashboard and Account Dashboard Overview

.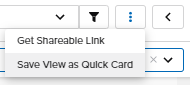 5. If you want to add the data in this view to an existing list, select accounts of interest (the list of accounts is located at the bottom of the window) and click the Take Action button from Accounts tab.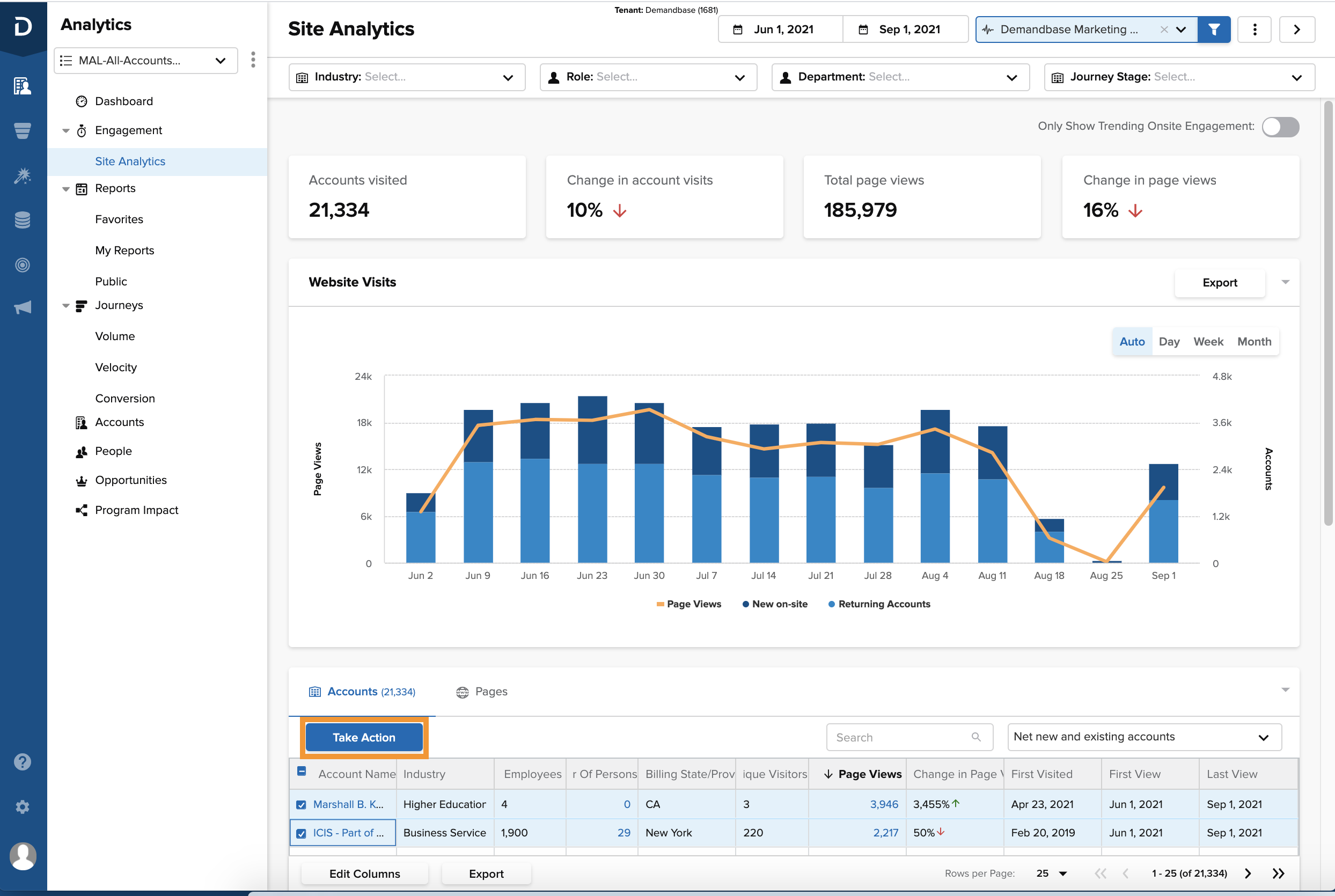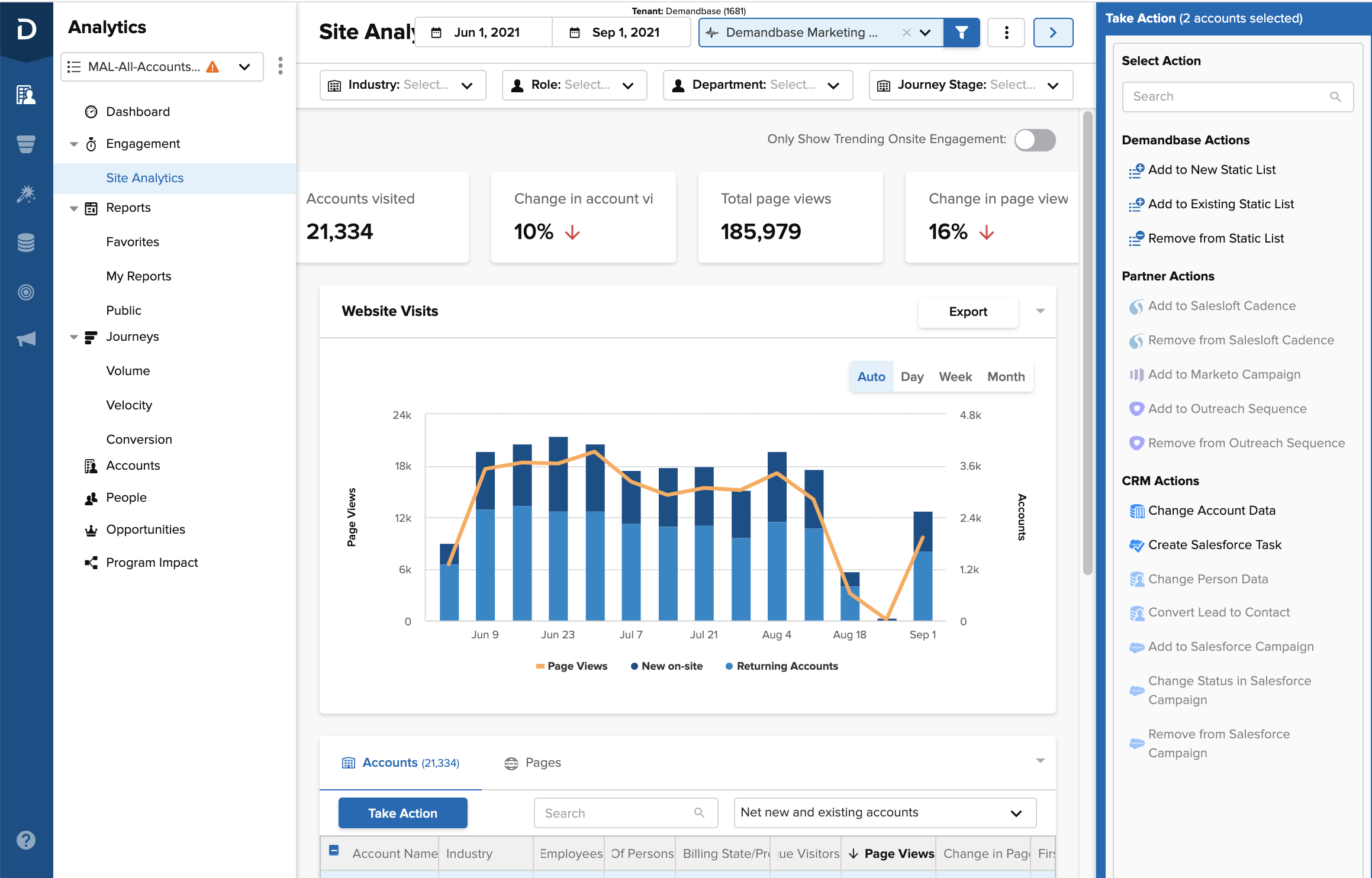 a. Click Add to New List or Add to Existing List depending on your need.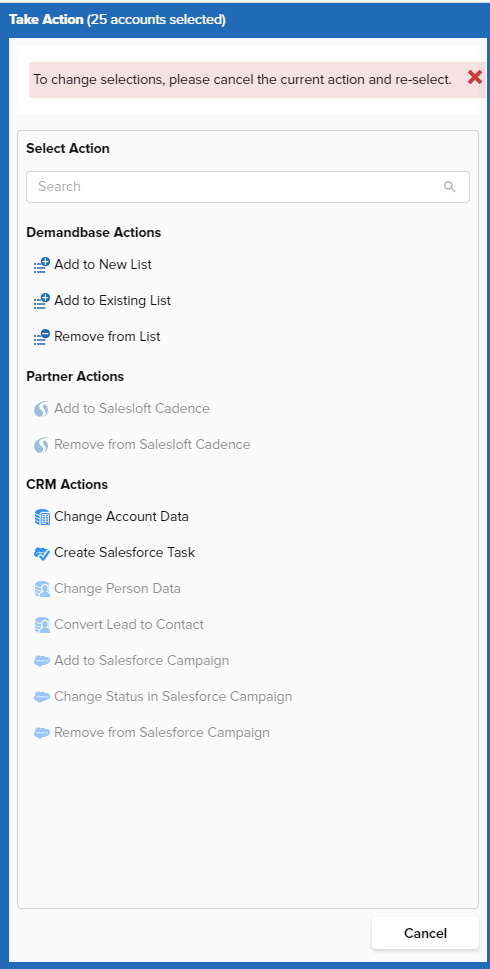 b. Select the list you want to add the accounts to and then click Confirm. You can now use this updated list for your marketing initiatives.

6. Click the Export button (located on the bottom left of the page) to export this segment's data to a CSV file.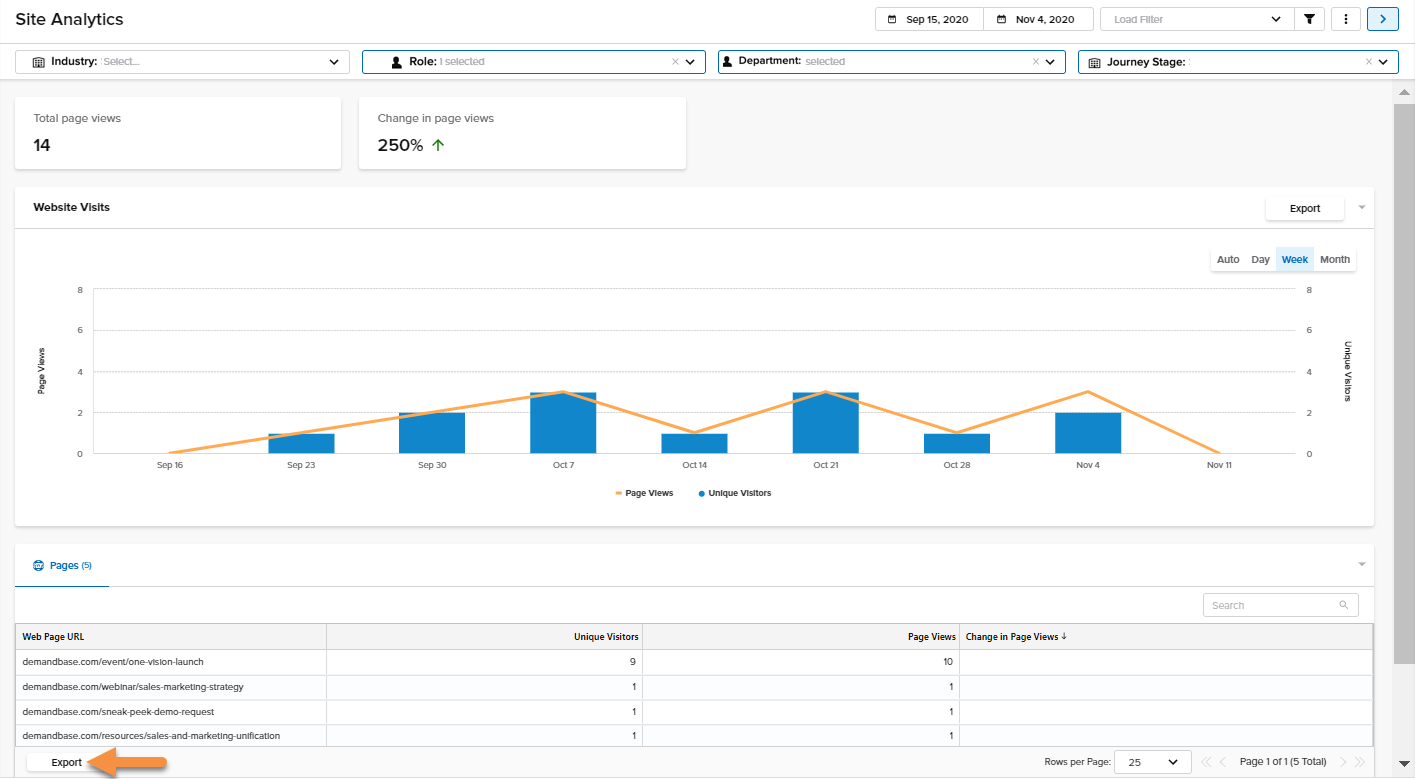 URL/UTM PARAMETERS OVERVIEW
A landing page URL is the URL that a user will arrive at when they click on your ad. The URL should leverage unique "UTM parameters" to track the progress of your campaign. UTM (Urchin Tracking Module) parameters are the format used by Google to track your unique URLs. They are added to the end of your landing page URL. Here is an example of a landing page URL that includes a UTM parameter added to the end of the URL:
http://www.acme.com/product_page/?utm_source=google
Site Analytics leverages the following URL/UTM parameters to track channel performance.
Campaign Source

utm_source

Required.

Use utm_source to identify a search engine, newsletter name, or other source.

Example: google

Campaign Medium

utm_medium

Required.

Use utm_medium to identify a medium such as email or cost-per- click.

Example: cpc

Campaign Name

utm_campaign

Required.

Used for keyword analysis. Use utm_campaign to identify a specific product promotion or strategic campaign.

Example: utm_campaign=spring_sale
Field Definitions
The following important fields are defined to avoid ambiguity:
Web Page Visits (30 days): Sum of all web page visits in the past 30 days ending today. The date range that's specified on the top of the Site Analytics page is

not

used.

Web Page Visits (3 months): Sum of all web page visits in the past 3 months ending today. The date range that's specified on the top of the Site Analytics page is

not

used.

Page Views: Sum of all web page visits during the selected date range on the top of the Site Analytics page. Only page views that have engagement minute > 0 are included.
Web Visits: Sum of all web page visits during the selected date range on the top of the Site Analytics page.
If you don't see these fields as column names in the Accounts or Pages tables that appear toward the bottom of the Site Analytics window, you might need to click Edit Columns and select them in the drop-down list.
Page Visit Counts
You might wonder: Does the calculation of the Web page visit data on the Site Analytics page double-count single visits that are detected by both Demandbase and an integrated MAS? The answer is no, but with a few exceptions.
If Demandbase detects a Web page visitor who is also identified in the MAS, the visit gets counted as a unique visitor. If Demandbase doesn't match the visitor with a contact or lead in the integrated MAS, we'll identify that visitor as a unique visitor. The unidentified visitor won't be double-counted because the count cascades like this: Check MAS -> Check cookie -> Check IP address.
A double-count can occur if an account or lead visits an unrelated website that happens to have an embedded Demandbase tag and user-tracking capabilities configured by the MAS. However, in practice, the MAS and Demandbase use very different technologies for identifying visitors. The likelihood of a duplicate is low.