Context
There are two ways of getting your HubSpot marketing automation system (MAS) data into Demandbase:
Prerequisites/Preparation
HubSpot Marketing: Professional or Enterprise Subscription

Salesforce: Enterprise, Unlimited, or Performance Edition (for the HubSpot MAS-Salesforce-Demandbase integration option) 

You must have Admin privileges in HubSpot and Demandbase.
Steps: Native Integration with HubSpot MAS
From the left navigation bar, go to

 

Settings > Integrated Systems > Integrations

.

Click

Create Data Source and select HubSpot under Marketing Automation System.

Toggle on

Active and click Save. 


Log into HubSpot to verify the integration. 
Good to Know
Data will be processed after the sync and available in the customer database according to the schedules described in Understanding Demandbase Data Availability. 

You'll want to edit the default Engagement Minutes assigned to HubSpot activities.

Check for activities that were coming into Salesforce from HubSpot already. They may be double counted now.

We expect the initial sync for an average size customer to take about a week. We're happy to help provide updates and clarity for you as needed.
Steps: Getting HubSpot MAS Data Into Salesforce and Then Into Demandbase
The Big Idea
If you can get your HubSpot marketing activities into Salesforce as either campaigns, tasks, activities, or fields on lead, contact, or account objects, we'll make it available in Demandbase.
What's Possible
Using HubSpot Workflows, you can get virtually any kind of HubSpot MAS data into Salesforce, things like filling out forms or tracking web visit behavior of known individuals are perfect activities to add to Salesforce and track in Demandbase.
Steps: HubSpot Workflows
1. Make sure persons within HubSpot MAS are pushed to Salesforce. 
2. Choose between adding HubSpot MAS data into Salesforce as part of a SFDC Campaign or as a SFDC Task/Activity. Both methods are discussed below:
Review

HubSpot's example Workflow action to add to an SFDC Campaign
Tip: Salesforce Campaigns must be created first before you can add people to a Campaign with a HubSpot Workflow.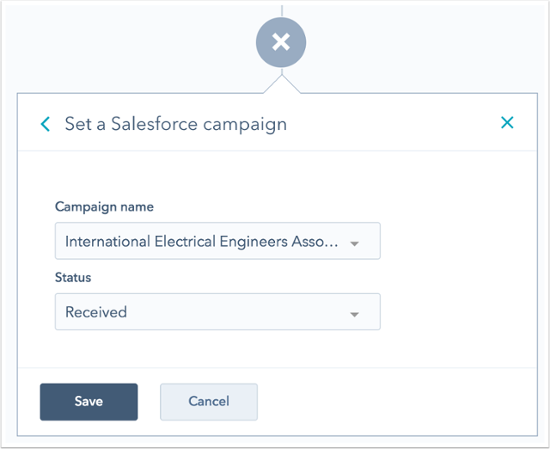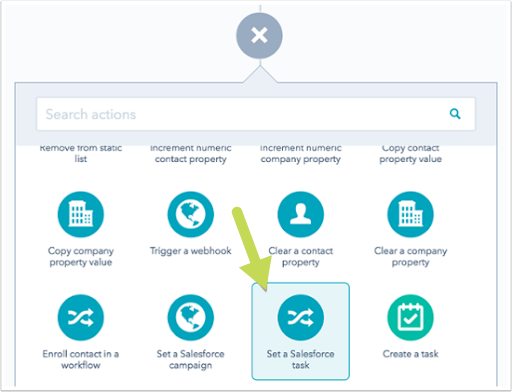 Installing Demandbase's Tracking Pixel to Your HubSpot Website
Our Demandbase Web Tracking pixel needs to be on every single website page. HubSpot provides a Global Module that you can add our pixel to make it available on every page. Review the HubSpot guide to adding global content to learn more.