Context
Self-serve Advertising guides you through the full marketing -> sales -> post-sales journey of account-based advertising programs. The Campaign Builder wizard of Demandbase Advertising Cloud enables easy setup, launch, and management of campaigns. Campaign Builder helps ensure that your campaigns are properly scoped for success. You can optimize campaigns in real time to drive increased performance—adjust creative, landing pages, and other advertising parameters.
If your company has Advertising Campaign Strategist (ACS) support, you may also work with your ACS to create, publish, and launch an ad campaign.
Prerequisites/Preparation
Access to the following Demandbase solutions:
Engagement Platform
Advertising Cloud
Ensure that a relevant Demandbase keyword set is in place. See Set Up Demandbase Intent: Create Keyword Sets for more information about keyword sets and intent and how to fine-tune keyword lists. Here are some recommendations for your Keyword Set entries:
Include granular keywords

List your competitors

Minimum of 25 keywords

Leverage your SEO keywords

Add keywords related to key personas
Be prepared to provide the following information and assets that will drive your campaign:
Steps
From the left navigation bar, go to

Advertising and click New Campaign, and follow the guided steps.
Tip: After you click New campaign, the Campaign Builder wizard diagrams your step-by-step progress as you enter your campaign settings on top of the screen.

If you need to go back to a previous step of the Campaign Builder wizard, click the step in the top navigation bar. The navigation bar also alerts you if a step that you worked on before requires attention by way of an exclamation point and red text.
1. Identify the Campaign
a. Enter a name for your campaign.
Tip: Follow a naming convention that makes sense for your long-term usage of Demandbase. Considerations include the purpose of the campaign, your business unit, product, flight dates, and geographic location. These are all important considerations, especially if you have multiple marketers in your organization who are building campaigns with Demandbase.
b. (Optional) Select the names of other relevant stakeholders in the Add watchers drop-down list. Watchers receive Campaign Insights (emails) on a weekly basis after the campaign launches. You can also add and remove watchers at any time after you publish the campaign. For more information, see FAQs: Campaign Insights.
Tip: You can also type the email address of the person you want to add as a watcher and press Enter to add them to the list.
c. Click Continue.
2. Select a Budget and Schedule
a. Select a Purchase Order/Order number to associate with your campaign to understand your available budget and what has been allocated.
If your company doesn't require a PO number for billing, you'll only see your Demandbase order numbers. The Campaign Builder wizard displays a PO number only for customers who require it.

Select your PO/order number. Associating a campaign with a PO/order number ensures you select the correct media order and that you do not overspend and/or leave any unallocated budget remaining.

You can change the PO or order number for a draft campaign that isn't published. After you publish a campaign, the PO/order number is locked and can't be changed.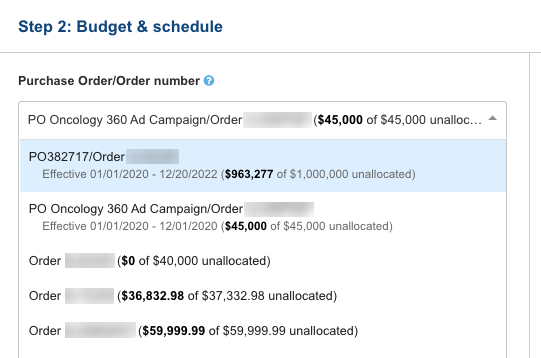 Tip: The order number is at the top of the first page of your company's contract with Demandbase.
b. Enter your budget: Select One time campaign or Monthly campaign from the drop-down menu before entering the dollar value.
One-time campaign

: Enter the budget for the total campaign.

Monthly campaign

: Enter the monthly budget for the campaign. For example, if you enter $1,000 for a monthly campaign for 6 months, you'll spend a total of $6,000.

When you select the Monthly campaign

type the following optional monthly budget options appear:

Pro-rate

: If your start date or end date is in the middle of the month, Demandbase adjusts that month's budget proportionally instead of trying to spend a full month's budget in a shorter amount of time.

Budget Rollover

:

At the end of each month, any unspent budget is added to the next month's budget goal.
Important: After you publish the campaign, you can't go back and change it from a one-time campaign to a monthly campaign or vice versa. However, you can change the budget dollar amount.
c. Select a schedule: Enter the flight dates of the campaign.
d. Click Continue.

3. Select a Location
a. Geotargeting Type: Select geographic targeting parameters for the campaign. See Configure Campaign Geotargeting for more information about location-based targeting.
b. Click Continue.

4. Select a Target Audience
a. Select an existing account list or create a new account list for this campaign. For more information about account lists, see Understanding Account Lists, the Heart of Your ABM Strategy.
b. Select an existing keyword set or create a new keyword set that reflects Demandbase Intent of your targeted audience. To learn more about the premise of Intent and keyword sets, see Understanding Intent.
Examples of how you can apply Intent to keyword sets include creating these types of sets:
A keyword set surrounding Product A or Product B.

A keyword set surrounding all competitors.

A keyword set surrounding business unit A or B.
The Advertising inventory tool informs you if there is enough inventory to support the campaign as well as what is the predicted reach to the audience.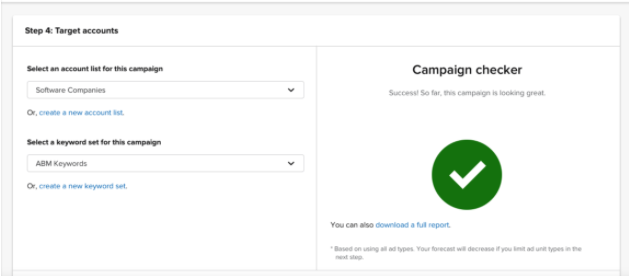 c. If the right side of the window does not display a checkmark under Campaign checker, Demandbase recommends that you refine the campaign. Adjust the account list and keyword set parameters according to the messages displayed on the screen.
Tips:
If you want to view the full reach report, click the

Download

link at the bottom of the Campaign forecasting message.

Once you publish a campaign, you can't go back and change the account list.
You'll receive one of three messages after the audience is selected:
Message 1: Budget, available impressions, and reach look good.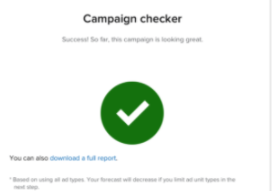 Message 2: Budget and available impressions look good, but too many unreachable accounts. The message lists the parameters you need to adjust.
Message 3: Budget is too high based on available impressions. The message lists the parameters you need to adjust.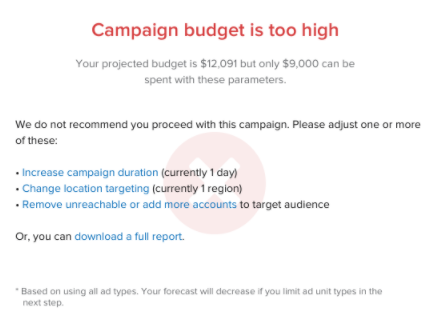 d. Click Continue.
5. Select Creatives and Publish Campaign
a. Select creatives to be used in this campaign. You can upload new creatives or select previously uploaded creatives.
Upload New Creatives
Click the Upload Creatives button. You can upload a static, animated, or third-party creative. For more information about what types of creatives Demandbase can accept in self-serve Advertising and for a more detailed step-by-step guide, see Upload Display Creatives.
Tips:
If you upload static images, you'll be prompted to add the landing page URLs.

Before launching a campaign, verify the Demandbase Tag is deployed on the landing page you select.

Review the Excel file prior to uploading to make sure there aren't multiple tabs. If you have legacy tabs, delete them before uploading the Excel file.
Use Existing Creatives
Select the checkboxes next to the creatives you want to use for this campaign. Uploaded creatives are listed in the creatives section for all future campaigns.
Tips:
To easily find a specific creative, use the Search creatives feature located next to the

Upload Creatives

button. You can also sort creatives in the list by clicking the column headings.

If you want to preview what the creative looks like, hover over the creative icon.

If you want to see the creative in a tear sheet, hover over the icon and then click

View tear sheet

in the pop-up window.
b. Targeting type (optional): Select a Targeting type from the drop-down list for each creative:
All

(default setting): The creative is leveraged to proactively target the accounts and retarget. (If the accounts come to the website, Demandbase retargets them).

Standard

: Proactively targeting accounts.

User retargeting

: If you have different creatives for retargeting, select this option next to each creative.
c. Publish the campaign: After all campaign configurations are supplied, click the Publish button. Demandbase automatically assesses all of the inputted information. If the Campaign Builder recognizes any concerns, a Heads up! pop-up appears giving you recommendations.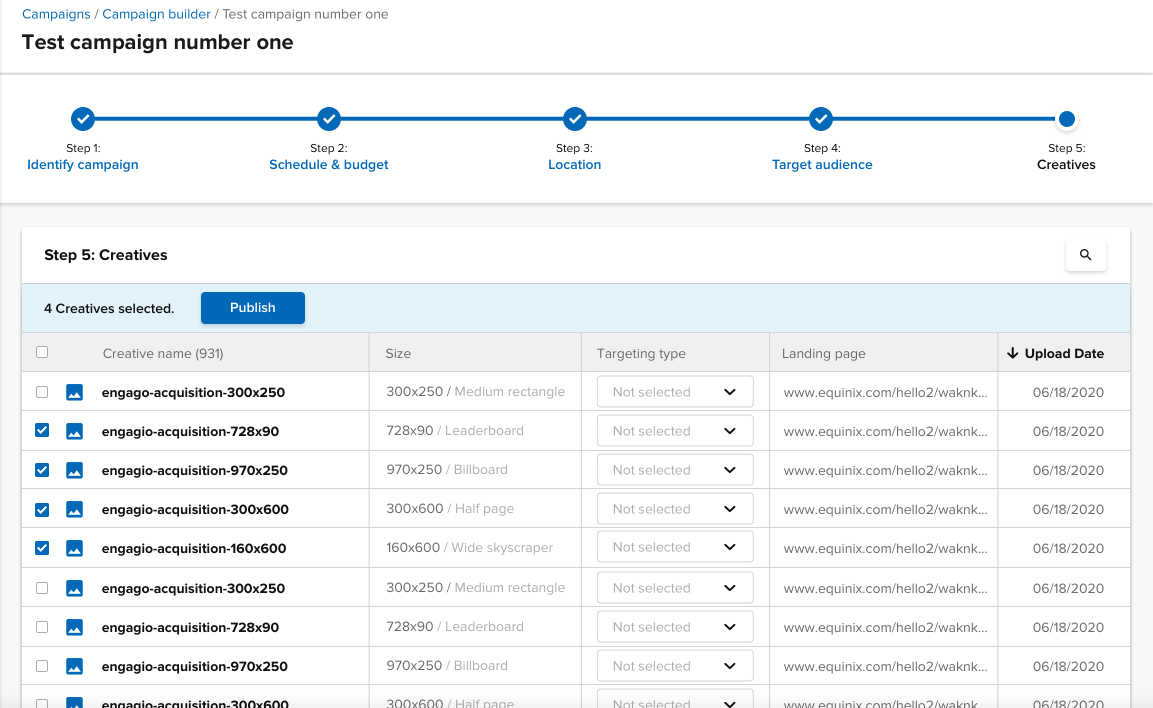 d. Verify Campaign Configuration: Review the One last check before you launch window, which summarizes everything entered in steps 1 through 5. If everything looks correct, you can select the Publish button to officially schedule the campaign to launch on the first date of the campaign. An email confirming publication and summarizing the campaign configuration settings is sent to your inbox.
Caution: Once you publish a campaign, you can't go back and change the account list. You're also responsible for all campaign spend associated with self-serve advertising campaigns. If you're not fully committed to launching this campaign, hold off on publishing the campaign.
Outcome
After you publish a campaign, there are two ways to know if a campaign is live:
Email:

Shortly after a campaign has been launched, an email is sent to the campaign creator.

Advertising reporting

: When you review a campaign in Demandbase, there is a green dot next to the campaign name. A grey dot means that the campaign is inactive.
You and anyone else who you added as a watcher of the campaign will start receiving Campaign Insight emails in the week after you publish the campaign.