Context
The Slack integration for Demandbase One provides custom reports via Slack. Slack will be another channel option when creating a custom report in Demandbase One. Custom reports through Slack operate on a scheduled frequency like email reports and are not real-time like messages you receive in Slack.
Prerequisites/Preparation
You must have Admin privileges in Demandbase.
You must have Slack Admin privileges to install any app in Slack or have been granted the privilege to install apps from your Slack Admin.
Steps
1. Create the Slack Integration.
a. From the left navigation bar, go to

Settings > Demandbase-Wide Settings > Integrations.
b. Click Create Data Source and select Slack.
2. Associate the Demandbase app with a Slack channel.
a. Create a new channel for your Slack team.
b. Give it a name you will recognize such as #demandbasealerts. Only the person installing the app needs to join this new channel.
3: Add the Demandbase Service to Slack: Go to slack-service.demandbase.com and click the Add to Slack button.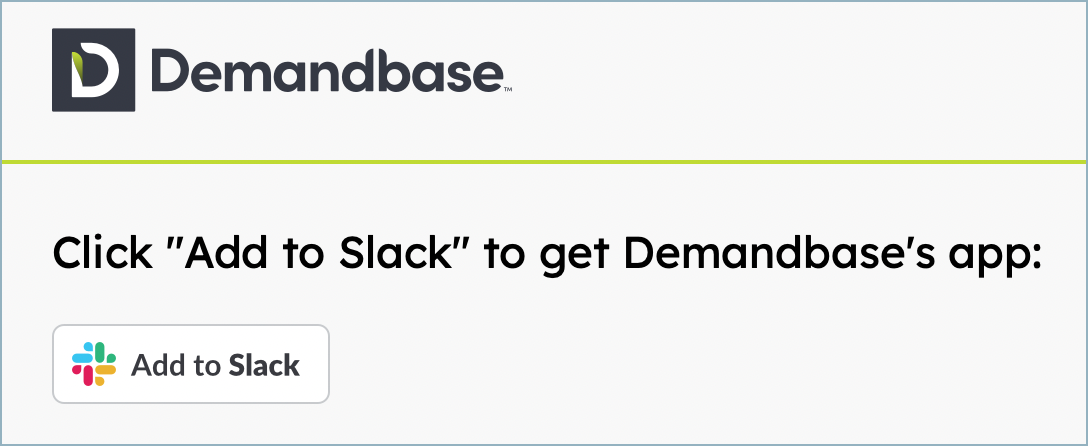 4. Authorize the installation.
a. From the new tab on the Slack.com domain that opens, log in and select the new channel you created in your company's Workspace in Step 2.
b. Then click Authorize to complete the install. You will be redirected back to Demandbase and the screen should say Authorization Succeeded.
c. All users added during the initial onboarding process automatically start receiving Slack reports from Demandbase. Going forward, a sync occurs weekly in order to pick up new Slack users.
5. Activate the Slack integration.
a. Return to the Integrations page at

Settings > Demandbase-Wide Settings > Integrations and set the Slack integration to Active.
b. Click Create.
Outcome
You can now create or customize Slack Alerts.