New Features:
Advertising - Connected TV
Demandbase now offers a refreshingly new, exciting, and unique advertising channel with Connected TV (CTV). CTV at Demandbase allows you to serve video ads to your account based audiences on televisions via internet connectivity. B2B Digital Marketers can now easily target accounts on HULU, Tubi, Pluto TV, and an additional 175+ publishers that Demandbase partners with.
This new advertising channel is powered by the Demandbase B2B DSP. Therefore, most campaign optimizations (e.g. automatic pacing and impression distribution) will exist. CTV will support your multi-channel strategy to maximize advertising's influence on pipeline and revenue. This new channel is available to all customers that have an Advertising Campaign Strategist.
For more information, see the following articles:
ABX - Workspaces (Available July 14)
Workspaces will allow customers within a single Demandbase tenant to assign data to their respective business units. This empowers customers to use Demandbase One in a way that is reflective of their organizational structure and strategies while still allowing admins to do roll-up reporting at a global level.
Workspaces is more than just filtering the data to a specific business unit. Workspaces creates partitions in the data so that teams within that workspace only work with the data assigned to that workspace. It allows different teams to execute GTM strategies specific to their business unit without fear of impacting other business units.
Workspaces will have additional functionality launching throughout the next 12-18 months. This initial release will enable lists, filters and reports to be assigned to different workspaces. For information on how to add Workspaces to your license, please contact your account team.
For more information, see the Workspaces articles.
Native Outreach Integration (Available June 30)
Sellers don't want to navigate between multiple platforms to prospect, and they no longer have to with the Demandbase Native Outreach integration that enables sellers to access rich account and contact insights directly within their Outreach platform. Customers can now organize their Outreach sequences and tailor communications to prospects and customers seamlessly using Demandbase data.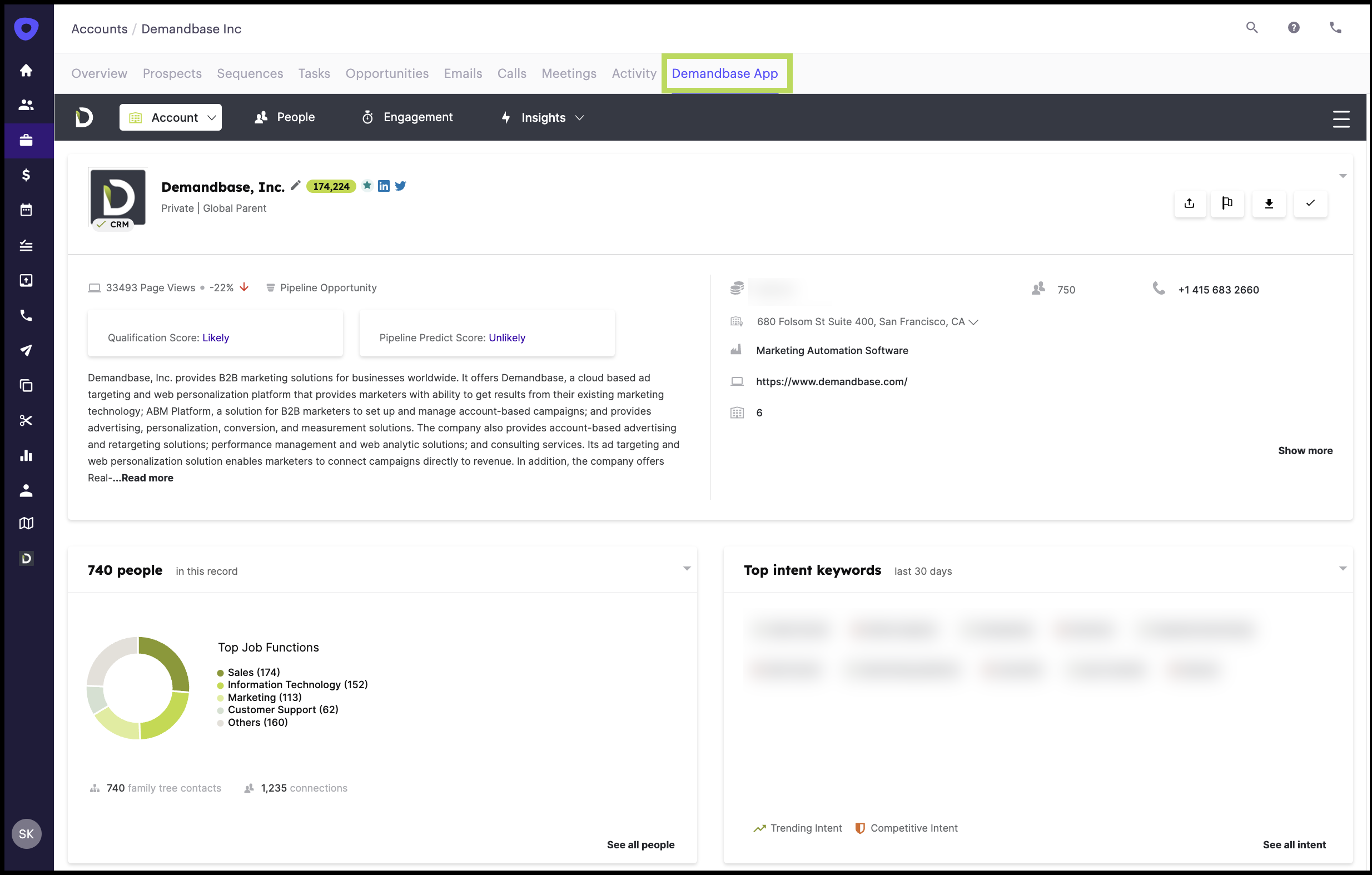 For more information, see the following articles:
Product Changes:
Sales Intelligence UX Optimization (Available June 30)
The Demandbase Sales Intelligence homepage has been redesigned with user feedback in mind to help sellers identify and access the most important information about their prospects and customers faster. The key insights sellers care most about are now front and center on the Sales Intelligence homepage.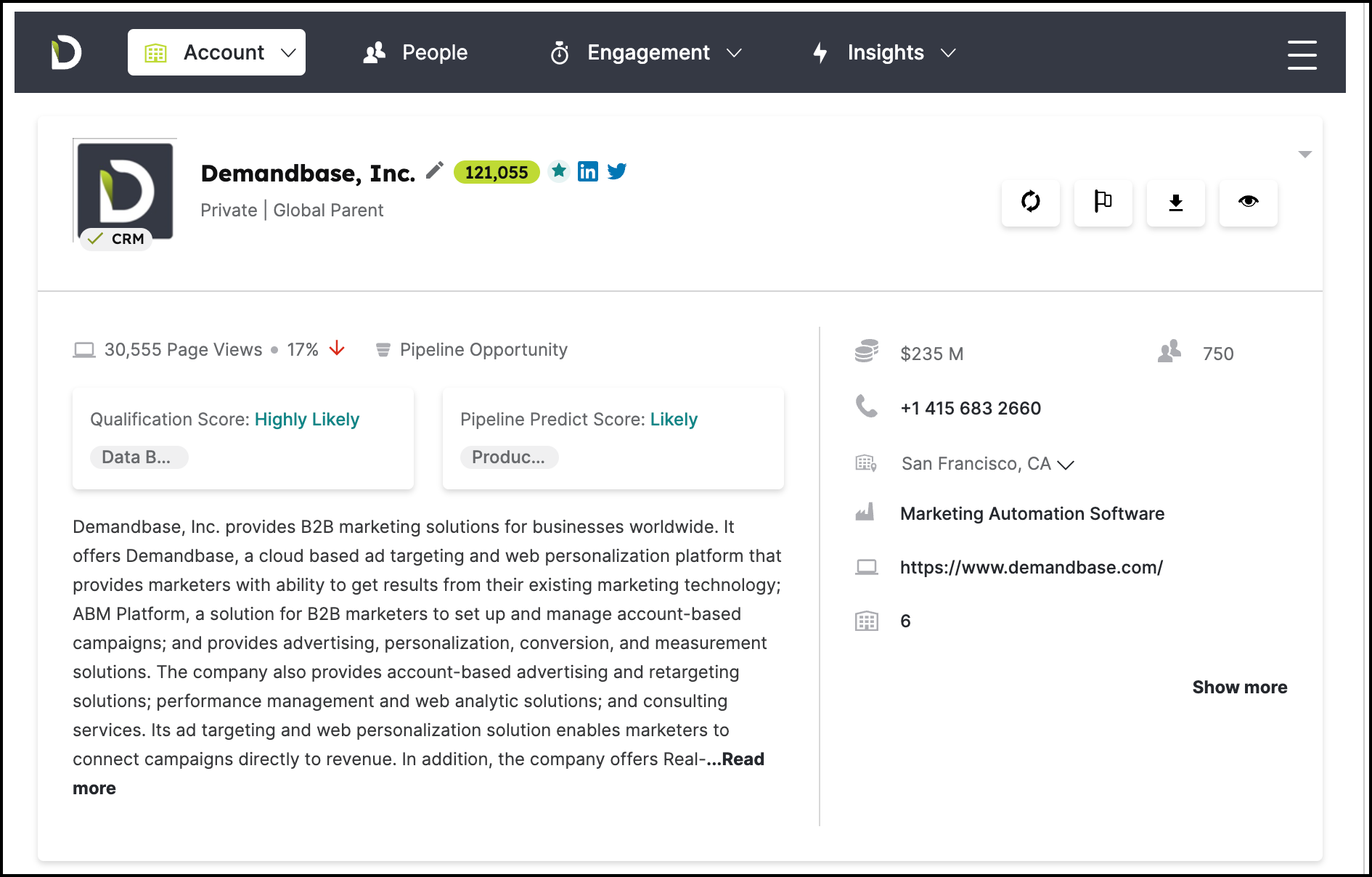 For more information, see the Sales Insights articles.
Personalization - Google Analytics 4 Support for Site Customization (Available June 30)
Google is planning to deprecate support for Google Analytics Universal Analytics (UA) starting July 3, 2023. To continue to support Personalization customers who use Google Analytics for their Site Customization experience event tracking, we are updating our integration to be compatible with Google Analytics 4 (GA4). This update will allow customers to continue tracking Site Customization experiences through Google Analytics. This release includes changes to the Site Customization user interface to easily convert UA events to GA4 events.
See Set Up Google Analytics Event Tracking for Site Customization.
Account Connector Redesign for Google Analytics 4 (Available June 30)
Google Analytics has released an updated version of its Analytics framework - Google Analytics 4 - that has a phased in compliance date that begins on Jul 3, 2023. Demandbase's Account Connector Redesign provides an enhanced user interface for GA4 that improves usability and activation speed, while also ensuring compatibility.